Charities Benefit From Annual Tournament
From the official Chelsea FC website: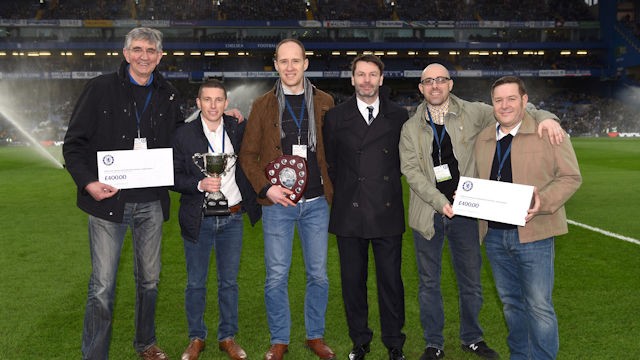 "The Chelsea Foundation and the charity Regenerate UK both received cheques for £400 from the Chelsea Supporters Group prior to our game with Swansea on Saturday.
The Chelsea Supporters Group raised the funds in July at the annual 11-a-side supporters' tournament at our Cobham training ground.
They opted to split the money between the Foundation and Regenerate, which works with young people and families in Roehampton and estates across London, helping to transform lives and communities from the inside out.
Cliff Auger of the Chelsea Supporters Group, said: 'It was a really good day and there were some entertaining matches. The club are really helpful when it comes to setting up the tournament, supplying prizes for the raffle and letting us use the facilities at Cobham.
'We didn't have as many teams as in past years because a couple let us down at the last minute, but we went ahead and it was a successful day. Once you get everybody playing it pretty much takes care of itself. You always get a bit nervous about everyone turning up, especially when there are a few late arrivals, but it was great fun and all for a good cause.'
For the tournament in July teams were split into two groups before the knockout phase with former Chelsea players Clive Walker, David Lee, Gary Chivers and Steve Finnieston assisting with refereeing duties.
The main prize, the Kyle Broadbent memorial trophy, was eventually won by the Jam Tree Blues led by Nicky Jones and named after one of the pubs situated close to Stamford Bridge. The victory was made all the more sweet for the team as they were beaten finalists in the previous year's competition.
The Jam Tree Blues secured the trophy after winning an entertaining final 7-6 on penalties, while it was Bucks Chelsea who lifted the second prize of the day, the Shield Trophy"