Chelsea v Stoke City – Match Summary
Chelsea 4 Stoke City 2 – Saturday 31 December 2016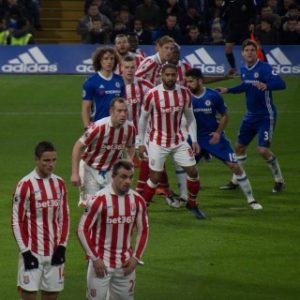 The last game of the year was against an always pesky Stoke team, who were never going to make things easy for us, a team traditionally capable of getting under our skin both figuratively and physically. Not a team known for their finesse, consisting of overweight nutters and second rate internationals, but as a team always capable of causing problems.
With the return of Diego Costa and N'Golo Kante, the team lined up as Courtois in goal, with Azpilicueta, Luiz and captain Cahill in the back three. Fabregas got the nod ahead of Matic as midfield partner to Kante, flanked by Moses and Alonso. Up front were Willian and Hazard supporting the big man up top. On the bench were Begovic, Ivanovic, Zouma, Matic, Loftus-Cheek, Chalobah and Batshuayi. No Pedro though, suspended because of a fifth yellow card picked up last time out.
It took a while for us to get warmed up; fans and players alike a bit sluggish as Stoke were enjoying some extended periods of possession, but not enough to concern our defence. It was an untidy affair, but we gradually worked our way through to set up some decent chances, Costa attempting a great shot on goal, with only a decent stop from Stoke keeper Grant preventing the opening score. A succession of corners almost reaped rewards too when Cahill nearly headed the ball over the line, Grant in goal once again saving Stoke's blushes.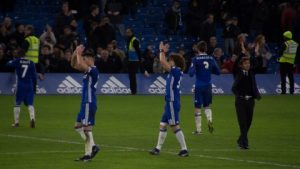 At the other end it was a comedy of errors; short arse Shaqiri managing to sky fat boy Adam's low free kick. Then Courtois managed a spectacular air kick of a clearance. Oops. The game was very scrappy, the crowd were restless, a mixture of mumbles, silence, and a few chants in equal measure – if only either team could string a few quality passes together.
But the breakthrough finally came after half an hour, a corner floated into the 6 yard box by Fabregas with captain Cahill first to the ball with a powerful header past the keeper who, up until then, had been pulling out some great saves. But not this time, as we finally took the lead.
Much better from us now, we were moving round the pitch with relative ease, taking advantage of the Stoke boys starting to lose what little composure they ever have, but at half time the score remained 1-0.
Out for the second half, all starting eleven present and correct, including Alonso who had taken a tumble when we scored our goal. Unfortunately, it took just a minute for Stoke to equalise, a free kick some way out floated in by Adam, the ball eventually landing at the feet of Martins Indi in front of goal to simply slot through into the goal amongst the melee. Our boys must have had half an eye on their planned New Year's Eve celebrations later that night, because they appeared to switch off. Back to square one for us and back to the matter in hand, please boys.
We picked up the pace as we looked to restore our first half lead. At the same time the Stoke boys were throwing themselves at ball and man alike, in an effort to halt our determination to get back on the score sheet. Just a few minutes later their defence was finally breached as Victor Moses jinked his way into the box, a quick pass across the face of the goal to Hazard and a short lay off to Willian who blasted the ball through several Stoke players quickly descending on him and the keeper whose heroics weren't up to the hirsute one's strike.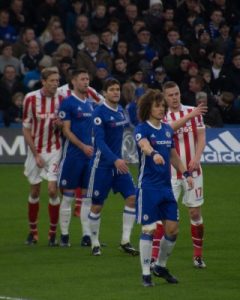 The game was shaping up to be quite a ding dong battle as we tried to take advantage of our rising momentum, and should have extended our lead and killed the game off there and then. But instead the Stoke boys battled on, and fair play to them, they managed to get back on equal terms as we entered the last half hour of the game, Peter Crouch (who else!) the one to cause the ultimate damage, his flamingo legs flying all over the place.
But we should know better than to think this fantastic team of ours would let that one go for long, especially when we are on such an amazing winning streak, and before we knew it Willian had scored his second and fired us back into the lead, ably assisted by Fabregas. We had the bit between our teeth, as wave upon wave of attacking moves swept up the pitch towards the Matthew Harding end.
As we approached the last 15 minutes Matic came on in place of Fabregas, who received a rousing ovation as well as a rousing rendition of Fabregas is Magic…..
We were pushing for that game killing goal and it was Chelsea fan Crouch who nearly gifted it to us when he gave the ball away to Willian who, with Hazard, ran with it from one end of the pitch to the other, only for Costa's eventual one touch shot on goal to miss the target. But with just the one goal in it, and Stoke giving it a good go themselves, it was a nervous few minutes.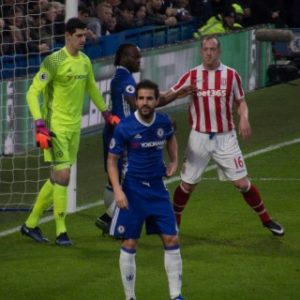 Into the last ten minutes and our second change came when Victor Moses was replaced by Branislav Ivanovic, brought on to shore up our precious lead. And a couple of minutes later Nathaniel Chalobah came on for our emotional two goal hero, Willian. Within seconds of the restart our Diego had finally blasted us into that game killing lead. The throw in helpfully nodded on by the statuesque Adam, the defenders all over our man, but he was having none of it, shrugging them all off like the minor irritations they were, and once he'd finished with them he blasted the ball into the far top corner of the goal, at quite an acute angle as well.
The home crowd went wild as did our main man on the touch line, another master class in team management, instilling into our boys a mentality of never giving up. It wasn't an easy game by any stretch of the imagination, but our doggedness won out in the end. A hard fought win but lucky thirteen in a row for us as we ended the year halfway through the fixture list and still 6 points clear at the top of the league. More of the same for 2017 please. Happy New Year!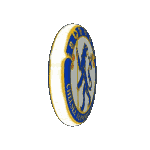 Posted by Chelsea Debs
Debs can be found on Twitter as @cfcunofficial and at cfcunofficial.com
You can read all Chelsea Debs 'Match Reports' here
DISCLAIMER: All articles written for the Chelsea Supporters Group 2005 (CSG) are those of the author and do not represent the views of the CSG. The views and opinions expressed are solely that of the author credited in the article. The CSG do not take any responsibility for the content of its contributors.
'Chelsea Supporters Group' can be found on Twitter and Facebook