Heaven Knows We're Miserable Now (1978/79)
"A blast from the past, originally posted in 2012 – Corby wrote several of these articles and I will post them up if I can locate them all, think this was the 'fifth' one – enjoy"
Season 1978/79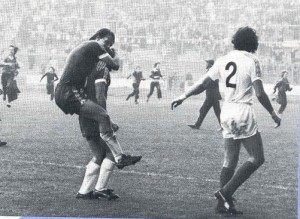 After our first season back in the top flight had saw us finish 16th, I had high hopes that in 78-79 we'd maybe improve a bit get a European place. We hadn't done too bad in 77-78, just about held our own, things could only get better. A 1-0 home defeat by Everton quickly bought me down to earth. The following Saturday was Spurs away, I was now 17, and Mum could no longer 'ban' me from going games…
Spurs was to be my 42nd game, of which only 10 were aways – 3 of them being at Leicester! The others were 'local-ish' to Corby… Forest, WBA, Coventry, Wolves, whilst my visits to Arsenal, QPR and Orient had seemed like home games as there were so many Chelsea in the ground!!
We went down to White Hart Lane with a lad from school, who had started going to Spurs roughly when I'd started going Chelsea, 1975. He 'knew' the ropes, where to go, where to avoid, well he said he did… We were up by White Hart Lane by about 12.00. There was hundreds of Chelsea about, with a seemingly equal amount of Plod, trying to keep the peace with the pockets of Tottenham fans that would appear from nowhere.
At one point in the chaos I got split up from the main Chelsea mob and found myself and my Spurs mate being chased by an 8,000 strong (well at least 20!) mob of Spurs. Legging it round a corner we were confronted by a 6ft wall. With the prowness of Bonetti we as good as hurdled it, only to find ourselves in some sort of allotment! Heart beating furiously, we hid amongst the tomato plants or whatever was growing! I can remember lying on my back thinking "what the f*ck am I doing?" After 10 mins or so we knew were safe and asked some old guy in a hut how to get back on to the main road. He pointed the way and muttered something about calling the Police. I wish he had!!!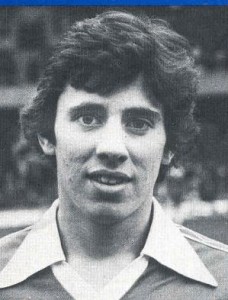 By that time the ground was open so I worked my way through the running battles and went in. The Tottenham side included Ardiles & Villa, 2 Argentines who had won the World Cup that summer and a 20 year old Glenda Hoddle. A 2-2 draw, with the 'quiet man' Kenny Swain getting both of ours. After the game I cant recall seeing many Spurs about, maybe they got the bus down to Seven Sisters tube instead of the seemingly 15 miles walk. Smart kaarnts.
A week later and after a Kings Head pint or two, I found myself persuaded to go into the North Stand for the Leeds game. This was my first visit to that part of SW6, and from there the Shed looked so small, whilst the pitch somehow seemed nearer. 10 minutes before the game started it kicked off right in front of me. Fists and feet flew in all directions. Plod just waded in with their truncheons –mainly into the Chelsea- while I made a retreat. Somehow I found myself in with the Leeds fans who were being pushed along the terracing towards the centre of the North Stand. Plod then made a 'no mans' land between the two sets of fans.
How the hell could I get back to the Chelsea side of the North Stand? There was no way I could just say "excuse me Officer, I seem to be in the wrong end. Could you be such a good chap and escort me back over there?"
I stood there worrying, would Leeds suss me out? Would the Chelsea pile in and give one of there own a hiding? The game started an