Eddie Has Left The Building (1977/78)
"A blast from the past, originally posted in 2012 – Corby wrote several of these articles and I will post them up if I can locate them all, think this was the 'fourth' one – enjoy"
Season 1977/78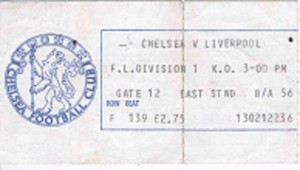 After the excitement of the previous season's promotion race, I couldn't wait for the new one to start. I'd left school, and was an 'office boy' for a local Plant hire company. Teas and files were shifted from one part of the Office to another. It was ok, and the 'ample' scenery in the typing room was well worth looking at…
What was better to look at though was the fixture list that had come with my all new "Chelsea FC Official Supporters Club" membership card. After years of unhappy relations with the Supporters Club, Chelsea had decided to form it own club, and call it 'official' The club announced that away tickets would be sold only to OSC members only, so I sent my £3 down and joined.
Pre-season, Chelsea had a couple of games in Sweden. We then played Fulham, Orient and Norwich in the short lived Anglo-Scottish Cup. I decided to go down for the Norwich home game. I was expecting a "Hull 77" type of atmosphere but I found myself sitting on the cold concrete terrace, surrounded by 6,857 others. 2-1 down at half time, a sore bum and bored rigid, I pondered whether to go home. The Hull game had 43,000+, where was everyone?
I made my way to the Shed steps, and glanced down to see if a gate was open. I couldn't see one, so I decided to suffer the rest of the game. Butch made the stay worth while, for it finished 2-2. Apart from Eddie leaving and Ken Shellito taking over, what had changed? The team were still the same. Puzzled, I made the trip home.
Dennis Howell – then Minister for Sport – had made all Chelsea's away game all ticket until further notice. This was a result of various outbreaks of trouble the previous season at home and away games. Crowd trouble was a common thing, Man Utd were also serving the same sentence as us. The Press had even blamed Chelsea for outbreaks of fighting between Punks and Skinheads on the Kings Rd during the summer, even though there were no games on.
The following Saturday saw us at WBA, the first proper game of the new season. All ticket, but we went without one. Changing trains at Birmingham New St, some lad offered us a couple of spares he had. He wanted £2 for a £1 ticket. I told him I thought they were spares, so why was he asking more? He replied "want them or not, I've only got the 2" Needless to say the thought of not getting into our first game back in Division 1 did not appeal to us. £4 was passed over.
At Smethwick station we were met by the West Midlands Police force. Not a couple of them, ALL of them. More horses than the Grand National. Even the Police canteen tea lady seemed to be there to welcome us. We were verbally and physically pushed to one side, whilst the 'normal' people were allowed through unhindered. As the 'normal' people went through, I noticed the lad who had sold us the tickets go through, with about a dozen or more other Chelsea.
We were marched up to the ground, a snake of fans winding their way through the Smethwick streets. It was like walking through Calcutta, the only white people you saw were Plod and the lads around you. Asians were everywhere; this was my first experience of an inner city estate. It was also my first experience of racism. In between Chelsea songs, there were outbreaks of "what you looking at Paki?" and "there aint no black in the Union Jack, send the bastards back" Plod just looked on, laughing.
Into the Hawthorns and we took our place on the away terrace. Behind the other goal was the home terrace, and 10 minutes before kick off a gap appeared up near one of the corners, and you could make out that there were 2 groups up there. One WBA, one Chelsea. Fighting broke out, Plod ran in to separate the two sets, and herded the Chelsea mob along the side of the pitch to the away end. There were probably 100 or so of them. They obviously had had the better of the WBA, they all seemed to be laughing, and looking back to where they'd just come from. Amongst them was the lad who sold me a ticket. That explained why he had just walked through the Plod at Smethwick station. He knew what he – and they- was doing. I lacked that 'away game' experience, this was only my 4th trip.
We lost, and all my Title dreams went out the window when they scored 3 in the last half an hour. Maybe Eddies 'kids' were a little lost without their dad. At least there was no stick to be taken in the Playground on the Monday anymore. Instead it came from the Office.
When Leicester beat us at the end of 76-77, it stopped my 18 match unbeaten run. Before I knew it, I'd gone to 7 games without seeing a Chelsea win. I thought back to how peeved off I was at half time v Norwich in the Anglo Scot cup. Is this what's its all about?
My next game was against Forest at home. As the train pulled into Kettering, I noticed it was rather full with lads wearing Red scarves etc. I quickly stuffed my Chelsea one down the front of my jeans. Like us they had been promoted the previous season, but that's where the similarity ended. They were top, 4 points clear of European & League Champions Liverpool. We were 6th bottom, 5pts off bottom place. This was definitely going to be 8 without a win for me.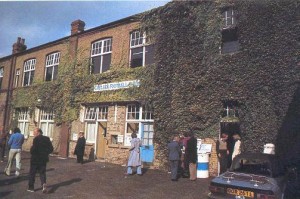 Pulling into St Pancras, I noticed the Red scarves being put into pockets or stuffed into jackets. Very soon the sanctuary of the train was going to disappear, they were about to enter Chelsea's London. They must have had the same feeling I had when the train pulled into Kettering a while back. The tide had turned.
I'd made my way to the front of the train, as when it stopped, you're first off and down the Tube station without having to queue too long. I was probably getting squashed on the Piccadilly line while they were still in the ticket queue.
In SW6 I was fed up of hanging around the forecourt with the other "not old enough for the Pub" crowd. So Steve started taking me into the Kings Head. I was 16, but looked 18…easy…sort of. The first few times I went in I'd find a place where the bar staff couldn't see me –Steve would get the beers in. After a few more games my confidence grew, and I'd just waltz up, get the beers in, and not even think about being underage. There was the odd time Plod would come in, they never seemed to say anything to anyone, just stroll around and back out. Maybe it was a show of strength. Years later they did the same whilst we were drinking in the Swan across the road, but left straight away after being showered with Lager!
Trevor Aylott scored in a 1-0 win, 36,116 saw the game, apart from those who had been lobbed out when the usual trouble started up on the North Stand. I've often wondered what it was like for an away fan, walking that long climb from the Britannia entrance, knowing that there was a fair chance you'd get a slap. Especially if you'd received one on your last visit. For a 16 year old, safe in the Shed, it was a wonderful thing to see the North Stand scatter the away fans. My winning run stopped straight away, draws with Villa and Norwich saw to that.
With Christmas coming, Richard at the Dairy came up with the present to top all presents. He was willing to drive down to Arsenal away on Boxing Day…on the condition that on the way back, we'd go and support Northampton who were playing at Watford. With Highbury kicking off (!) at 11.30, and Vicarage Rd starting at 3.00, there was enough time to go to both.
Going down the M1 that Boxing Day morning was amazing, we'd only see a car every 10 miles or so. I've never seen it that empty since that day. For some reason we went in the North Bank, and quickly realised our 'mistake' as hordes of Chelsea were being led around the pitch to the Clock End. We kept quiet, a bit like the Chelsea side. We lost 3-0. Up at Watford we managed to find the away end and joined the 1,000 or so Cobblers lads who had made the short trip down the M1. They were quiet as well. A bit like the Northampton side… They also lost 3-0…
The next day the festive fun continued with West Ham at home. Pity West Ham didn't have the Christmas spirit, they spoiled the fun by 'taking' the Shed. There was something strange about that day, I could just sense something was wrong. Maybe it was the glares from the Mob that had assembled at the top of the Shed steps when I went in. In an obviously well planned move, the West Ham cut through to the Whitewall part of the Shed like a hot knife through butter.
It took a while for Plod to finally get their act together, and when they eventually started moving our East End brothers out, further trouble erupted as Chelsea helped them out of the Shed, with a friendly kick and punch. "we took the Shed, we took the Shed, E I ADDIO, we took the Shed"
Maybe it wasn't safe in the Shed after all. 44,093 saw us win 2-1 and I was back on a winning run. That would stop straight away, because reigning European and League zzz Champions Liverpool in FA Cup 3 were next on my list of games I could make.
3rd January 1978. An old BR diesel engine pulled into Kettering and 7 of us squeezed into the old style compartments on the train. They sat 6, with 3 people on either side, and a door with pull down blinds for a bit of privacy. With our 'carry out' of Lagers on the floor, we drank away happily, deep down knowing we might get away with a 4-0 defeat.
As we neared London, the compartment had 'one or two' empty cans on the floor, so we decided to tidy up…and lob them out the window. Now we're not daft enough to lob them out without checking the stupidity book, so we checked that we were on the down line. This meant that anything lobbed out wouldn't hit a train. (Page 69 of said book "…check for oncoming trains")
What I didn't read was page 70, which stated "also check you are not about to go in a tunnel….." …, for we entered the Borehamwood tunnel just as I lobbed an empty Carlsberg can out. (For those who do the St Pancras line, it's the one just by Scratchwood services.) In a split second my hand hit the wall and bounced back into my face.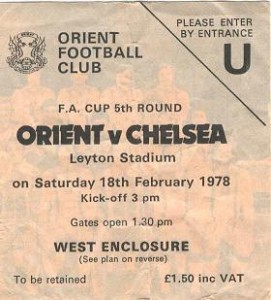 They all laughed, and I felt a right *u**. I also felt blood dripping down my hand! Looking at it, it was a mixture of blood and a 100 years worth of soot from the tunnel walls. I went to the toilets to wash it, and luckily it was just a very bad graze. I wrapped it in toilet tissue, and thought I'd get it treated by a St Johns Ambulance man at the ground. I didn't, instead we went to the Kings Head and had a few drinks. Maybe I should've, as today, nearly 30 years on, I still have black soot that can be seen when I give someone a V sign…
Whilst we were in the Kings Head, some lad came in and said that lengthy queues were starting to form at the entrance to the Shed. We decided to sup up, and head off towards the ground. Walking through the mass of bodies that were trying to gain access to the West and North Stands at the Britannia entrance, we put a bit of a sprint on, and headed to the Bovril gate. There we were confronted by what seemed like millions of people trying to get in. Moscow Dynamo 1945? uh, this was far worse…
The Bovril gate wasn't the best-designed entrance into Stamford Bridge, to get in you had walk down a cobbled road and then turn left into a small square that had maybe 7 or 8 turnstiles. We pushed our way through and after about 20 minutes got in. Something I did like about the Bovril gate was as soon as you got through the turnstiles, the toilets were right there! Many a time I'd be doubled up in a queue, dying to get rid of some fizzy Lager!
Although the old Bovril turnstiles have long gone, if you want a bit of nostalgia(?) you can still pee in roughly the same spot that you did in back in 1978. The Public toilets just outside the Megastore are not far from where the original Bovril toilets were.
Onto the Shed terracing and I pushed my way up to where was now 'our' spot, up by the West. It seemed busier than the West Ham game 2 weeks previous, but we managed to get a good view. The Shed to our right packed to the rafters. The North Stand to our left, heaving. A tremendous sight. The 45,449 that day is still the highest crowd I've ever been in at Stamford Bridge. It's a record I feel will probably never be broken.
The Liverpool fans were getting the normal welcome from the North Stand, with the terracing being so packed their wasn't much room for them to run. They had to stand and fight, I can recall a group of 15, maybe 20 bin robbers making a good stand against the welcoming committee, before realising they were surrounded. The North Stand then just piled in to them, they didn't stand a chance. Laughter broke out amongst the lads standing near me in the sanctuary of the Shed.
Liverpool's team were all household names, they'd won the European Cup and the League the previous 29 seasons. That's what it felt like, with the amount of column inches the press always gave them. They were a very good team though, Clemence, Neal, Jones, Thompson, Kennedy, Hughes, Dalglish, Fairclough, Heighway, Johnson and Callaghan. Kylie Keegan had, by then, took his bad perm off to Hamburg in the summer.
I was never confident, especially when I'd read in the paper on the way down that Butch Wilkins was still injured. He was establishing himself in the England team, we were going to miss him. When Walker put us one up after about 15 mins, the place erupted. Ok, we'll get beat 4-1. Half time came and we were still 1-0 up. Within 10 mins of the second half starting we were 3-0 up! Langley's goal – after Jock Finnieston had scored our second- was my fave, he nipped in on a back pass and tucked it away past a sprawling Clemence.
It was like a dream. I'd never experienced anything like this before. WE'RE GOING TO WIN THE CUP, WE'RE GOING TO WIN THE CUP, AND NOW YOU'RE GONNA BELIEVE US, AND NOW YOU'RE GOING TO BELIEVE US…
3-1, then Walker finished them off with his second, our fourth. Very late on Dalglish made it 4-2, but by then we were planning our trip to Wembley. If we could beat the European and League zzz Champions, NO ONE could stop us.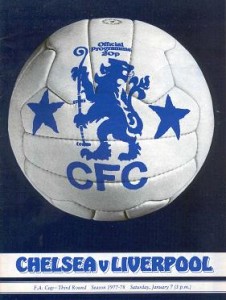 That night up our local was brilliant, everyone was talking about it, even the Liverpool ones who had gone down, though they were just happy to get home in one piece, after witnessing 'the worst set of Hooligans' they'd met on their travels. On the Sunday I went through to Casualty, where they cleaned up my hand. I'd forgotten all about it when we'd left the Kings Head up until I woke up, somewhere, on the Sunday morning.
On the Monday I wished I was back at school, it would've been great to walk in the playground as future FA Cup winners, knocking out reigning European and League zzz Champions on the way. Instead I made the tea, enjoyed the scenery of the typing pool, and planned the trip to Coventry.
Even though Coventry is only around 50 miles from Corby, it's a pain to get to on the train. The options we had were Corby- Kettering by slow bus, then train to Leicester-Birmingham-Coventry. Another route was Corby-Northampton by slow bus, then the train up to Coventry. So me and Jim decided to hitch hike it there.
Luckily within 10 mins of giving the thumb an airing, we jumped into a lorry that dropped us off out the outskirts of Coventry. That was a result, for we'd feared of only getting half way there, and not making the match! We caught a local bus into Coventry city centre and headed for the Train station, to meet up with the other Chelsea.
A couple of pints were swallowed and we were queuing up for the away end. The buzz of beating the European and League zzz Champions the previous week was still there……….CHELSEA CHELSEA CHELSEA CHELSEA CHELSEA.
Before we knew it we were 4-1 down. The buzz from the Liverpool game had long gone, Chelsea had bought me back down to earth with a major bump. They scored a 5th, and we left as soon as the ball hit the net. Totally gutted. This was the first time Chelsea had taken me to such a high, only to kick me down straight away….and we had to hitch home on a cold dark January evening.
We were herded down to the Station, were Plod were hell bent on getting everyone out of Coventry as soon as possible. We jumped on a London train and jumped off when it got to Northampton. The train was so packed we didn't even see a Hector, which was a good job, as we didn't have tickets. A phone call to Jims Dad, and he ran through and picked us up. We made up some story about missing the last bus or something, On the way back to Corby we decided never to hitch it to a game again. Great fun on the way, but coming home after a 5-1 hiding… no thanks!
2 weeks later we were sitting in the Kings Head for the next round of the FA Cup. Burnley at home. A very wet day. So wet that the game was called off an hour or so before kick off. I didn't believe it, so I swam up to the ground to be confronted by a Blackboard in front of the Shed turnstiles saying "SORRY, MATCH POSTPONED"
Back down to the Kings Head, to tell the others. They knew anyway, it had been on Football Focus, it was just that I didn't want to accept it. A rumour then went round that everyone was going up to the Arsenal v Wolves game, so when a mob seemed to leave all at once, we tagged along and went up to Highbury. Arsenal won 2-1, but the North Bank were surprised to say the least when we all turned up…
The following Tuesday the Burnley game was played, and we won 6-2. Not often a team scores 6, and even rarer is having 6 different scorers. Droy, Wicks, Swain (Pen), Walker, Langley, Wilkins B. It was certainly goal fest time following Chelsea in the first month or so of 1978. We won 5-4 at Birmingham, drew 2-2 at home to WBA, the 4-2 v Liverpool, lost 5-1 at Coventry, beat Ipswich 5-3 at Stamford Bridge, then the 6-2 v Burnley.
The next game I went was the much awaited visit by Man Utd. The press had done their normal hype of the "two worst set of Hooligans" getting together for a 'punch up'. The game had been made all ticket, which could only be bought with a voucher that had appeared in the programme v Ipswich. I bought 2 progs, cut the voucher out of one and kept the other one intact. I wanted my ever growing collection of Chelsea programmes to be in good condition. A 2-2 draw saw a few skirmish's on the North Stand.
The excitement of the Liverpool game returned when we played at Orient in the 5th round. After winning the previous rounds 4-2 then 6-2, we'd beat Orient 8-2, no problem!
Getting off the tube, there were Chelsea everywhere, it seemed like a home game. We took our position on the terracing along the side, which was full of boisterous Chelsea. After about 5(?) minutes – very early on anyway- there was a bit of a surge and instead of coming to a stop and then shuffling back up the terracing like we'd done countless times, we just stopped there and then.
It turned out that part of the front wall slightly to our left had given way. Play was stopped as a few had spilled onto the pitch. Unbelievably in the Monday papers the Orient Chairman accused Chelsea fans of having Monkey wrenches with them and had 'unscrewed' the crush barriers! A 0-0 draw meant a replay, to which I didn't go. We lost 2-1, and my FA Cup dream lay in tatters. How could we beat European and League zzz Champions Liverpool, yet lose to lowly Orient? At home as well!
To make things worse, our next game was Liverpool at home the following Saturday.
This time I kept my hand inside the train as we headed south. After beating the European and League zzz Champions 4-2, they were out for revenge. They never got it, we won 3-1 after being 1-0 down, and also the North Stand got the better on the terracing. This feeling was the exact reverse of the one after Coventry had beat us. Chelsea puzzled me, (and still do!) how can we get beat by lowly Orient and then we turn over Liverpool?
For the Newcastle home game a few weeks later, vouchers were given out at the Shed turnstiles. According to the programme, this was to 'ensure that the Shed End was reserved for Chelsea fans' for the forthcoming Arsenal game. Thoughts of Arsenal doing a West Ham and taking the Shed were quickly forgotten as we walked from the Kings Head to the Shed. I don't think we saw one Arsenal lad.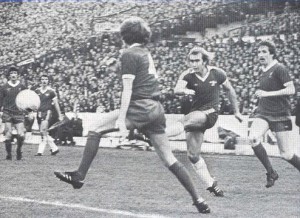 We must have got in the Shed really early, as did thousands of others who were adamant that there was to be no repeat. Some lad in the Kings Head was going round telling everybody to get in early, incase Arsenal came in the Shed. We decided to do our bit, and instead of going to our normal spot, we took our place in the Whitewall. COME AND HAVE A GO IF YOU THINK YOU'RE HARD ENOUGH
This was the first time I'd stood in there, the noise was certainly better than up by the West, but I thought the view wasn't. Just as the teams ran out, the North Stand 'done their job' and scattered the Arsenal. At that point I realised they weren't going to take the Shed, so I moved up to my normal position. 40,764 saw a 0-0 draw, and the season faded out.
The highs of the two Liverpool games were out done by the low of the Coventry game. Saying that, the Cup game v Liverpool would be in my top 3 games, should anyone ever ask me to name them. After the great promotion season I was happy not go straight down. I went 21 games that season, made my FA & Anglo-Scottish Cup debut, the bug was well inside me.
———————————
From the 20p programme-
Bonetti and Harris both reached 700 Chelsea appearances at Derby on March 11…
Amongst other questions in 'Bluespotlight' the players were asked who they supported as a boy…
Droy….Arsenal
Lewington…West Ham
Harris….Arsenal
Wilkins B….Man Utd
Britton….Dundee Utd
Wilkins G….Chelsea
Langley….Chelsea
Sparrow….West Ham
Swain….Everton
Wicks….West Ham
Aylott….Man Utd
Walker….Man Utd
Bonetti….Bonetti Utd(!)
Garner….Leicester
Finnieston….Hearts
Locke….QPR
Stanley….Man Utd
Steve Dunn walked 123 times round the pitch in a sponsored walk to raise money for a new coach for the team to travel on…
Chelsea Official Supporters Club announced they were looking for premises in SW6 to open a "social HQ"…
If you predicted the scores exactly for the home games v WHU & WBA you could win the top 50 singles…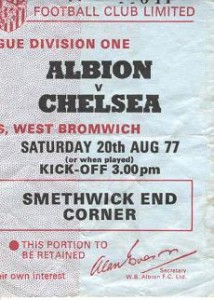 For the Orient replay Shed admission was increased to £1.25 from the normal £1.00. This caused major problems, when 15 minutes to kick off only 13,000 were in the ground, and another 23,000+ outside. The Club and Police then decided to make admission £1.00 again, as it was deemed that the extra 25p was causing the delay through the turnstile operators having to give more change back than normal. 36,379 eventually got in, and Chelsea sent letters to the 23,000 asking for the 25p…
EAST STAND
Lower wings £1.75
Lower centre £2.25
Middle inner wings £3.25
Middle outer wings £2.75
Upper front centre £3.25
Upper rear centre £2.25
Upper rear wings £1.75
Upper front wings £2.75
WEST STAND
Centre £2.25
Wings £1.75
SHED
£1.00 (no concession for kids!!)
Transfer to benches 50p
Posted by Corby