Wolves v Chelsea – Match Summary
Wolves 0 Chelsea 2 – Saturday 18 February 2017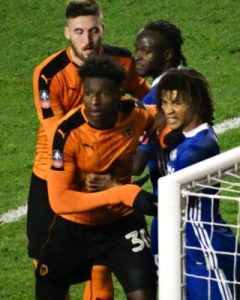 Always love a good away day and nothing better than the prospect of a cracking FA Cup outing at a traditional club like Wolverhampton Wanderers and at an atmospheric ground like Molineux. Once I'd got over the feeling of vertigo induced light-headedness near the front corner of the upper stand, I began to appreciate the great view of the pitch, while at the same time grateful it wasn't raining because half the roof was missing!
A changed team, but still a strong lineup, thankfully Conte taking this competition as seriously as us fans as well as showing respect to our opponents. Begovic was in goal with Zouma, captain, leader and legend JT, and Ake at the back, supported on the wings by Moses and Pedro. With Fabregas and Chalobah in midfield, Willian, Hazard and front man Costa were leading the attack. On the bench were Eduardo, Cahill, Azpilicueta, Kante, Kenedy, Loftus-Cheek and Batshuayi.
We had a shaky start to the game, Kurt Zouma looking a bit over excited at times. And it nearly went pear shaped when poor Kurt let a high cross into the box drop behind him where ex Chelsea youngster George Saville proceeded to miss and unmissable shot on a practically open goal as the ball rifled back off the post. Poor lad will have nightmares about that, but thankfully sweet dreams for us. The home team continued to make the most of our early hesitancy and the home fans were making plenty of noise to drive them on, after all, this was their biggest game in years….you're only here for the Chelsea!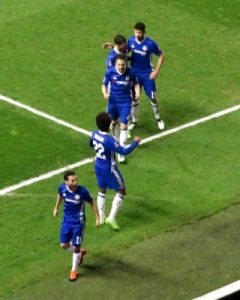 Perhaps it was a good half for the neutral or fans of an underdog, but from my perspective it was frustrating to see so much of our passing go astray, a bit slow with the counter attacks, and any promising moves snuffed out by Wolves' pressing game. But if the home fans thought they could rile our Diego with the customary booing they were truly mistaken – he thrives on that sort of stuff. And where were we when we were sh*t? Come on Wolves fans, so unimaginative!
But while we didn't seem to be getting the breaks in the first half, Wolves couldn't capitalise with a goal and the game remained anybody's at the break, 0-0.
Second half and some early pressure from the home team, still buoyed by the stalemate, but we stuck with it, always mindful that a counter attacking opportunity could always present itself. We gradually began to build up a bit of momentum with more of the play in front of our end of the pitch as the Wolves boys had to hold their nerve and their defensive lines. I could sense that luck was turning our way too, decisions seemed to be going more our way than not.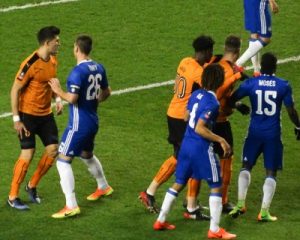 We were starting to turn the screws, Costa coming close when he found the side netting after turning this way and that but unable to find the shot he wanted. And then, finally, the goal. The perfectly weighted pass from Fabregas to Costa running towards the box, and as he played the ball back to Hazard, a short pass to Willian who then spotted Pedro on the other side of the box moving into acres of space waiting for his lofted cross to be nodded effortlessly past the keeper. What a goal, and what a relief!
That goal was just what we needed to inspire us with confidence as we took advantage of Wolves deflation at going behind. With just under 20 minutes left to play we made our first substitution when goal scorer Pedro was taken off in favour of Azpilicueta. We nearly scored a second goal when Fabregas lofted his trademark precise long pass to Willian but he managed to slip over in the box as he approached the goal under pressure from the defender. That was Willian's last contribution to the game as he was replaced by Kante. Our final change saw Loftus-Cheek come on for Hazard, who had a quiet game, by his standards at least.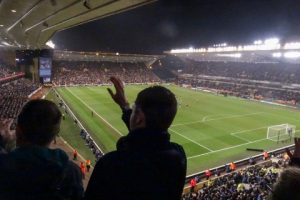 Into the last few minutes and our pocket dynamo was having a positive impact on the game as he tidied up those loose balls in front of our defence. And it was his tenacity at the other end that carried the ball into the box, which eventually found the feet of Costa who threaded a perfectly aimed low shot through the defenders and into the back of the net. Panic over for our striker, his so-called goal drought ended.
With just stoppage time left to play it was game over as we waved cheerio to many home fans as they streamed out of the exits, although many others stayed until the final whistle to give their team the support they deserved. In fairness to Wolves, they gave us a good game but one thing about this Chelsea team is that we never let our heads go down when things aren't going our way, and we fight to the end. Forza Conte.
Posted by Chelsea Debs
Debs can be found on Twitter as @cfcunofficial and at cfcunofficial.com
You can read all Chelsea Debs 'Match Reports' here
DISCLAIMER: All articles written for the Chelsea Supporters Group 2005 (CSG) are those of the author and do not represent the views of the CSG. The views and opinions expressed are solely that of the author credited in the article. The CSG do not take any responsibility for the content of its contributors.
'Chelsea Supporters Group' can be found on Twitter and Facebook