Kevin Wilson – Chelsea FC 1987 – 1992
"A blast from the past, originally posted in 2012 – Corby wrote several of these articles and I will post them up if I can locate them all, think this was the 'eighth and final one – enjoy"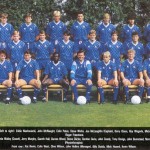 Kevin Wilson – Chelsea FC 1987 – 1992
2 months after I originally emailed Kevin Wilson, he finally rang my Mobile and we arranged to meet. He's not very email friendly (as I've found out!) but face to face he gets 10/10. We arranged to meet in his office at Corby Town FC where he is now manager. Corby are currently 147 places below Chelsea in the football pyramid. I had a mix of questions for him, some I hoped would catch him out. (wrong!) It was training night so the interview had the odd interruption by players, Alan Biley –assistant to KW – and the dreaded Mobile phone…
Lets start with the first contact you had with Chelsea, can you remember where you were?
KW = Yes, actually that year I was playing over in Iraq, with Ipswich, and Chelsea were also over there. I met John Hollins and he asked when my contract was up, so I said at the end of the season. Hollins said we'll be in contact. Ipswich got into the play offs, it was the season I got 25 goals and things were going well. Unfortunately we missed out to Charlton in those play offs, and Bobby Ferguson got the sack, or didn't have his contract renewed.
I felt under Bobby I had improved as a player, and I thought I'd give myself a bit of time. I got a phone call from John a couple of days later. I went in to see John Hollins, had a look around the ground and went in to see Ken Bates. I think the deal was done within half an hour!
Can you remember how much Chelsea paid for you?
KW = Chelsea paid ………thinking- …………£335,000
Well done! What did Chelsea pay you, if I'm allowed to ask!
KW = They paid me a good wage, I was happy, it almost doubled what I was on at Ipswich. I'm not saying I wasn't happy at Ipswich, I was happy there, but when a big club like Chelsea come after you, you have to think about it. It didn't take much thinking really!
So you're not prepared to say a figure!!
KW = =No, not really. Its nothing like what it is nowadays! I certainly was lucky enough to play 5 ½ years at Chelsea, it was a great club.
My first memory of you is when you played against us at Derby. You scored in the 90th minute to make it 2-1. Can you remember what happened next?
KW = Yes, I scored 2 goals that day.
It's the second goal that has stuck in my mind…
KW = It was a shot from David Swindlehurst from about 25 yards, I think Steve Francis was in goals, he parried it out and I came onto the loose ball and put it into the back of the net. My momentum took me off the end of the pitch. As soon as I came back on the pitch there was a few chairs come over my head. I was surprised to see a seat or two come on before I could even get to my team mates!
The hooligan element in football back then. Did you ever talk about it at half/full time? Did it ever affect your playing?
KW = No, not really. When you're playing you're so focused on the game as every footballer knows. When I first went to Chelsea it wasn't easy for me, because I was coming in trying to get alongside Dixon and Durie and break their partnership. I was going in there to replace David Speedie. I still think that me and Kerry Dixon were as good as a partnership that Chelsea had had for a few years. I think it did show over the years, me and Kerry were the last players to get over 20 goals before Jimmy Floyd Hasselbaink came along
Your Chelsea debut. Who was that against?
KW = My Chelsea debut? Sheffield Wednesday I think. Came on as a sub.
For who?
KW = Clive Wilson?
Micky Hazard.
KW = Micky Hazard! I'd had a good pre season, scored a lot of goals, I was disappointed not to start.
You didn't play a full game until 3 or 4 weeks, which was against….?
KW = My first full game? I'd come on as sub against Forest, we were 3-1 down and won 4-3. My first full game…..
Away at….
KW = Go on!
QPR!
KW = Loftus Rd. 1-1?
No, we got beat 3-1. A Ken Bates story?
KW = Ken Bates was black and white; there was no grey area's. I've done many a deal in football, what with transfers etc that have took me days. With Ken Bates it was all over in 30 mins and all sorted! He was very straight and very honest and I think that's why a lot of people didn't like him. He was quite controversial but from my point of view I'd rather have someone who was straight and honest than deal with someone who tried to concoct something else.
He was popular and he wasn't popular on the terraces at Chelsea, to me he was too arrogant. My opinion!
KW = Yes, but I think he moved the club forward. You look at where the club is now, a lot of it is down to Ken Bates. A lot of the structure was put in place by him.
Yes, but he also built up a lot of debt; if Abramovich hadn't had come along we could've been another Leeds United!!!!
KW = It's a little of bit of 'at the right time' these things happen. I'm pleased they've moved on and won the Championship. (eh?) The fans were good fans, they would turn up home and away even if you were struggling. Alright, they were critical and very vocal, but you'll always get people who think you're not very good.
Your best Chelsea memory?
KW = My first goal for Chelsea. It took a lot of pressure off me. West Ham at home I think it was. 1-1 and I think George Parris scored for them. As a striker you enjoy all your goals
What about your worst Chelsea memory then?
KW = Well, getting relegated in my first year, when there was all that trouble after the game, Middlesboro. It was a bit of a funny one, I'd scored two goals in the second leg against Blackburn at Stamford Bridge. In the first leg I'd come on as sub for John Bumstead and laid on both goals in a 2-0 win. I put a ball through from about 50 yards and it went over the top and Gordon came through and scored. We then went to Middlesboro and lost 2-0. I didn't play that night but did on the Saturday when we won 1-0.
Do you still keep in touch with anyone from your Chelsea days? I know you've played for the Old boys.
KW = I played with a few of them in the Masters; last time I played we won the final. As with everything, when you finish your football your paths cross along the way sometimes.
Who's the only Chelsea player you played with who is still at the club?
Alan Biley (Cambridge/Derby/Everton) now assistant to KW interrupts.
AB = Was Steve there when you were?
KW = Steve Clarke, and John Terry was there as a kid.
How did you feel when you left Chelsea and went to Notts County?
KW = I still had 4 years on my contract; mainly I left for family reasons, as we'd moved back to Derby. I'd enjoyed my time in London, it was different.
Did the WAGS exist back then?!!!!
KW = No, but at the time there was plenty of Eastenders stars and the like around!! A lot of people involved in the small screen.
Were you aware of the recent Centenary of Chelsea, and did you go to any of the events?
KW = They had a thing at the Albert Hall; I got invited to that so I went.
Most of the events were out of the price range for the fans.
KW = Yes, when you look back at the old days the prices were a bit closer to the average man; nowadays they've gone beyond most people. They are more for wealthier people.
You've got your feet on the ground!
KW = Yes, I was born and bred in Banbury and lived on a Council estate. My Mum always said "its not the house you live in, it's the people who live in it.
Is football all you've ever done? When you left school did you have a job?
KW = No, I was straight into football. I left school and came through non league; I played for Banbury, then to Derby County, Ipswich then Chelsea. I done it the way a lot of people don't do it now.
There are not many who come up through the non league. There are a lot of foreigners now, even in the academies.
Have you been back to actually see Chelsea? When was the most recent?
KW = Last season v Barcelona and Porto, when we beat them 2-1. Also Arsenal when Essien scored and Tottenham when we got back from 3-1.
You used the term 'we' there, is Chelsea still in your heart?
KW = Yes! All the clubs you play for are. I've got fond memories of all of them; I mean Derby took me into the League. When I got married her father was a Derby season ticket holder.
Mourinho?
KW = I think the bloke shows it as it is. I'm afraid there's an element in the British press and other supporters that don't like people who are successful. I also honestly can't believe that people boo a player that is playing for their team. Recently we had Bentley. The lad was tired, maybe the timing wasn't right, but I know the lad wants to play for his country. The way he got treated in his first game was diabolical.
With the recent incidents at Liverpool and at home to Blackburn on Saturday, what's your view on TV replays and goal line technology?
KW = The thing is in my day the problem never really came up, they didn't have the 92 camera's around the ground that picked every little incident that had gone on. It's a bit of a problem now, like at the Blackburn game where the goal was definitely not offside. The Ref though didn't need technology; he just needed the linesman to make the right decision!!! I don't know if it would be a good thing or a bad thing, I'm a bit 'old school' on it, though it would take away some of the controversy in the game.
Personally I'm against it, we all make mistakes. Do you just have it in the Prem and not at this level?
KW = They'll probably test it at this level, or maybe the reserves.
The foreigners in the game today, good or bad?
KW = If you're a Club manager you'll be happy with the foreigners, but if you're an international or U21 manager you'd be worried because you're not getting the players through. The England set up has suffered over the years because of the foreigners who have come in. There's an argument to whether the Premiership has improved at the cost of the England team because of the foreign influx.
Staying with International football, you qualified for Northern Ireland through Mummy being born there. Did you ever hope England would come calling?
KW = Yes, you always hope, but I was fortunate to play for Northern Ireland. It was a great honour.
Your first cap was against whom?
KW = Israel, away.
Your second?
KW = England at Windsor Park. We got beat 2-0.
Yes, I was there that night in Belfast, it was a good England side though.
KW = Very good. Terry Butcher played, who was my skipper at Ipswich when I was there. I could probably still name the England team that night. I had a good chance in the first ten minutes to put one past Peter Shilton!
Who had more caps, you of Derek Dougan?
KW = I did, I had 42. He had…..
43!
KW = Did he? I thought it was the other way!
Did you ever meet him?
KW = Yes, I met him, and George Best. He was certainly one of them you'd look back at.
If you carried on with Management, what's the highest level you'd like to achieve, the Chelsea job, the Northern Ireland job, what?
KW = I'm going on my Pro licence this year, that's starting in October. I just want to be successful. I did very well at Northampton as Manager there, I ruined that myself through my personal life. I know I'm a decent Manager/coach, I just want an opportunity that's why I came to Corby. Peter Mallinger and the directors here I know very well, I know they are trustworthy. It took me 2 ½ years to get it right at Kettering, to get the club where I wanted. No disrespect to the people who were here before me, but it (Corby Town FC) was going nowhere. It wasn't going to go anywhere until someone came in and started to change things. There was a losing mentality in the Club.
Staying with Corby Town, the away kit is blue/blue/white is that because of Chelsea?
KW = Yes it was. I think it looks good.
Your first home game here was a friendly against a Rangers X1, what did you think of the crowd that night with the pitch invasions, the streakers, the Rangers fans that made it sound like Ibrox?
KW = It was great! That's what we want to be bringing to the Rockingham Triangle!
We thought it was a bit of a baptism for you, a welcome to Corby!
KW = At the end of the day we've got to start winning our games at home, start getting results.
The home record at the moment is dreadful, played 3 lost 3!!
KW = Yes, though we've played well at home. We played Hemel here the other week and hit the bar twice, the post twice and off the line twice!
If Corby sacked you tomorrow, what would you do on Saturday?!
KW = Probably go to a game! But then again spend some time with the children because they're the ones who suffer through the football.
When was the last time you paid to get in and watch football?
KW = We paid at Halesowen about a week ago and Cirencester. Yes, we pay our way, don't worry about that!
Some footballers try management then fade away, would you ever consider trying TV/radio like Jason Cundy on Talksport?
KW = Well Cunders has got one of those voices, he could never go into coaching, that's for certain!! No, I go on Talksport or the BBC sometimes to talk about things topical at the time. I'm doing something I enjoy, I love it and that's good for me.
Who's going to win the Premiership?
KW = Chelsea.
Why?
KW = I feel they've got the resources, they've got a good squad. I think its going to be tight all the way round. Liverpool are definitely going to be a contender this year.
What about the Champions League for Chelsea?
KW = That's one of the things they want to win. Mourinho wants to do it.
Who did you support as a boy?
KW = I used to watch Oxford and Birmingham a lot but as a boy I used to like Leeds in the early seventies. Alan Clarke was a hero.
I've asked that because its in that programme, I was hoping to catch you out!
Do you get a Cup final ticket?
KW = Yes, I can get them if I need them.
Can I have yours?
KW = No!!!!!
What are you like for names and faces? I've got the team photo from your first season at Chelsea, 87-88.
KW = Bring it on! That'll be easy! Not a problem, not a problem!! I'll name that, don't you worry about that! I'll reel this off, you watch this Bilo! (Alan Biley) Eddie Niedzwiecki, that was a lad named John Coady…
No!!!!! John McNaught!
KW = Yeah, wasn't far off! Yeah, he died.
Roger Freestone, Boddy (Mick Bodley) Roy Wegerle, Kerry Dixon, Joe McLaughlin, Steve Wicks, Patesy, Ernie Walley, Murphy, Hall, Darren Ward?
No!! WOOD!!!!!!!
KW = Aaahhhhh!!!!! Steve Clarke, Gordon Durie, a lad named Coady, Tony Dorigo, John Bumstead, Norman Medhurst, Pat Nevin, Colin West, Clive Wilson, John Hollins, …. a lad who went to Scotland, played for Rangers….Billy Dodds! Micky Hazard and THE MAN!!!
AB. Wegerle looks a little lad. Did Wood go on and play for Charlton?
KW = No! Sheffield Wednesday!!! Anything else you f****** want to know!!!
AB = Who was it that went to play for Charlton? I thought it was from Chelsea, it might have been from Man Utd.
KW = The difference is one plays in red and one plays in blue! For f**** sake Bilo!!!
We then started looking through some old progs from his era, Wilson enjoyed taking the p*** out of himself by showing his players picture of him circa 1987
Your moustache, when did you lose that?
KW = I've had it gone a long time, in my Northampton days!!!
AB = Women used to hang on to that!
I can see you're getting busier now, so I'll call it a day! Thanks for your time and what you done for Chelsea! Good luck here at Corby.
KW = Hope that's helped you, and if we can ever help you again, don't call!! Thanks!
Good luck with the FA Cup replay and the road to Wembley!
KW = You never know…
Kevin Wilson came over really good, very friendly and he's definitely game for a laugh – him and 'Bilo' at times were like Morecombe and Wise!! He spoke of his Chelsea days fondly –and very proudly. Walking home across the field, I started to think of which other player I'd like to interview. Anyone know where Winston Bogarde lives….
***2 days later Corby won their FAC replay, news that would've made the front page of the nationals – if it wasn't for Mr Mourinho…
Posted by Corby
DISCLAIMER: All articles written for the Chelsea Supporters Group 2005 (CSG) are those of the author and do not represent the views of the CSG. The views and opinions expressed are solely that of the author credited in the article. The CSG do not take any responsibility for the content of its contributors.
'Chelsea Supporters Group' can be found on Twitter and Facebook
Related Images: