West Ham v Chelsea – Match Summary
Monday 6 March 2017 – West Ham 1 Chelsea 2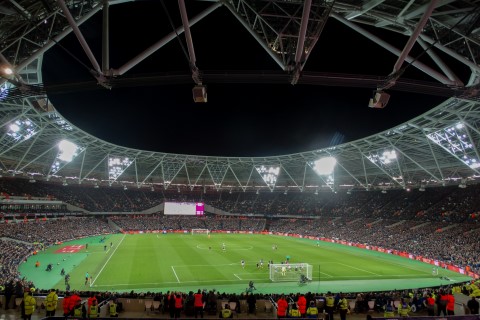 When we last visited this excuse of a football stadium, I said in the immediate aftermath of the all too predictable mess of crowd management that I would never return. I lied. Here we were again a few months later, an amazing run in the League and top of the pile, returning to what we hoped would be a much safer place and a much better outcome.
An unchanged side from our last fixture; Courtois in goal with our back three of Azpilicueta, Luiz and Cahill supporting by Moses and Alonso in their wide positions. With Kante and Fabregas in midfield, Pedro and Hazard were supporting Costa up top. On the bench were Begovic, JT, Zouma, Matic, Loftus-Cheek, Willian and Batshuayi.
As the teams emerged into that ridiculous wall of soapy water the crowd were well up for the game, the echo chamber of that soulless bowl trying its best to muster some atmosphere.
The West Ham boys on the pitch made it quite clear from early on where their targets were, Hazard being fouled in his tracks from the outset. But their danger man for me was always going to be that top knotted tosser Andy Carroll, so when Moses clobbered him in the box leaving the poor soul with a bloody nose, the message that we were having none of his shenanigans got through loud and clear.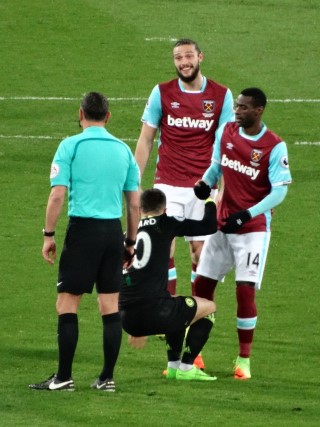 But in a moment of togetherness, it was pleasing to see the whole crowd stand on 8 minutes for a round of applause in tribute to a young West Ham fan, Zara Witherall, who tragically lost her life aged just 8 years old. RIP Zara.
Once the frantic first few minutes had settled down both teams were passing the ball around quite freely and pushing to find that opening goal, last ditch defending required at both ends as well as the ball being given away far too easily in midfield. This game could have gone either way, it was a right old London derby ding dong!
But that up-and-at-'em start wasn't to last. With 25 minutes played and with West Ham farting about with the ball deep in our half, Kante did what he does, nicked the ball and swiftly moved it up the park, rolling it into the path of Hazard. And following a quick one-two with Pedro, Hazard streaked towards goal, side stepped the approaching keeper, and sweetly slotted the ball past Randolph and the late arriving defenders. One up and what a superb goal, our counter attacking prowess just breathtaking.
The game calmed down after that, the home fans going oh so quiet following the bursting of their bubbles, the away fans reminding them about what they had become since selling their soul for that sh*thole!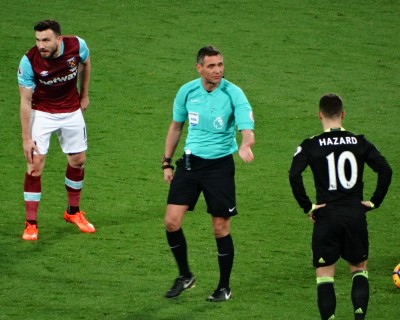 Just before half time we missed a golden opportunity to go two up, a succession of missed chances from Costa, Moses, and then Pedro following Hazard's breakaway run towards goal. It wasn't to be, and despite Kante literally taking the game into his own hands by passing the ball to himself in space as we approached 45 minutes, the score remained 0-1.
Second half, and with the expectation of us stepping things up, we set about our task of consolidating our lead after missing those nailed on chances at the end of the first half. And once again a quick thinking counter attack set our wheels in motion, earning us a corner. The incoming ball eventually dropped in front of Costa where he simply stuck his knee behind the ball to see it home. Cue a pile up of our boys celebrating in front of the away section, satisfied that the game was well and truly in our hands.
We could have killed the game off a few moments later when Alonso made a probing run into the box only to see his dinked shot go wide as he appeared to be tripped in the box. Nothing given though. We were in complete control, West Ham now relying on the crumbs of our occasional wayward passing and their own failed attempts at long shots on goal. But when they did manage to breach our defence we had plenty of cover, with Courtois on hand to make sure nothing got through.
Our first change saw Pedro make way for Matic as the game slipped into the last half hour, someone a bit more defensively minded to protect our two goal advantage. But despite their gradually increasing amount of possession West Ham didn't really look like scoring whereas we had that element of surprise in our fast counter attacking ability.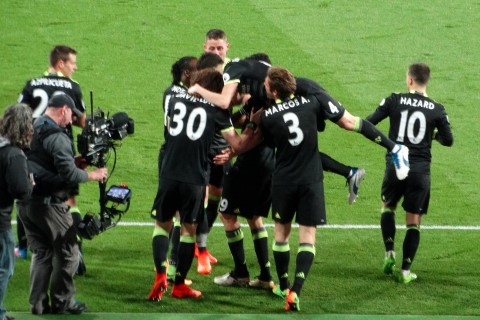 While we had West Ham pinned back and they had possession the game slowed to a snail's pace, but as soon as we retrieved the ball we were always looking to move the ball quickly up the park. There was no sense of urgency in their play, despite being the home team, perhaps resigned to the defeat already. Even the home crowd knew the game was up as their fans began to abandon their seats for the losers trudge to their adopted home of Stratford.
Into the final 15 minutes of the game and our second change saw Willian come on to replace the superb Hazard, shortly followed by Zouma who replaced the busy Moses.
We spent the rest of the game going through the motions, aiming to keep a tight ship to see out the win. So when they far too easily slipped through our defence and scored in the final knockings of stoppage time, Courtois was absolutely furious, and so he might, his expected clean sheet ripped to shreds. But, more importantly come the final whistle, the victory and the 3 points were in the bag, a good night's work all round.
A much better experience and outcome to last time, actually a thoroughly enjoyable evening. The away fans were merciless in their taunting of the mockney boys, always a highlight of any visit over that way. But what about Scott Canham, anyway?
Posted by Chelsea Debs
Debs can be found on Twitter as @cfcunofficial and at cfcunofficial.com
You can read all Chelsea Debs 'Match Reports' here
DISCLAIMER: All articles written for the Chelsea Supporters Group 2005 (CSG) are those of the author and do not represent the views of the CSG. The views and opinions expressed are solely that of the author credited in the article. The CSG do not take any responsibility for the content of its contributors.
'Chelsea Supporters Group' can be found on Twitter and Facebook
Related Images: