It is with great sadness, and a heavy heart, that I have to inform our members and fellow Chelsea supporters, that our Chairperson and great friend, Trizia Fiorellino passed away on Tuesday evening after a short illness.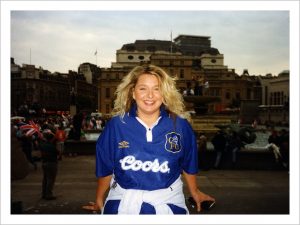 I first met Trizia around 20 years ago at an Old Boys game in Mitcham and we soon became friends. In 2005 she was the main instigator along with Dave 'urry up' Johnstone, in setting up the Chelsea Supporters Group and soon had encouraged me to stand as Vice Chair. Over the years the CSG, through Trizia's leadership, has been involved with many supporter issues and was a connection between the fans and the club, and achieved many things through her fantastic attitude and devotion to her position as head of the CSG
Her passing has left a huge void in our lives and we shall miss her terribly, she was larger than life and had a great welcoming personality and was always there for us when we just needed a chat. I shall remember her at every game we attend and will be looking up at her seat in the front row of the East Upper where I know she will be, in spirit, giving the team a cheer.
Our thoughts at this time now are with her partner Paul, Trizia's mother and, her sisters Marcella and Cristina and all the family and friends. I hope as we go forward, time will relieve us of some of the hurt that is being felt by us all.
RIP Trizia my friend, always loved, always remembered. x
Peter Trenter, Co Vice Chair, CSG.