Stadium Tour And Museum Visit
Following the Covid 19 restrictions to Chelsea FC over the past few months, we are pleased to now confirm that, as of last weekend, the 'new' Chelsea Stadium Tours and Museum are open again for visitors.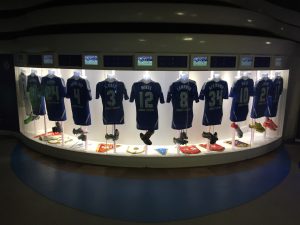 Liz and I decided to go along, with some of the family, and see what is now available to the supporters.
As you would expect, there are Covid 19 restrictions and guidelines in place with social distancing and lots of sanitiser dispensers placed around the complex, however this did not affect a very enjoyable and relaxing visit.
The limited numbers allowed for the tours meant we had more time to spend visiting the areas of the ground, (press room, dressing room, manager's office etc) and spend time chatting to Dave our guide, a Chelsea supporter of some 54 years!
Following the tour we headed back to the museum, again only us in there at that time some no rush trying to fit it all in. Lots of different exhibits on show and a chance to have your picture taken with the two European trophies.
Before leaving we had the chance to stop and chat with the Stadium Tours and Museum Manager, Adam Burrage, who told us:
"In terms of the museum specifics, we can offer the following:
Several interactive exhibits for kids including the MUNICH 2012 Penalty Shootout experience.
Hundreds of artefacts including the original document that started the club in 1905 and Peter Osgood's shirt from the 1970 FA Cup Final.
Three new exhibits; Frank Lampard 2001-2014; a celebration of Chelsea's highest goalscorer with matchworn boots. 'Blue is the Colour – 50 Years of the Chelsea FC Home Shirt' with every home jersey worn by the club since 1970 and 'John Terry – Captain, Leader, Legend – a collection of framed shirts and armbands worn by JT in the 2004/05 season including Bolton away and Charlton at home when we lifted the trophy'.
The tour goes behind the scenes of our currently 'Behind Closed Doors' stadium and offers fans the chance to see the stadium like never before.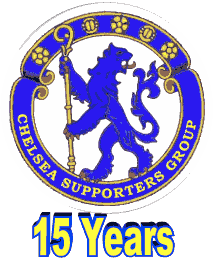 We are offering all members of CSG a 10% discount on Stadium Tour & Museum standard tickets with 'SUPPORTER10' for any booking before 31 July. Tour prices are currently £21 for adults due to the reduction in VAT up to and including January 2021"
For further information and to book a visit, please click here
Adam can be found on Twitter @BUDGE_79. Adam is a lifelong Chelsea fan and his first game was the Full Members Cup Final in 1986 as a 6 year old. He has been a season ticket holder with his dad Steve since 1990 and sits in the East Upper.
Pictures from the day can be found here
---
'Chelsea Supporters Group' can be also be found on Twitter and Facebook
Related Images: