Match Report: FA Youth Cup: Chelsea 1 – Man Utd 1 (Agg 3-2)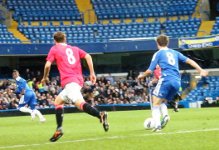 Well done to the Chelsea youngsters as they are through to the FA Youth Cup final after coming from behind to draw against Manchester United at Stamford Bridge.
Having won the first leg of the tie 2-1 at Old Trafford we needed a draw or a win to advance.
We were the better side at Old Trafford, and started brightly at home with Lucas Piazon in spectacular form. He seemed to be in a mood to take on the entire United team at once and attempted to do so about three times in the first fifteen minutes racing through their midfield before laying off the ball to a teammate. The visitors threatened and Jack Barmby (son of Nick) drew a couple of fine saves from Jamal Blackman
Adam Nditi looked as though he had given us the lead in the 22nd minute with a shot at the near post which United goalkeeper Jonathan Sutherland should have stopped comfortably. He didn't – the ball squirmed from his grasp and looked as though it might have crossed the line before he could retrieve it. The goal was disallowed with replays later showing it was the right call.
United scored when Barmby received the ball inside the box and turned Todd Kane before shooting past Blackman.
The goal was against the general run of play but gave United the lead going into halftime and with away goals not counting for anything extra by Youth Cup rules we were heading for extra time.
After the break Lucas Piazon continued to look the most likely Chelsea threat but with things not going entirely as planned Adi Viveash made a change sending on Alex Kiwomya for Amin Affane.
The move seemed to help as the United  back line became significantly more stretched following Kiwomya's introduction and Feruz took advantage of the gaps that were appearing in defence by laying a super pass into the path of Piazon, who slammed past Sutherland from eight yards with his first touch. We were level, and it began to look more and more that we would be outright winners as blue shirts poured forward.
Feruz came very close to getting a goal of his own with a deflected effort skimming the bar following some superb work from Kane and Kiwomya. We had a few chances to put the game out of reach but ultimately it didn't matter, as last-ditch attempts on Blackman's goal were thwarted fairly handily by Nathan Ake and Alex Davey.
So, a 1-1 draw on the day and a 3-2 aggregate win over- all against the holders.
The two-legged final against Blackburn Rovers has its first game on April 20th at Stamford Bridge.
Gill Reeves – CSG disabled rep