Chelsea 'Fans Forum' Information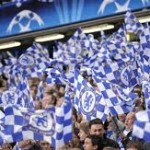 The Club has finalised its plans for next season's Fans' Forum.
As Ron Gourlay indicated at the final meeting of last season, the Forum will continue but with an amended format. There will be three meetings per season instead of four.
For information, the first meeting of the season will be on Saturday 6th October (at 9.30am as usual).
In the interests of balance and gauging fans' views from as wide a range of fans as possible, each supporters group will be restricted to one committee member on the Forum and should not also be represented in other categories.  Terms continue to be for two years each.  No member can be selected for two consecutive terms and once their term is served members will not be eligible for re-election for four years.
There will be up to twenty members on the Forum.
The following general positions are open for applications on the Forum for 2012/13 and an application form will be posted at chelseafc.com (for the non supporter group positions): –
4 x official UK Supporters Club branch members; –
1 x Official Overseas Supporters Club branch member; –
1 x home season ticket holder; –
1  x away season ticket holder  –
1 x Family Stand season ticket holder;
– 1 x disabled rep; –
1 x 16-21 year old;
Directors will continue to attend. 
Ron Gourlay will attend when possible and also intends to increase his number of visits to supporter clubs next season.