Chelsea And Cobham Welcomes Foxwood Autistic Pupils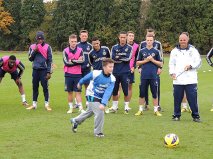 Kent Blues and Foxwood Friends visit Chelsea Training Ground, Cobham
Thanks to Dermot Drummy who arranged our trip to Cobham recently to watch the Under 21's training as part of our Kent Blues and Special Schools Sportsmark Initiative. 
Our autistic children have been working hard over the past year in producing project work which Chelsea has kindly supported by encouraging them to engage with Academy team players and some members of the first team. 
Their achievements in terms of physical and academic progress have been way beyond all our expectations and those of their parents.
We are now working towards our Gold Level Diploma in FA Football Development programme which if we achieve we will be one of the first Special Schools in the Country to have done so.
Dermot has been instrumental in supporting our children and empathising with our efforts to bring out all that is best in our pupils and for this we are extremely grateful.
Gill Reeves – CSG Disables Rep
This is another of Kent Blues Jack's wonderful reports and pictures from the visit:-
Hello Everyone,
My name is Jack and this is about something very very special, because this is something happened on Saturday last week but it is not about when I go to Stamford Bridge.
You will never guess but my friends and they are Gabby and Lauren, Robert and another Jack and Jacob. Well we all went to Chelsea training ground!
Chelsea Training Ground is a place called Cobham and it was such exciting for everyone.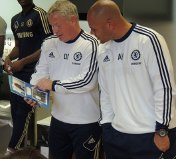 We went with Teacher Gill, Kent Blues Graeme and Dwaine who is our football helper and Teacher Paul in our big minibus and we had to go to school really really early because Dermot said we had to be at Chelsea training ground at 10 am and Teacher Gill said "no way can we be late".
WE all weared our Foxwood Friends new football kit because we wanted to show Dermot a suprise for him but i still weared my Chelsea shirt as well.
Now the next bit is about when we got to Chelsea training ground and this is the best bit of all. Dermot and his helper Andy was there and there was another helper and his name was Craig.
Dermot shooked all our hands and then we walked very very long way which was where Chelsea Under 21's was to see them training like we do at our school.  What was very exciting thing because as we walked down long road guess who was there and it was number 1 goalkeeper Petr and Ross and Hilario and Christoph who is their best teacher and they was all wearing their training clothes just like us and we said "hello" and HIlario said "Hello" and then he said "I will promise to come and see you later on" and that made Teacher Gill happy because she loves him.
We went on the grass of the pitch and Dermot said to the players "now you must do your exercises and we will watch" but do you know the things that they did was stretching and bending over and shaking their legs and hands so we all copied the same as the Chelsea players did. Anyway as well Dermot was doing his thinking but not waving his arms around so much as he does at proper football like Stamford Bridge.
Then Dermot said "now you must run around the pitch" and we all ran around.
Dermot blew a whistle and when he blew it we had to stop and then we had to start again.
Then Craig who is Dermot's helper said to us "come with me and I will show you how to do lots of football skills training" Craig was very good at helping and we wanted to know lots of questions about how to do passing and tackling.
Next thing is that Dermot said everyone to stop and we will do something and it was the best thing because we got to show things we had learned with Craig.
Teacher Gill said to think of what you liked best and I showed how I could do good passing and all the Chelsea Under 21 team was shouting and clapping like we do!
Now wait for this bit because Jamal Blackman who is Under 21's goalkeeper said "You can do penalties and I will be the goalkeeper!
This is who did it. Me and Kent Blues Graeme and we both score our goals and Dermot and our friends and then Chelsea players all did cheering.
Then we went to the big place which is called the Chelsea Academy and up lots of stairs to where they have dinner.  Teacher Gill said we could see what Chelsea players eat which is good to make you fit. BUT you will never guess that there was burgers and chips just like McDonalds and there was salad and big bread rolls and fruit so we had our dinner and it was very good so we know what to eat to be like Chelsea player.
After we eat our dinner Dermot said we could ask lots of questions to the Chelsea players and I ask my question to Todd Kane and it was "What is best thing that you like about Chelsea?"  and he answer was that he likes to be training every day and doing football with all his friends and do you know that is that same what I like to do as well.
Then the next very special thing because Hilario came and so did Ross and they said "we have got a present for you it is a Chelsea shirt with Foxwood Friends and all the players will sign this"
Well Kent Blues Graeme took lots lots of photos of us and I put them on my wall at home and in our Show and Tell book at school.
Guess what too that we will make special Chelsea wall in our school for everyone to see it.
This was a best ever day and I loved it and all my friends did and we gave Dermot and Andy a thank you book about Chelsea Under 21's with pictures we drawed and made and it was like because I had my dream to be a real Chelsea player.
By Kent Blues Jack – Junior Chelsea Blue.