Stoke City v Chelsea – Match Summary
Saturday 7 November 2015 – Stoke 1 Chelsea 0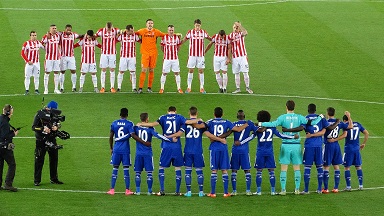 Another away day in the funkadelic disco car, and as we set sail in the pouring London rain, I pondered on whether we were witnessing the start of our season's turnaround following our monumental win against Kiev in midweek.
In starting lineup news, Begovic still in goal covering for the recuperating Courtois, with the same back four as our last outing, Azpilicueta, Zouma, JT and Baba Rahman. With Ramires and Matic sitting just ahead, Diego Costa leading the line with support from Pedro, Willian and Hazard. On the bench keeper Amelia, Cahill, Mikel, Kenedy, Fabregas, Oscar and Remy. But a notable omission from the bench was of course our Manager Jose, serving out a one match stadium ban with his iPad on a street corner somewhere in windy Stoke. But no shortage of cardboard Joses amongst the away fans to keep everyone guessing!
Just before kickoff, and in the poignant pre-match events to mark Remembrance, a fitting tribute of a perfectly observed minute's silence accompanied by a moving rendition of the last post.
As ever against Stoke, the game started as a feisty and physical affair, but there were early indications that the inexperienced Baba Rahman was going to have problems dealing with Mini Me Shaqiri, who actually ran rings round him for much of the game. Early chances for both teams went begging, Pedro, Hazard and Willian looking particularly lively.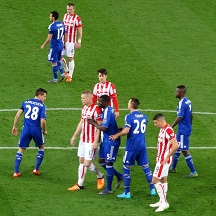 And in a decent piece of build up play, Ramires was barged to the floor but managed to haul himself up in time to fire a lovely lobbed volley at goal, only for the shot to be tipped over the bar by their very good keeper Butland. Sadly the resulting corner came to nothing but some positive signs that our boys were up for this one, with the home team definitely under the cosh at times.
But the Stoke bully boys were up to their usual tricks, fat boy Adam having a go at Pedro and Shawcross manhandling JT during a succession of feisty corners. Our dominance continued to half time though, a chance from Costa weaving through their defence the closest we came to taking the lead. HT 0-0.
Unsurprisingly, another lively start to the half, both teams believing they could win it, by fair means or foul, a few tough challenges going in. But within a few minutes the home team had taken the lead when Arnautovic, the man with the outrageously tacky top knot, managed to find space to fire past Begovic.
And while the home fans finally decided to start singing instead of booing, the away fans remained in good voice as they had done during the first half, support for the absent Jose unwavering.
If the game was feisty in the first half, this second half was starting to look positively spiteful. A leading arm from the thug Shawcross in the face of Diego Costa, plus a cynical shove from behind and some questionable words said to Willian by the man with his brains in his man bun. I don't think he was asking for hair product tips! But our superbly coiffed Brazilian continued to be a target for rough treatment throughout the rest of the game.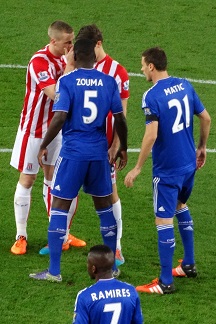 And we came so close to equalising when Pedro found himself in space on the edge of the box, only for his curling shot to rebound off the bottom of the post. But we continued to push hard, chasing wayward passes, much better from our boys.
Twenty minutes left to play, a double substitution with Oscar and Fabregas replacing Baba and Pedro and a few minutes later Ramires was replaced by Remy, good to see two strikers on the pitch. And while we dominated the possession we also came so, so close to equalising when some neat passing in the box allowed Hazard to shoot low, but only for his effort to be deflected just wide. Meanwhile at the other end, Matic got himself into a bit of a pickle losing possession but thankfully their eventual shot on goal went high over the bar.
But there is always that one game changing chance that goes begging, and with just 5 minutes to play another foray on goal, the strike partnership linking up well with a through ball from Costa to Remy. But with Butland rushing out, Remy had to hurdle over him to avoid the unavoidable clattering, only to lose his footing as he landed and scooped his eventual shot on goal wide. Penalty all day but nothing given by the referee, a perfect example, if ever one was needed, as to why players appear to go down in the box so easily. Remy may have done the decent thing by trying to stay on his feet, but in doing so he had cost us a certain penalty. Surely it's the intent of the offence committed rather than the result of the foul that determines the outcome? Shocking decision by the official.
But despite continuing to work for that elusive goal to the final whistle the game ended in a defeat, very unlucky.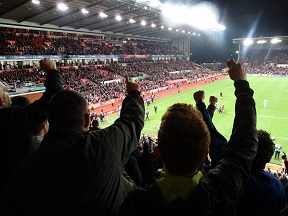 As we walked slowly back to the car surrounded by the gleeful locals acting as if they had triumphed in a cup final, I felt resentful at giving a mediocre club full of thugs a gifted win but, let's face it, you can't have much else to be happy about living in those parts.
As for a turnaround, not quite yet. Yes, the performance was another big improvement on the road to recovery, but that important killer instinct still seems to be wanting at times. Far be it from me to cast aspersions on our monster centre forward, but I can't help feeling that, without the goals he's paid to produce, he's becoming a bit of a liability. Less of the joking around and more of getting himself in a threatening striker's position wouldn't go amiss. Have a word with him JT!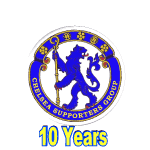 Posted by Chelsea Debs
Debs can be found on Twitter as @cfcunofficial and at cfcunofficial.com
You can read all Chelsea Debs 'Match Reports' here
DISCLAIMER: All articles written for the Chelsea Supporters Group 2005 (CSG) are those of the author and do not represent the views of the CSG. The views and opinions expressed are solely that of the author credited in the article. The CSG do not take any responsibility for the content of its contributors.