William Gallas: Legend Or Traitor?
William Gallas: legend or traitor?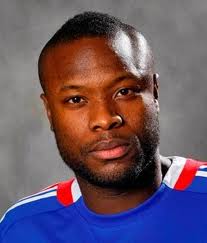 Last week the BBC Sport website revealed the names of all the unfortunates who have been released by their Premiership clubs, presumably because they are past their sell-by date or they are deemed as unlikely to make the grade and satisfy their current employer. Chelsea's cast-offs predictably include Yossi Benayoun, Paolo Ferreira, Hilario, and Florent Malouda (amongst others). Consult the internet for the others, folks.
Among the discarded rubbish at Tottensham is our dearly departed William Gallas. Will William go for a fourth London club, as he appears to be doing the rounds at all of the capital's soccer teams? I hope that he goes to Crystal Palace, as he and they would just right for one another, in other words: mutually crap. You've got to admit that Gallas at Palace has a nice ring to it. Maybe for some hard-bitten Chelsea followers, Gallas in the Thames might be more appealing.
Well, let us cast our minds back to the summer of 2006 when silly Willy was reportedly throwing his toys out of the pram and demanding a transfer away from Stamford Bridge. If Gallas really did threaten to score an own goal if Chelsea blocked his desire to leave, then for many Chelsea supporters his swap with Ashley Cole was a case of good riddance. Funnily enough, when both defensive maestros traded employers, our dear friends from Arse-nil were bragging foolishly that they had got the better deal. I must admit I feared that they could be right.
In the event, Ashley Cole has gone on to be a brilliant full-back at Chelsea [much to the constant sorrow of all Gooners!] while William Gallas lost the plot at Arse-nil, left there with no medals and then demoted himself to little Tottensham where again he accumulated a grand total of no medals and his club won no silverware yet again. [Can someone explain incidentally on what basis Tottensham are a major club? They haven't won anything worthwhile in donkey's years.]
However, we do still just about fondly recall the years when Gallas excelled himself at Stamford Bridge. His defending and pace was almost second to none, he had a good partnership with John Terry, and he always had a good nose for goal. Let's not forget the opening goal on that Saturday skirmish against ManUre that clinched the second successive Premiership. Let's recall his brilliant curling effort several weeks earlier that broke the resistance of little old Tottensham which arrived in the dying minutes of that routine win.
Yes, William Gallas was a key member of a team that won back-to-back Premiership trophies. His efforts did not go unnoticed. Chelsea fans back then thought the world of him. Agreed? Even allowing for the fact that he bemoaned being selected at left back by Jose, he left West London in bad circumstances. We may never know the truth of the accusations and counter-accusations.
Personally, I do think that any footballer is absolutely entitled to move to any club he likes. If the supporters can change employers, then they have no right to demand that their players stay with the same club or even avoid local rivals. If we can welcome Ashley or Glenn Hoddle after their efforts in norf London, then we should permit our guys to move to pastures new and just suck the bitter pill and move on.
However, what is not quite so excusable is the alleged remark from silly Willy that Arse-nil supporters were the best he had encountered [or words to that effect]. This is an almighty kick in the teeth to Chelsea fans who appreciated his performances. Leaving Chelsea with such bad blood being spilled was an act of stupidity. Going on to rival clubs and collecting not even a tankard whilst Ashley won European winner's medals in two consecutive seasons as well as a domestic double at least reveals that the original predictions of the Gooners was more hot air from our lovely neighbours. Now the question is: Is William Gallas a hero or villain…..or just plain stupid?
Gary Watton; football historian and sports statistician [see also http://gw930.blog.com]