Chelsea Terrace Talk – Irish Examiner Article By Trizia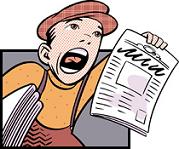 Lampard once again made the insults of the East London swamp donkeys stick in their throats as he scored a brace in what will probably be one of the easiest wins of the season. Having missed a penalty against them in the past, he wasn't going to let that happen again.
I savoured Saturday's game – and not just because it was a win against a London rival, but because I won't have too many more opportunities to visit Upton Park. Whatever the feelings between the clubs fans, most of us would agree that the Boleyn is one of the few "proper" football grounds left in the Premiership – it doesn't look like a shopping mall like the Emirates – it's not one of those out of a box repli-kit stadiums like Southamptons & Cardiffs. It's a ground that has evolved with the fortunes of a club during a time when only the football mattered – not how many corporate boxes you had, or how big your mega-store was or how much you could charge for the naming rights of your new shiny characterless bowl. No doubt in 10 years time there will be a stack of anonymous glass clad executive flats without a trace of the football ground that stood there for over 100 years. Fat cats will have got fatter off the back of the deals, the public purse will be poorer and if they're lucky, West Ham may still be in existence – although I wager they'll be known as "Olympic West Ham" or some similarly appalling brand led re-invention. It will be a sad day when they move to the Olympic Stadium – and not just for Hammers fans – many of us are constantly under a similar threat. Football WILL eat itself…..but let's move on as this isn't a subject for the up & coming "festive" season……
Mourinho's first choice team is now beginning to manifest itself & sadly there seems to be no place for Juan Mata. Even Essien with his unreliable knees got game time against West Ham while our Player of the Year for two years running completed another pointless warm-up. I image he'll play against Basle but a few games here & there will not satisfy a player of such talent – especially with a World Cup on the horizon. Hazard for me is still failing to live up to his reputation but Mourinho persists with him – don't get me wrong – I think he's a great player but his form is not the best at the moment so why not give Mata a go – even for 20 minutes or so? The only reason I can think of is that he has already decided to let Mata go so playing him would be pointless. If that is the case then I think we'll be a much poorer squad for it. The best that I can hope for is that we don't sell him to a Premiership side.
I think that Mourinho is also in two minds about Luiz; with a run of games, Cahill is proving me wrong and making that centre half position next to JT his own – and although Luiz does get quite a bit of game time when fit, I don't think he'll be willing to play second fiddle to anyone – especially with the likes of Barcelona showing an interest. I can see both he & Mata being sold to fund a striker – not that we have to sell to buy but we need to at least make an attempt to demonstrate that we will comply with financial fair play.
I see Poyet (spit) is demanding an apology from the refereeing association for the sending off of Wes Brown – this is all because Mike Riley thought it a good idea to ring Steve Clarke & apologise for the penalty decision against West Brom at Stamford Bridge. Not sure who I blame more – Riley or Clarke. Riley should never have done it – but Clarke should never have revealed the fact. Most referees make decisions in good faith (unless they are called Tom Henning Ovrebo) – so what is there to apologise for? I wouldn't mind so much if it was a clear miscarriage of justice but it wasn't – Chelsea fans know what a real miscarriage of justice looks like – see aforementioned Ovrebo.
But back to the present. We are looking "efficient" but there are still periods where we seem to lack concentration. Mikel in the midfield certainly helps in that respect though & he needs to be one of the first names on the team sheet at least until we move up to that next level. We need to score more goals too – seeing City teach Tottenham a harsh footballing lesson does make me very conscious of where we do have gaps – but given their embarrassment of riches you can really appreciate what Mourinho is achieving with a limited squad – imagine when he brings in a couple of players!
A point tomorrow should be enough to see us qualify for the next stage of the Champions League which means all focus can be concentrated on the league. Complacency did for us against the Swiss in the home leg – no one will be making that mistake again. A lot of games coming in the next four weeks – for everyone – tricky pitches, tiredness, injuries etc will all have a say in who tops the table in the New Year – time for us to move it up a gear.
Posted by Trizia