Good Omens? (by Gary Watton)
GOOD OMENS? [by Gary Watton]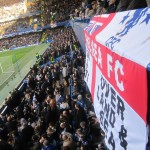 We all like to clutch at straws and view various phenomena as good omens, and I believe that in the light of recent events, there are indeed encouraging omens for the Chelsea faithful. Allow me to explain.
Ironically, in the midst of a season when Chelsea's missed goal attempts are prompting more headlines than our successful goal attempts, the team has provided a hat-trick of hat-trick heroes in three consecutive months. How weird is that? The last time that we furnished three different hat-trick superstars in the same season was back in 2010 when we last won the Premiership. Now that's what I call a good omen.
Secondly, not many people will know that the hat-trick by the otherwise inaccurate Eto'o was the first treble by a Chelsea player against Manchester United since a certain Seamus O'Connell in October 1954, when the Blues lost six-five at the Bridge! What became of Chelsea in that season, some may ask? Well, we only went and won the First Division for the first time! Now that's what I call another good omen.
Incidentally, there is a brilliant story arising out of the O'Connell hat-trick, which you will have discovered if you have ever watched the Chelsea History video which covers the club's journey up until 1989, before our recent glory years. Our former manager Ted Drake was in conversation on the telephone with one of his scouts. The scout, on hearing about a hat-trick from the amateur player, O'Connell, and the six-five goal feast, stated "Dont worry guv'nor. I've get a better player." Drake's face lights up and he says in the interview "And do you know who it was?…….. Jimmy Greaves."
Meanwhile, back to the future, I am amused by Mourinho's slightly unconvincing strategy of portraying Chelsea as a little pony. [Funnily enough, Brendan Rodgers has referred to his team as a chihuahua!] Well, such armchair experts as Robbie Savage and Alan Shearer are equally unfooled by Jose's behaviour as they both now tip the small horse to win the big race. To be fair to Shearer, he fancied Chelsea all along, while Savage has come round to the idea that the Blues will triumph. Personally, I feel that Mourinho's humble views upon his team's prospects [which run at a complete tangent from the public perception of an arrogant man] are based upon his peculiar successes at FC Porto and then Inter Milan. When FC Porto were progressing through the Champions League of 2004, nobody was giving them a prayer of eventual glory. They proved everybody wrong, and that underdog tag suited Jose really well.
He then repeated the trick six years later when Inter Milan surprised all and sundry by proceeding to lift the Champions League trophy in 2010. I thought that Chelsea could overturn the 2-1 away deficit with ease in the last sixteen, but Mourinho and Eto'o had other ideas! Even then, it was not apparent that Internazionale were champions-elect. You see, Mourinho has specialised in squeezing every ounce of juice out of unfancied teams [contrary to the myth that he can only operate with superstars.] Will lightning strike thrice?
Well, the omens are surprisingly good. I'm not suggesting for one moment that triumph beckons in Europe, but we are in a position where we can amaze ourselves and win the Premiership. From next Saturday when Manchester Mercenaries must play Wigan in their sixth round FA Cup shindig, they will have three games in hand. Quite frankly, I much prefer to have matches and points in the bag than a backlog of fixtures. If Chelsea play their cards right in the forthcoming London derbies against Tottensham, Arse-nil, and Crystal Palace, then the little horse just might finish ahead of the chihuahua, the north London show pony, and the big thoroughbred from Manchester.
Gary Watton can be stalked at http://sporthistorian.blog.com/Chelsea