Fans Forum – Issues To Be Raised
Fans Forum – 5th April 2014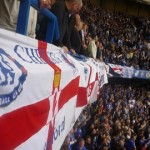 Issues our members have asked to be raised are as follows –
Away Season Ticket Holders – where an allocation has an upper and lower tier, is it possible to be able to choose the ticket as currently we are given the upper as standard – these are always the most expensive tickets. Selecting the lower can save almost £100 per season
Viagogo – Many fans have once again bought up the contentious issue of Viagogo – the CSG has raised this on a number of occasions – and still believes that the "service" offered by Viagogo is in essence legalised touting. We are disappointed that despite the fact that the last time this was discussed at the forum (following a very damning Dispatches programme on TV) where the majority of the forum were very much against the continued association with Viagogo – the club not only continued this association – but indeed extended it. Why specifically can Chelsea not set up an in-house ticket exchange (as Arsenal have) – where tickets can be bought/sold for face value or with a very nominal admin fee?
Transparency in terms of where tickets go – the CSG would like the club to be more transparent in terms of who gets what % of tickets – this is for both home and away games. Clubs like Liverpool are very transparent and publish these figures for every game – why can't Chelsea do the same? What is there to hide?
Tickets Going Back on Sale – why are tickets for games that were "sold out" weeks ago, appearing back on sale before the match – sometimes even the day before as happened with Arsenal and Stoke recently. Who has these tickets and why are they permitted to hand back these tickets so close to the match. This is particularly unfair for high profile games where "ordinary" fans have missed out due to high demand.
Loyalty Points – More thought and consultation with fan groups needs to happen in terms of which games are sold on loyalty points. Crystal Palace was a prime example where fans knew that this would be a very popular and over-subscribed match – yet was not sold on loyalty points.
The loyalty points system needs to be looked at in general – it is neither right nor fair that a season ticket holder with high points misses out on a ticket which is eventually offered to a member on little to no points. Tickets should and must be made available to members but they should be offered in terms of similar numbers of loyalty points (which obviously should take into account the fact that ST holders get all their home loyalty points in advance). If the ST allocation sells out at a certain level – then tickets should then be offered only to a similar level to members – it should then be back open to ST holders or at least to both at a similar loyalty points basis. If this is not logistically possible then the ST allocation should be made higher.
If you have any other issues that you would like raised please reply as a comment to this article or e-mail us at info@chelseasupportersgroup.net
The 'minutes' of the meeting will be published here once available to us.
Liz Nurse (Fans Forum Representative)