An Outstanding Signing [by Gary Watton]
AN OUTSTANDING SIGNING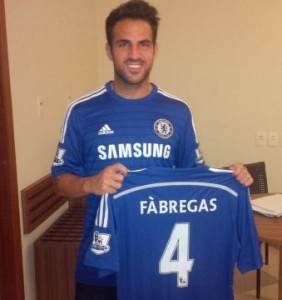 Like Eto'o before him, Cesc Fabregas may have been guilty of uttering a few negative remarks about Chelsea (and Jose) in the past, but there is no point in bearing grudges towards someone of his unquestionable pedigree. I am both elated at the acquisition of the brilliant Fabregas and astonished that Arsene Wenger in his questionable wisdom has declined to re-sign this Arsenal legend.
I have always taken the view that any footballer is completely entitled to move from one club to another, whether it be Campbell from Tottenham to Arsenal or Poyet from Chelsea to Tottenham or Cole from Arsenal to Chelsea. Besides, Arsenal devotees can scarcely abuse Fabregas when the guy understandably wanted to play for his boyhood favourites of Barcelona, and when that dream move ran its course, Cesc can hardly be scorned by Gooners when their manager foolishly chose not to reappoint him. What is fascinating is that Wenger has clearly gambled on persevering with the under-achieving Ozil in preference to the tried and trusted Fabregas.
Of course, Arse-nil's midfield boasts the talented Cazorla, Ramsey, and Wilshire, but the latter two are injury-prone. Most people will counter that Arsene knows what he's doing, but I am certain that the large majority of Gooners would cheerfully trade the lightweight Ozil for the proven Fabregas. Could it be that Monsieur Wenger is taking the biggest risk of his career? Well, even the most astute and clever of football managers can get it wrong. Is this one occasion when the arrogance of Arsene will come back to haunt him? Will Cesc make Wenger regret his risky calculation? I strongly suspect that he will. In fact what seems startlingly absurd is that Arsenal signed Ozil for forty-two million pounds while Chelsea have effectively stolen Fabregas for the relative bargain amount of approximately thirty million pounds. On planet soccer this appears an attractive deal, when you consider that Torres and Bale and Ronaldo were all bought for silly amounts in recent years.
Of course Cesc might prove to be not a good fit, but let's face facts. CF is at home in London and he was a great in English football as well as a valuable member of a successful Spain team. Ultimately, Fabregas is too good to be a disappointment. He is potentially the ideal remedy for a Chelsea midfield that struggled to unlock the defences of opposing teams who were inclined to park the large public transport vehicle in front of their goals. Cesc possesses the necessary guile to pick locks whilst supplementing his role as goals provider with goals of his own. I would envisage Cesc playing in the so-called hole between midfield and attack. Hopefully he will not be employed too deep. He needs to be utilised in the final third where his creativity can hurt the opposition. Of course, this begs the question as to how Chelsea can accommodate both Fabregas and Oscar in the same team.
Unfortunately I cannot quite see both players in a Mourinho starting lineup, especially as Jose will want a couple of midfield grafters and a couple of wide boys, as well as a centre forward. Funnily enough, Oscar has hit the ground running in the World Cup with one goal and one assist in the opening fixture, but I reckon that the Brazilian prodigy is the one who stands to lose the most from the magnificent purchase of Fabregas. I hope that I am wrong. Well, I believe that Cesc is going to be a sensation in west London, and the Chelsea faithful should welcome their new number 4 with open arms.
As someone who claims that he has "unfinished business" in England, CF recognises that his desire to win any medals will be better served by contributing to the cause of Chelsea than wasting more years languishing at under-achieving Arse-nil. Cesc has yet to collect a Premiership winner's medal or a Champions League winner's medal. Let us hope that he can reproduce his excellent form of yesteryear to ensure that he and his new club acquire major silverware in the not too distant future. Although his compatriot Torres has failed to live up to the high expectations at Stamford Bridge, I would be amazed if Senor Fabregas doesn't prove to be a marvellous acquisition by Chelsea.
The Blues certainly have a great Spanish (and Brazilian) contingent in our squad now, and good times surely lie ahead on the blue horizon.
The author can be stalked at http://chelsea.thefootballnetwork.net
DISCLAIMER: All articles written for the Chelsea Supporters Group 2005 (CSG) are those of the author and do not represent the views of the CSG. The views and opinions expressed are solely that of the author credited in the article. The CSG do not take any responsibility for the content of its contributors.