Chelsea v West Brom – Match Summary
Chelsea 1 West Brom 0 – Sunday 11 December 2016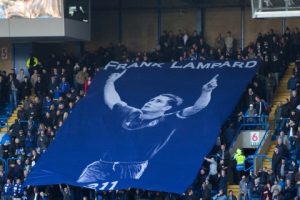 Midday on a Sunday is the crack of dawn in my book, but hey, who are we to question the TV companies who we should actually be thanking for offering the wider football consuming customers a good game with their Sunday morning papers and their plates of grilled kippers, after all, many parents are well used to freezing their nips and nuts off on boggy touch lines up and down the country! But I digress…..
In our familiar starting lineup but with Matic returning in pace of Fabregas, it was Courtois in goal with Azpilicueta, Luiz (with a strapped leg – thanks Aguero!) and captain Cahill across the back, flanked by wide men Moses and Alonso. Alongside Matic the ever dependable pocket dynamo Kante, with the fearsome threesome up front, Pedro, Hazard and the uber chilled Costa. On the bench Begovic, Aina, Ivanovic, Chalobah, Fabregas, Willian and Batshuayi.
Enter the teams into the low bright, sometimes blinding, winter sunshine, greeted by a special crowd surfing flag up in the Shed, a fitting tribute to Super Frankie Lampard, who was at Stamford Bridge for the game. An interesting game in prospect, a team we should beat but it was always going to be tough.
It was a siege from the start, a West Brom team clearly set up not to lose, a pretty solid wall ready to break up and block our forward play at every opportunity. We were working them patiently, but it would take a piece of magic to get through, they were pretty effective at stifling our creative brand of football. But our visitors weren't just blocking our path to goal, they also managed the occasional shot on goal themselves. We had to be on our toes.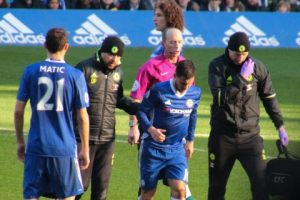 It wasn't the most exciting game to watch, but it was an intriguing contest all the same, to see if we had the skill and the guile to break through, all the while being mindful of that dangerous counter. West Brom were playing to their strengths, as any team should, happy to slow the pace down to their own level, much to the consternation of the home fans who were getting on the case of Foster in goal at the Matthew Harding end (why were ends switched at kick off?), for farting about with the ball and wasting so much time, the referee seemingly unmoved by the howls of protest.
It was an exhibition of the dark arts from the men in black, taking the opportunity to hack down our most dangerous threats, Hazard, Pedro and Costa spending nearly as much time on the deck as in possession of the ball.
The home crowd were restless; we had got rather used to more stylish football of late. I felt confident we would get something back for our patience, but we needed the goal to bring the game to life otherwise we'd all be condemned to Ben Foster strolling around his area with the ball tucked under his arm!
But on the positive side we didn't concede, both sides limited to a couple of easily dealt with free kicks and shots off target, as they went in at half time all square, 0-0.
Second half and no changes of personnel, we started the half with a decent period of possession as we attempted to push forward.
Not often you see a foul throw awarded, but Victor Moses was guilty of that particular heinous crime. Frustrating, but our boys were not letting this untidy scrap of a game wind them up, the chilled Costa a picture of calm and tranquillity despite having the snivelling Yacob forever snapping at his heels.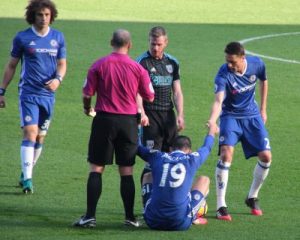 With an hour gone Costa was barged off the ball by Dawson, who had already been booked. Bottled decision by referee Mike Dean, who left the challenge unpunished, clearly would have been given for a first offence. West Brom's yellow card count was rising, as they seemed to be taking it in turns to inflict damage on our boys. Another David Luiz free kick, this one the closest to goal, just shading round the post, although calls for a corner would suggest the ball got a nick off an opposition player.
A few minutes later and our first change, Pedro replaced by the equally athletic Willian, hopefully able to sneak round the Baggie's resolute 10 man defence. But it was the visitors who seemed to be having the run of the play, until we took charge again – it was that sort of game. But at least the game had livened up, as the fans finally woke from their Sunday morning slumbers, urging our side on to make the breakthrough.
Twenty minutes left to play and a sense of urgency crept in, we weren't going to give up our eight game winning streak in a hurry. A second change, Victor Moses replaced by Cesc Fabregas; would his ability to pick out a visionary pass be the piece of magic we needed to unlock that stubborn wall of defenders?
A corner, which sadly came to nothing, but it felt like we were making inroads, we were battling away. But then came that moment of brilliance that we always felt was coming. From the half way line Fabregas played the ball into space along the touch line, into which Costa was running, accompanied by West Brom's McAuley. But in a one-on-one with big Diego, there's only ever going to be one winner as he bullied his way past the defender and into the box, and from an almost impossible angle, he blasted the ball past the outstretched arm of Foster and into the roof of the net. What a goal!
Love it when a plan doesn't work out and West Brom were probably left wondering why all their hard work hadn't been quite good enough. They hadn't reckoned on the dream team partnership of Fabregas and Costa, one to find space where it shouldn't rightly exist, the other with the tenacity to see the ball safely into the back of the net, fighting off all comers along the way. One out of the top drawer. Diego…..Diego……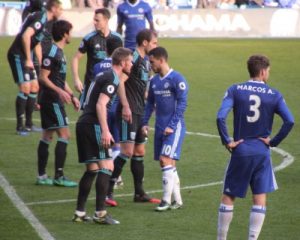 Our final change saw Ivanovic replace Eden Hazard, to emphatic applause from the appreciative home crowd.
With just over 10 minutes left to play West Brom were finally forced to take part in a now free flowing and competitive game of football, even Foster had to let someone else play with his ball. In fact, it was Courtois's turn to play hide and seek with the ball, assisted by the assembled Matthew Harding faithful. And who could blame him, it made me laugh anyway, and we were playing them at their own game.
West Brom were now on the back foot as we pushed for a second goal, our front boys giving them the run around now. All one way and we were unfortunate not to double our lead as we dominated the end of the game. But a win is a win and at the final whistle we could reflect on what a good win that actually was, grinding out the result against a tough opposition, Conte demonstrating his great management skills; his ability to change the game and formation with the right personnel at the right time.
Nine in a row, top of the league, and the Blues go marching on. Forza Conte!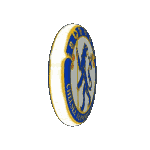 Posted by Chelsea Debs
Debs can be found on Twitter as @cfcunofficial and at cfcunofficial.com
You can read all Chelsea Debs 'Match Reports' here
DISCLAIMER: All articles written for the Chelsea Supporters Group 2005 (CSG) are those of the author and do not represent the views of the CSG. The views and opinions expressed are solely that of the author credited in the article. The CSG do not take any responsibility for the content of its contributors.
'Chelsea Supporters Group' can be found on Twitter and Facebook