Chelsea Terrace Talk – Irish Examiner Article By Trizia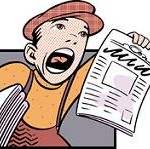 I had an uneasy feeling when Frank came onto the field of play – I'm not claiming to be a psychic or anything – I'm just a believer of your worst nightmare becoming a self-fulfilling prophesy when it comes to football. I can't in all conscience say we deserved to win the game but I thought Jose had pulled off another smash & grab – but anyone who has watched Chelsea regularly for the last 12 years would have been more than aware of what Lampard is capable of.
I know he is a professional player but surely he could have had a little accidental slip when the ball came to him? Or in his "eagerness" to score, hit it far too hard & skied it? Or even scuffed the shot so it nestled safely in Courtois's arms – he could have looked accusingly at an imaginary divot – City fans could have held their heads in the hands – we Chelsea fans could have "phew-ed" theatrically…..it would have all been so lovely….
Instead I found myself stomping back to the car giving everyone that went past a free demonstration of the extensive lexicon of swear words in my vocabulary. A cacophony of curses that only worsened when fellow fans tried to reason that they would have taken a point before the game – what kind of defeatist bollocks is that???
Pellegrini (or Pellegrino as Jose insisted on calling him) has obviously learnt some lessons from last season, as we didn't enjoy the complete control & dominance that we witnessed during our last victory at the Ethiad. What Pellegrino does need though is a bit more practice with is his foray into the "mind games" territory. He can call us a small side all he likes – but then to compare us to Stoke is both disrespectful to them & bloody stupid quite frankly given that Mark Hughes's team beat City so recently. If this is the best that he's got, Jose will eat him for breakfast.
I'd imagine the City manager wasn't happy with Mourinho's comments about FFP – Jose of course was baiting a few traps. As fans we have had to endure dozens & dozens of pompous articles written by the English press about how the day of reckoning would come for Chelsea, when we had to conform to the financial fair play rules. The moral indignation of our financial muscle (while ignoring that same buying power of the likes of United, City, Liverpool & even Arsenal) was always followed by gleeful musings on possible sanctions that could be meted out when we "predictably" failed to comply.
Of course now that we have complied (and other clubs have failed), FFP is suddenly unfair and should be scrapped apparently…..and Jose has been labelled a hypocrite given the huge budgets he has had to work with in the last 10 years. They all seem to have conveniently ignored the fact that when it became a legal necessity to comply with FFP he did so. He didn't need to before now. So how does that make him a hypocrite exactly?
Moving on.
I'm going to break my own rule about not questioning Mourinho & his tactics & just throw this out there that I do not understand nor like Azpilicuerta playing at left-back. I didn't like it when we still had Ashley Cole – but thought it might be a temporary measure while we looked for a younger left-back so ran with it. And there is no denying that the Spaniard has done surprisingly well – but for anyone that watches football regularly you can see that he is often wrong-footed & that he drifts in too often and also that opposition teams attack us more down his side than the other.
We have a young, composed, proven left-back now in the squad – we paid a lot of money for him – why don't we use him? It would be somewhat harsh on Azpilicuerta to drop him I grant you – but with Ivanovic in the form that he is in & the strength & commitment he guarantees he is currently undropable in my opinion. The current set-up is "fine" & it's good to know we have that option in an emergency – but can we go back to round pegs in round holes please. Oh & Drogba – again – emergencies yes – but against good, strong, fit, fast teams – no.
But back to the man that will have grabbed all the head-lines this weekend. Frank Lampard did look genuinely gutted at scoring the goal that denied us the victory – and yes we still love him but not sure gutted will quite describe what I'd feel if we eventually lose the title by a couple of points – I know it's a stretch but remember my philosophy about nightmares becoming self fulfilling prophesies? You have been warned.
Posted by Trizia
(You can see all the Terrace Talk articles here)
DISCLAIMER: All articles written for the Chelsea Supporters Group 2005 (CSG)  are those of the author and do not represent the views of the CSG. The views and opinions expressed are solely that of the author credited in the article. The CSG do not take any responsibility for the content of its contributors.