Mourinho Needs Re-Think [by Gary Watton]
MOURINHO NEEDS RE-THINK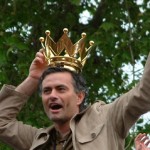 Chelsea followers can justifiably curse the dastardly efforts of Phil Dowd, but their team, and especially their manager, have only themselves to blame for conceding a late equaliser in Manchester for the second successive month.
The last-ditch intervention from Robbing Van Persie, ably assisted by a free kick from the hyped and otherwise ineffective Angel di Maria, ought to be a wake-up call for Mourinho, but regrettably he will not heed such a warning. Quite frankly, Chelsea's strategy of trying to absorb late pressure and stoutly resist opposing teams that are frantically chasing an eleventh-hour equaliser was eventually going to backfire. Let's face it. Chelsea's famous rearguard performance at Shamfield in April which resulted in a late breakaway goal could easily have gone the other way. It only takes a momentary loss of concentration, an inspired pass or run or shot, or a deflected effort or ricochet to totally undermine the resolute defending. Sooner or later the tiresome bus-parking would get its comeuppance, and so it has come to pass, at Old Trafford, horror of horrors.
Of course, the satanic Red Devils are past masters at scoring goals in added-on time, so the away team ought to have been extra vigilant. Yes their cause was somewhat undermined by the dismissal of Ivanovic ahead of the fateful set piece, but even the shambles that is the current ManUre team should serve as a much-needed reminder to bloody-minded Mourinho that hanging on desperately to one-goal leads is a tactic doomed to failure in the latter stages of the Champions League. When you take off the attack-minded Oscar and replace him with the defensively sound Obi Mikel, you basically invite teams onto you. There is after all one less attacking outlet that defensive clearances can make use of, which in itself renders our chances of retaining possession and launching dangerous or at least time-consuming counter-attacks all the less likely. Instead of which Chelsea seem to resort to an awful all hands to the pump, siege defending mentality which is horrible to watch, not least for their own supporters.
In short, it is abundantly clear that it takes no less than a two-goal lead to provide the away team with more margin for error, and thereby renders last-minute goals as nothing other than face-saving consolations. Until Chelsea's manager sees beyond the limitations of his defensive wall in the latter stages of close encounters, then his team will similarly and surely get found out by the likes of Barcelona, Bayern Munich, and Real Madrid.
In a fortnight's time, the west Londoners face another difficult assignment in the north west, at Ann's field. It would be good to see the league leaders learn from the harsh lessons of their Manchester visits, against a Liverpool team that will probably be a much-improved beast when the Blues come to town. However I almost fear the worst when Mourinho's team try to hold on to a one-goal lead. It's a policy, fraught with danger, and occasionally it fails. Two or three goals are needed. They always have been and always will be the best defensive, insurance policy that any manager could invest in.
What a tragedy that in all the post-mortems visited upon Chelsea's 'disappointing' draw in the outskirts of Manchester that Didier Drogba's fine header was robbed of its potential headline-grabbing status. Still, two goals in two matches in the last week for the African legend is a reminder that Drogba cannot be written off just yet. He may well end up with as many as a dozen goals this season, especially if the other two centre forwards keep distracting our medical staff on a frequent basis.
In the final analysis, I would have accepted a draw before the match began, but Robin's robbery was both a sickener and a crucial intervention that keeps the terrible twins of ManUre and Liverpoo on the cusp of a Premiership challenge, when an away win would have effectively eliminated both. Nevertheless, Chelsea have extended their lead over their most likely challengers of Manchester Mercenaries to a healthy six points, with both trips to Manchester ticked off the season's itinerary. It's funny, but in snooker, a player must pot 36 balls, comprising fifteen reds, fifteen blacks, and the colors in order to achieve a maximum 147 break. Well, there are 38 'balls' to negotiate in a Premiership break, and with Chelsea still unbeaten after nine skirmishes, it kind of feels like watching a snooker competitor pot four reds and four blacks. You begin to wonder if a maximum is achievable. I'm starting to wonder if an unbeaten league campaign is possible. We will know a lot more about the likelihood of this in two weeks' time.
The author can be stalked at http://chelsea.thefootballnetwork.net
You can view all of the Football Network articles for the CSG here
DISCLAIMER: All articles written for the Chelsea Supporters Group 2005 (CSG) are those of the author and do not represent the views of the CSG. The views and opinions expressed are solely that of the author credited in the article. The CSG do not take any responsibility for the content of its contributors.