Chelsea Terrace Talk – Irish Examiner Article By Trizia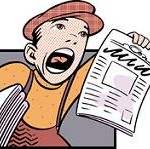 I'd gone from tripping the light fantastic with an Elvis Presley tribute act in a marquee in Kew, full of hope and expectation for the new year, to staring down the barrel of a tonking by arch rivals Tottenham and all the associated misery within the space of 15 hours – Happy New Year.
We controlled the vast majority of the first half yesterday yet found ourselves 3-1 down and the reason for that for me was pretty evident. Once again we were a team not prepared to take a shot. Yes there were some individual errors but the long and short of it was that the majority of the team were too focused on getting the ball to either Costa or Hazard rather than take a little responsibility themselves, especially in that first half.
What was worse, was that a relatively poor Tottenham side demonstrated exactly what can happen when the team do take these shots and their chances.
This defeat could not have come at a worst time for us either – with the gap at the top now gone, a semi-final against Liverpool on the horizon and we have to face City (with Lampard) at the end of the month – this kind of result will almost certainly cause a crisis of confidence with some of the players (and with the fans – me included!!). I've talked a lot about mental strength in the last few weeks and this result has demonstrated to me that there are certain members of our team who do not have the stomach for the fight and Jose needs to do something about that.
Of course Jose deployed his usual smoke and mirrors diversionary tactics after the game – another (deserved) dig at referees, the continual targeting of Hazard – even finding time to mention Sterling – all to demonstrate the inconsistency not just of then officials but also of the governing bodies. This would be fine if it had any effect – but as we know both referees and the FA are pretty blatant in terms of their "differing levels of leniency – or not as the case may be" and whatever Jose says will not change that.
And, sometimes, it's better just to come out and say we were well beaten – which in this case we were – five goals conceded tells its own story. These wounds will take some time to heal.
So is anyone actually surprised that Lampard will remain with City until the end of the season? The whole thing stinks and although I imagine it's not illegal it's certainly been done in a manner to deceive and definitely demonstrates to me why an individual should not be permitted to own two football clubs – even if they are in two different countries. The potential for these sorts of shenanigans is ripe and without going all jumpers for goalposts and all that, just doesn't seem to be within the spirit of the game.
But even if you ignore all of that side of this whole thing, one can't help but think less of Frank Lampard himself. Firstly, there are those fans in New York – I know that many Premier League fans look down on "soccer' fans from across the pond, but the fact is that a lot of people bought season tickets and merchandise as a direct consequence of Lampard signing for New York – the club would have made a fair amount of money when it's looking increasingly like the plan was always for him to go to City – all sounds a bit like fraud to me.
And let's not kid ourselves, Frank would have been party to all of this when he made the move. Yes he's a professional and yes Chelsea had decided not to give him a new contract but he had publicly stated that he would never play for another English Premier League side. I would imagine Chelsea, along with fans like me, would have taken him at his word on this and why wouldn't we?
Personally I find it all a little grubby and for me doesn't show Frank Lampard (or Man City) in a particularly flattering light.
I just hope that this under-handed business does not result in yet another Premier League medal for him at our expense…..
Posted by Trizia
(You can see all the Terrace Talk articles here)
DISCLAIMER: All articles written for the Chelsea Supporters Group 2005 (CSG)  are those of the author and do not represent the views of the CSG. The views and opinions expressed are solely that of the author credited in the article. The CSG do not take any responsibility for the content of its contributors.
Related Images: