Jose Mourinho And Arsene Wenger – Role Reversal
Jose Mourinho and Arsene Wenger – role reversal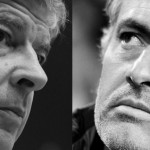 Cast your mind back to the immediate aftermath of Jose Mourinho's first reign at Chelsea and the perceived contrast between London's two biggest clubs could not have been greater; whilst our North London rivals had managerial stability, a new stadium and a team comfortably part of the 'Big Four', we were establishing a reputation for a 'revolving door policy' with managers. The fans were equally divided over each managerial appointment with perhaps the exception of Carlo Ancelotti. That is until Jose returned.
Here we are into the second season of his appointment and the season could not be progressing better; top of the league, Champions League group winners, semi-final of the Capital One Cup and comfortably through to the next round of the FA Cup. This is in addition to an expansive brand of football that many thought could not be delivered given Jose's reputation for his team's functionality and pragmatism. Complaints, if any, should surely only be limited to the fact that some of our promising youngsters have not had more game time but even this seems to be an unreasonable complaint given the consistency of selection for the starting team – if established internationals such as Schurrle are having their playing time limited how can one expect Jose to a youth player? In any case, we are fully aware that Jose is a serial winner and after a few seasons of indifferent league form there is no question that delivering the title is his principal priority.
The point is, though, that Chelsea finally seem to have a plan, which is coming together. The academy is finally producing players who have flirted with places in the first team squad and who should be breaking through over the next season or so. The Chelsea 'brand' has developed to place us second in England in terms of revenue generation (I place us ahead of Manchester City as their accounts, as reported, are very suspect) and who ever thought we would see Chelsea turning a profit ten years ago? Roman seems to have settled especially after that night in Munich and has a manager who he trusts to build another Chelsea side of significant European stature. Importantly, aside from some unrealistic and overly-negative individuals, we have a united fandom.
The irony of what is happening over at the Emirates is not lost on Chelsea fans. Some moralising elements from other supporters were quick to remind Chelsea that their fans were 'toxic', that there was a right and proper way to follow a club and that the reaction to the appointment of Benitez was indicative of the lack of 'class' among our support. Despite laughing off these pseudo-religious exhortations of how supporting should be done, it was annoying to have such statements levelled at us. Lo and behold, 2014-15, and Arsenal have assumed the role of the infected organism that is fighting against itself. The infamous and comedic spats between Claude and Ty have come to symbolise the broader divide which seems to exist at Arsenal.
To be clear, I could not care less what happens there even though I hold the opinion, non-controversially, that Wenger has long ceased to be a top manager. Neither am I writing to advise Arsenal fans what they should do or think because it is their club not mine. But it is with a wry smile that I write this because not long ago it was Chelsea who were the one's criticised by our London rivals for the very behaviour which they exhibit on an almost weekly basis. As for me, I am enjoying every moment of the season watching one of the best Chelsea sides I am ever likely to see.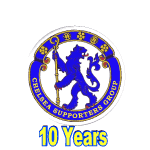 Posted by Nikos Yerolemou
(You can see all of Nikos's articles here)
DISCLAIMER: All articles written for the Chelsea Supporters Group 2005 (CSG)  are those of the author and do not represent the views of the CSG. The views and opinions expressed are solely that of the author credited in the article. The CSG do not take any responsibility for the content of its contributors.