Chelsea Terrace Talk – Irish Examiner Article By Trizia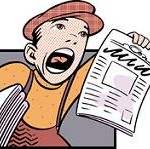 I STILL refused to join in the "we're gonna win the league" chant that reverberated around the ground following Hazard's goal – much to the consternation of those around me. IF we beat Arsenal I may clap along, but until the possibility of us ballsing it up is a mathematical impossibility, I will keep any premature celebrations well under-wraps.
Bizarrely, I was less stressed during the United game than I was against QPR – maybe it was the home advantage – in 95 games played at the Bridge under Mourinho, we have lost one; maybe it was our recent record against United – eight games unbeaten now; or maybe it was because that it's not these games that we tend to struggle in.
The team looked well drilled – and so ready for the fight – we definitely seem to get ourselves up for these games far more than we do for the Sunderlands & Newcastles of this world – it's frustrating but it's these games against are nearest rivals which are effectively the six-pointers so we can't whinge too much.
Jose must just bristle with happiness and satisfaction when he sees the jewel in the Chelsea crown, i.e. Eden Hazard, play. Mourinho can take deserved pride in improving an already dazzling talent. There is no question that when the Belgian joined us he was already a special player – inventive, tricky to play against – football quicksilver. But under Jose he has developed a tougher edge, become physically stronger, improved his stamina and increased his desire and competitiveness. These attributes have now certainly made him the best player in this country (Harry who?) and I would say top three in the world.
Watching Hazard (and Oscar, and Willian) just demonstrates how those that claim we constantly park the bus haven't a clue what they are talking about. We, along with City, have scored the most goals in the Premier League – more than football purist's poster boys Arsenal. We just ensure that we put safety first – after all, if you don't concede you can't lose!
I have to mention Mike Dean – who had an awful match, BUT got the most important decision of the match i.e. the dive by Herrera right. I think if he had given a penalty there, Jose would have spontaneously combusted, Rui Faria would no doubt have chinned someone and I would have abseiled down from the East Upper to mete out my own punishment – luckily he saw what we all saw – Herrera purposely leaving his foot in – the duplicitous, shameless, cheat.
What made Dean's decision even better was Van Gaal's petulant post match interview. It reminded me a bit of Wenger during his mad cow period – maybe there's some fun to be had between the Van Gaal and Jose after all – especially if he is going to ludicrously going to grasp at Herrera dive – along with the perceived foul on Falcao prior to Oscar's sublime back-heal, Hazard's magic feet and finally the nutmeg – hilarious. No matter how carefully the interviewer trod, the dour Dutchman could barely contain his outrage at being out-smarted by the Special One – the long face just getting longer and longer with every question, his rage barely contained. Lovely. Of course, had this been Mourinho, it would have been decried as "graceless" or some such cobblers.
But just as I had to point out Van Gaal as a bad loser I have to just mention Juan Mata who showed more than just a touch of class at the final whistle by waiting by the tunnel and congratulating every Chelsea player as they left the pitch – red shirt maybe, but I think he left his heart in SW6
So, theoretically, we can now win the league if we win our next two games – both of which are away – one from either end of the table. Both are going to be battles. The friction between Mourinho and Wenger is well documented – neither will want to lose to the other even if there were nothing to play for – but there is a huge prize to play for. In the pub after the game most Chelsea fans felt that Jose would go for the draw here but I've always felt it a mistake to try and second guess Mourinho. Obviously much depends on whether Costa will play – even if he does, he won't be fully fit. No news re. Remy yet either and as much as Drogba has proved to be Arsenal's nemesis in the past, I think it would be a mistake to pitch him against some of their whippets.
Then there's Leicester – still with a good chance of getting themselves out of the mire – especially buoyed by a few recent wins – they will not stand on ceremony – they will take no prisoners – playing these teams when they are fighting for their lives is tough. I expect a very physical game.
So we approach the end of season almost as we started it – top of the league – yet there are those that say we don't deserve this title. Mourinho has worked his magic again, yet he has received little recognition and much vitriol from the English press. Our failures are magnified but our successes ignored – do you know what – I like it, in fact I love it, because we all know that over here no-one loves a winner, better always to be the valiant loser. Well excuse me if we leave that honour to someone else – come on Chelsea – nearly there!
Posted by Trizia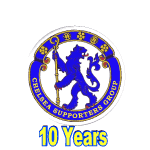 (You can see all the Terrace Talk articles here)
DISCLAIMER: All articles written for the Chelsea Supporters Group 2005 (CSG)  are those of the author and do not represent the views of the CSG. The views and opinions expressed are solely that of the author credited in the article. The CSG do not take any responsibility for the content of its contributors.