"Meeting A Legend" (posted by Herzl)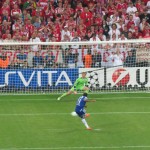 It's not every day you're asked to nip down to Stamford Bridge on a sunny afternoon to have a chat with one of you heroes. Amazingly, I got that opportunity; a real once-in-a-lifetime opportunity at that – to be part of a four man panel to speak to the man who I'm certain has made more grown men cry then any red, spring or white onion could claim to have done.
Rewind to the 19th of May 2012 and Didier Drogba had the fate of that seasons' Champions League in his hands. The Allianz Arena had an eerie silence as the hordes of Bayern fans watched in horror as 'their trophy' looked set to evade them. 70,000 people watched and waited, fingers crossed, lungs filled with held breath. Only one man really, truly knew that penalty was going in. Luckily that man was Chelsea's number eleven; "I was just waiting for Ash [Cole] to score then I knew. I knew". With one fell swoop of his deadly right boot, Bayern were defeated in their own backyard and Chelsea, finally, had their hands on that coveted trophy.
Four years earlier and it was Ironically Drogba's hands that ultimately cost Chelsea their first shot at the Champions League on that wet Moscow night. "It just wasn't meant to be. When you have me hit the post, Frank [Lampard] the bar and John [Terry] like that, it just wasn't meant to be". Drogba throughout our conversation was open and honest about his time at Chelsea; the highs and invariably the lows. Moscow he counts as a low point for sure; "when I was in the changing room [after his red card] and one of the board members son's came in, he started to cry. Then I started to cry."
We question Avram Grant's influence on that team. Myself, along with many a Chelsea fan, have the belief that the team led itself to that final with Avram merely a pawn in a solid armour. Drogba disagreed; "Avram was smart. He kept Steve Clarke and bought in Henk Ten Carte, both who had different training methods. That said, in 2008 we had a team of maybe 22 when 18 or 19 were the captains of their national teams. It was a team of leaders."
I feel I need to give more description on what's going on at this time. Myself and the three others are told to get to the Bridge for 5. Drogba is late. No one is bothered as the fact he's even going to be there is a blessing. The four of us head for a quick drink and start talking about Didier's time at Chelsea, things we might say and things we won't say to his face; "he was a bit lazy at times though, right?" 5:30 comes about so we head back towards the ground. We're whisked in, via the press room and straight through to the tunnel. We do the walk on to the pitch and the four of us, like excited schoolkids can't contain our excitement. "Have a seat in the dugout"…sure, why not.
There he is, calmly sat in the away dugout with his feet rested against the front wall that separates managers and players from the pitch. With his backwards cap, grey fitted hoody, ripped jeans and brand new trainers, Drogba could be described as the typical modern day footballer. This man is by no means representative of the footballing world. He is articulate, both in his native French tongue and English, whilst his demeanour is composed. We speak about his charity work, including his own foundation. It's clear how much coming from an unprivileged background has shaped the way Drogba carries himself. The mood becomes sombre as he solemnly discusses two close friends who he lost to Leukaemia. Patting his chest, he says how it's affected him deep in his heart; "I tried to help but it was too late". That is the underlying message you do get from him. He just wants to help those less fortunate than he.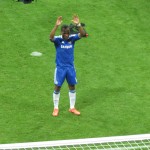 Whilst the mood is slightly more serious, I'm inclined to ask him about his son. His prominence in the Capital One Cup celebrations donned in full Chelsea regalia makes me think whether he has a future in football. "I will not force him, if he wants to play professional football I will help him all I can but I will support whatever he does." He knows the name attached to his son, who does play for the Chelsea academy, might just be too much pressure for the youngster; "he is good though" Drogba laughs.
We try to pick up the spirits a bit. Drogba remembers his first Chelsea goal; "The header against Crystal Palace, of course" then his return to the club; "as soon as Jose stopped talking I said yes" he laughs. Drogba talks about Mourinho like a doting father or son. He knows this man has given him a great opportunity in his life and career. He talks how prior to signing for Chelsea the first time, Jose said if you want to be the best you play for me. The love seems unquestionable towards the manager who forged this beast of a player's career.
Overall the message we get from Drogba is this. He loves the Chelsea fans. He points to the four of us and repeats "I do it for the supporters". That, as a fan, is an amazing feeling. Even when Drogba continues parts of the interview in French, the message is clear; "Passionné". He loves to make the supporters happy. He certainly did that yesterday.
As our chat draws to a close, the French interviewer asks us a question; "What does Drogba mean to you guys as a club". We all take a minute but I find it in myself to answer. I point to the big, orange banner draped over the Shed End which reads 'Drogba Legend' besides a portrait of the Ivorian. Next to that, an even bigger banner for the late, great Peter Osgood reading 'Born is the King'. I tell him how it's sentiment to the great man that he is adorned in this way next to the club's best ever. I look to Drogba, and really from my heart I tell him "players come and go, but legends are here forever".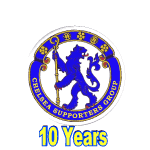 Posted by Herzl
DISCLAIMER: All articles written for the Chelsea Supporters Group 2005 (CSG)  are those of the author and do not represent the views of the CSG. The views and opinions expressed are solely that of the author credited in the article. The CSG do not take any responsibility for the content of its contributors.