Arsenal v Chelsea – Match Summary
Sunday 24 January 2016 – Arsenal 0 Chelsea 1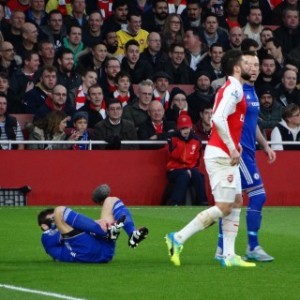 Still unbeaten under Guus Hiddink's tenure, our next game in this strangest of seasons was a trip to The Emirates, home of The Arsenil. Always a highlight fixture of the year, we have an uncanny knack of winding up the Gooners, both on and off the pitch. So we headed off for pre match refreshments in one of the local hostelries that pretentiously doubled up as a kindergarten!
Team news had Courtois in goal with Ivanovic, Zouma, JT and Azpilicueta across the back, supported by Mikel and Matic in front. With Fabregas, Willian and Oscar was Costa up front. On the bench Begovic, Cahill, Rahman, Loftus-Cheek, Traore, Hazard and Remy. Come on you Blues!
An even first few minutes of the game, neither team having any real attempt on goal, but it was telling the number of times Fabregas was on the ball by the amount of booing emanating from the home fans. And with Diego Costa being afforded the same special treatment it was with delicious irony that the fiery one was once again the villain.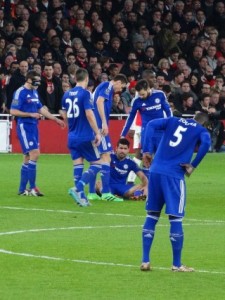 After 15 minutes the pace picked up and within a couple of minutes the first major game influencing moment. A beautifully timed through ball from Willian found Costa charging towards goal and with only Mertesacker in contention the man in red saw red when he slid in across Costa and brought him down. With his defensive colleagues nowhere to be seen he had to go. And he knew it, as he walked off to cheers from the away fans and a comical rendition of 'Diego Costa, he's done it again!'
Not wishing to harp on about the Gooners but they do like a good boo don't they? And they had a great opportunity to show Wenger their perpetual frustration when Giroud was sacrificed for the sending off, replaced by another of Costa's victi….sorry, friends Gabriel.
But the hilarity of it all didn't stop there, when two minutes later, who else but Costa put the ball into the back of the net, a lovely cross from Ivanovic planted just ahead of our striker and with just the barely warmed up Gabriel and Cech to beat he stroked the ball home from close range. Diego Diego Diego.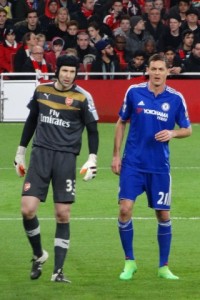 All very comfortable for us, we were playing with confidence, our defence alert to any half-hearted efforts from the home team, our midfield dominating possession against their 10 men while we engineered chances on goal. And with Flamini messing up a golden opportunity to equalise just before the break the first half ended 0-1.
Second half and while the away fans applauded Petr Cech in appreciation of his time at Chelsea, the Arsenal fans were content to continually boo Fabregas, saving some for Costa of course. Perhaps it's time both sets of fans moved on?
Early pressure from us, passing the ball around with ease, Arsenal mere spectators, culminating in a succession of corners and a suspect challenge on Fabregas from Koscielny who piled into him and barged him to the floor. No penalty given by referee Mark Clattenburg.
With the introduction of the feted Sanchez, the Arsenal boys became increasingly confident as they upped the tempo, desperately trying to salvage a game they'd played little part in so far. But with just over 20 minutes to play Costa was replaced by Loic Remy as he went off injured, to resounding boos from the home crowd. Just for a change!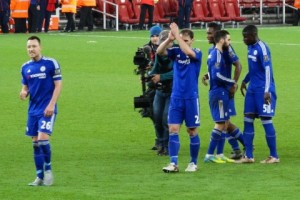 Despite Arsenal's renewed efforts we continued to retain much of the possession and with 15 minutes left to full time Eden Hazard was brought on to replace Oscar. But as the clock wound down the home team started to make a contest of it, belying their shortfall in numbers. But disappointingly, we were content to invite them on to us, to my mind risking the lucky equaliser, rather than using the newly introduced creativity of Hazard and Remy to kill the game off, although it has to be said that our replacement striker appeared very lethargic in the time he was given.
But in spite of some scary moments, including one where Courtois fumbled the ball while under pressure, dare I say fouled, we held out to the end, including 5 minutes of stoppage time.
Such a sweet feeling getting one over Wenger and the deluded Gooners, especially at their place, a victory that continues our unbeaten run but this time with all 3 vital points in the bag. Small steps, but we are travelling in the right direction. Once again Cesc Fabregas was instrumental in our performance, cueing up our forwards at every opportunity. And it was no surprise that he showed great delight in the victory, especially in view of the stick he received all game.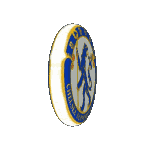 Posted by Chelsea Debs
Debs can be found on Twitter as @cfcunofficial and at cfcunofficial.com
You can read all Chelsea Debs 'Match Reports' here
DISCLAIMER: All articles written for the Chelsea Supporters Group 2005 (CSG) are those of the author and do not represent the views of the CSG. The views and opinions expressed are solely that of the author credited in the article. The CSG do not take any responsibility for the content of its contributors.