Saturday 3 October 2015 – Chelsea 1 Southampton 3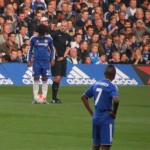 The day started off well enough, my other half's significant birthday and we had survived the previous evening's celebrations without hangovers. So a good result today would be a welcome birthday present.
Back to the football, and in team news, JT returned as captain, supported by Cahill at the back, flanked by Ivanovic and Azpilicueta. Ramires and Fabregas just in front, with Willian Oscar and Hazard our attacking midfielders. Falcao the lone striker. On the bench Blackman, Zouma, Rahman, Matic, Loftus-Cheek, Pedro and Remy.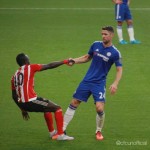 Nice to welcome Oriol Romeu and Ryan Bertrand back to the Bridge, former Blues given a good reception by the Chelsea faithful.
With all the talk of our uncharacteristic form it was perhaps a day to demonstrate our resolve and turn in a positive and winning performance. And after a bright start we were rewarded with a free kick after 10 minutes when a sprinting Hazard was cynically clipped by the Chelsea old boy Romeu. Lined up nicely for Willian, there was only one place that ball was ending up, in the top right corner of the goal, in his now trademark style of free kick, four games in a row. What a blinding start and hopefully the incentive to push on.
But it was a bit of an untidy scrap at times and while we did benefit from some breakaway moves, we weren't able to capitalise, finding ourselves dispossessed too easily and many shots off target. Although a pretty evenly fought first half, neither team were taking the game by the scruff of the neck. A penalty shout by Mane and a further foul incident on the half hour left the Southampton man with a yellow card for diving. The visitors continued with a spell of pressure on our goal but Begovic was equal to any threat. That was until just before half time.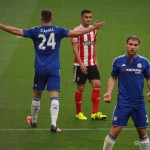 A ball launched over the top from the halfway line found Pelle tussling with Cahill, and the Southampton man was allowed to simply chest the ball down for Davis to strike home. HT 1-1.
At the start of the second half Nemanja Matic was brought on to replace Ramires and within 10 minutes we found ourselves under pressure only for Begovic to keep the scores level. Both teams had positive periods of play, some end to end stuff, and to me there didn't seem to be much in it while the scores remained level. But just over 10 minutes into the half our best move on goal saw Fabregas thread a lovely ball through to Falcao only for our striker to be felled in the box by the oncoming keeper. Alas, the ref saw it as a dive and awarded our man a yellow card instead.
But with 60 minutes on the clock the visitors had taken the lead, sloppy defending that left JT isolated and allowing Mane a shot on goal that Begovic wasn't able to stop. Shortly after that Willian was replaced by Pedro, to the obvious dissatisfaction of the home fans, in the Tottenham hater losing our best bet on any free kicks.
I'm afraid the rest of the half looked like an exercise in damage limitation and on 72 minutes our defence looked in disarray as Pelle slotted an unstoppable ball into the bottom corner of the goal. And in a further surprise substitution Remy was brought on the replace Matic, who had played just over half an hour of the second half. That didn't go down well with the fans either.
And with that 3rd goal many so-called Chelsea fans decided to sneak out, apparently to watch a rugby game (really?) and some that did stay decided to start a round of singing We're F*****g S**t, which thankfully was soon drowned out by a rallying cry of Chelsea Chelsea and We Love You Chelsea. Shame on those people who left early, perhaps they should be deducted loyalty point because they certainly didn't display any!
In the end Southampton deserved their win but we didn't help ourselves. We did play some decent football towards the end of the game but it was never going to be enough to effect the outcome.
And with boos at the final whistle it was a sad day at the Bridge, JT looking decidedly embarrassed, signalling his apologies to the home supporters that had stayed to the end. The result leaves us 16th in the league on 8 points. Unfamiliar territory indeed, something has to change. And soon.
Remember though, win or lose, up the Blues!
Posted by Chelsea Debs
Debs can be found on Twitter as @cfcunofficial and at cfcunofficial.com
You can read all Chelsea Debs 'Match Reports' here
DISCLAIMER: All articles written for the Chelsea Supporters Group 2005 (CSG) are those of the author and do not represent the views of the CSG. The views and opinions expressed are solely that of the author credited in the article. The CSG do not take any responsibility for the content of its contributors.