This Damnation (by Mark Worrall)
Patriotism. Courage. Friendship. Love. Hate. Obsession. Murder. Incarceration. Revenge. From the backstreets of Battersea and the Stamford Bridge terraces, to battlefields serving Crown and Country and beyond… This Damnation is a white-knuckle, page-turning ride into the abyss of madness.
Traumatised war hero Kennedy Jones' life spirals violently out of control when he joins Uncle Manny's criminal enterprise. Involvement in a murderous plot leads to a lengthy prison sentence and the fragmentation of his family. On release, Kennedy begins to unravel the truth about his father Alec's brutal slaying and Manny's manipulative obsession with his mother Vera. Kennedy sets out to right the injustices of his life and win his family back, but will Manny's cunning prove too much for him?
Spanning seven decades of working class London life and embracing factual elements of popular culture such as football, boxing and music, This Damnation is a compelling, evocative story of unrequited love, obsession and friendship with a visceral, thrilling twist. Melding the brutal legacy of war with powerful religious themes, This Damnation takes the reader on a journey to the darker side of madness where paranoia and vengefulness compete for possession of the soul with guilt and a desire for redemption.
The book launch for 'This Damnation' held at Cheam Social Club a couple of weeks back, raised an amazing £1,925 for the Poppy Appeal. Well done everyone involved.
Avail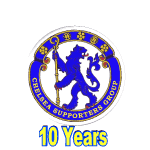 able to purchase now here:
Mark Worrall can be found on twitter @gate17marco
DISCLAIMER: All articles written for the Chelsea Supporters Group 2005 (CSG) are those of the author and do not represent the views of the CSG. The views and opinions expressed are solely that of the author credited in the article. The CSG do not take any responsibility for the content of its contributors.