Cobham Welcomes Kent Blues Autistic Pupils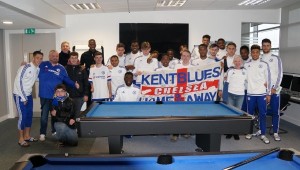 Kent Blues Supporters group enjoyed a special visit to Cobham Training ground on Saturday 28th November to see the Under 21 team train and to watch the Under 18's match vs. Leicester.
There was also the opportunity for a Question and Answer session with the Academy players. The work from this project will be part of our portfolio to the FA for Disability in Football accreditation 2016
In association with Sainsbury's if we get the kite mark we are hoping for it will give us additional funding for school and to continue to bring our children to Chelsea games.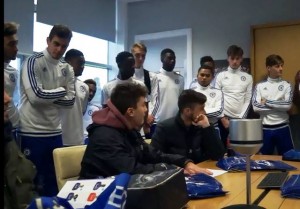 The players were absolutely brilliant with the children they are a real credit to Chelsea Football Club and we cannot thank the Chelsea Academy, Neil Bath, Adi Viveash, Andy Myers, Joe Edwards and Jody Morris enough for their help in making this happen for the boys.
Here is Jacks report from the day
"Hello everyone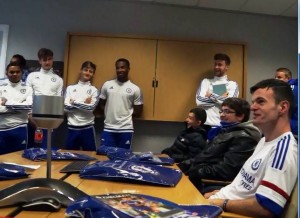 My name is Jack and this is about a VERY special visit to Cobham ground where Chelsea Football Club does their training. This happened last Saturday and was very very exciting.
We had to leave home early and I have been to Cobham before with Dermot. I went with my Teacher Gill and Kent Blues Graeme and there was my other Teacher Neil in his car. Some other Chelsea friends went as well. I remembered where to go to watch the Under 21's training and Craig was there to help us like last time.
Next thing that we did was go to see a game and it was Chelsea Under 18's team against Leicester team. It was exciting game and Chelsea players scored 2 goals really really quickly and then they got another goal which it meant that it was 3-0 to Chelsea at half time.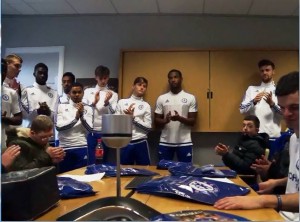 Then Craig came to tell us to come for a special treat and we went inside up lots of stairs to where the offices are and meeting places because all of the Under 21's team was going to be there so we could ask them some special questions about football. I did ask all the questions and it was things about what days they do training and what foods do they eat and who their best Chelsea players was.
All of the Chelsea players were really kind and at the end everyone clapped. There was Alex and Dion and Charlie and Tammy and they signed their names in my year book each one where their picture was on the pages. Teacher Gill and Teacher Neil said that we could have lots of pictures for our school project.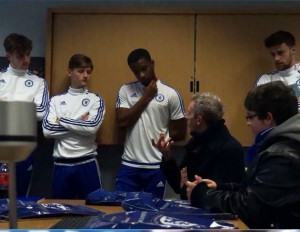 Adi is the Manager was there and we said thank you very much for helping us. After this happened we went outside again to the game and now Chelsea had scored another 2 goals and so they won against Leicester team and the end was 5 goals to Chelsea and no goals to Leicester. Kent Blues Graeme said that his was very good news as Chelsea would be first Club at the top for the Under 18's.
Teacher Neil said we had been so good and we could go for McDonalds now and I was very happy too for a lovely day and my next game to watch Chelsea will be soon.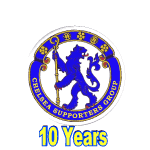 Jack Warren Chelsea True Blue member"
Posted by Gill Reeves
DISCLAIMER: All articles written for the Chelsea Supporters Group 2005 (CSG)  are those of the author and do not represent the views of the CSG. The views and opinions expressed are solely that of the author credited in the article. The CSG do not take any responsibility for the content of its contributors.