Chelsea v West Ham – Match Summary
Saturday 19 March 2016 – Chelsea 2 West Ham 2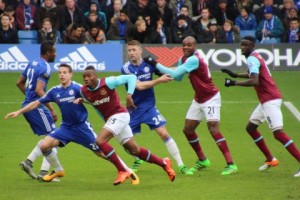 Now out of contention for all silverware it was back to concentrate on the league, although our defence of the Premier League title all but over. Playing for pride and league places, let's hope our boys could find it in themselves to put in a shift following a week of disappointment.
In team news, Courtois was in goal, Ivanovic and Azpilicueta switching back to their early season full back positions, with Cahill and a welcome starting return for JT at centre back. With Mikel and Fabregas in defensive midfield, it was good to see young Kenedy setting up on the left hand side of midfield, supported by Willian and Oscar across the park. And a rare start for Remy with Costa unavailable. Bench warming duties for Begovic, Baba Rahman, Matic, Loftus-Cheek, Pedro, Traore, and Pato making up the numbers.
A lively enough start to the game, as you would expect from a London derby against our travelling neighbours. And it was pretty well contested in the early minutes, we had some good possession, Remy with an early chance and Kenedy looking to be on his toes.
But it was noticeable that when West Ham did get the ball they were far more decisive with it, moving forward quickly and in numbers. And while we had decent possession we weren't able to move up the park as a unit, scrappy short balls, too many of them, and prone to poor touches.
With just over quarter of an hour played it was West Ham who took the lead, Lanzini given too much space just outside the box, and time to fire a powerful shot into the far corner of our goal, Courtois nowhere near it. Very disappointing, not least because those cheeky cockney types decided to start making some noise. That goal gave our visitors immediate confidence to push on, and we looked like we were under the cosh, the boys in claret and blue buoyed by that opener.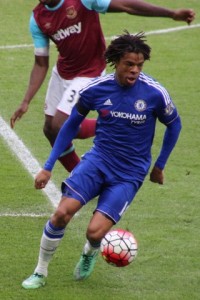 As we approached the half hour we had a penalty appeal when Valencia looked to have taken the ball on his arm from a Gary Cahill ball into the box. No spot kick awarded, the lucky hammer adjudged to have defended the ball with his shoulder. Seen them given! And shortly after, Fabregas played a sweet ball over the top of the defenders looking for the head of Remy, only for his flick on to be safely collected by Adrian in goal, but then Remy was facing back down the pitch at the time!
But where West Ham were capable of opening up space ahead of them with fast forward passing, our reluctance to move the ball quickly meant that defenders were able to get behind the ball in numbers, making our chances of getting past them all the more difficult. With 5 minutes of the half remaining Kenedy got into a tussle with Kouyate, receiving a bloodied nose for his trouble, and leading to a useful looking free kick in Willian territory. And the free kick wasn't too far out either, the ball sailing past the post.
The home crowd seemed pretty quiet, not impressed by our lack of creativity and our willingness to play a sideways pass, coupled with a lack of movement off the ball. So it was somewhat against expectations that into first half stoppage time Oscar had picked up the loose ball following a welcome long ball from Fabregas, only for the lightweight Brazilian to be shoved to the ground by Reid just outside the box. Up stepped Fabregas, and with some urging on and fingers crossed from the home crowd our man with the deft right foot banged a sweet shot right into the top corner of the goal with pinpoint accuracy. What a time to score, and bringing the scores level at half time.
The start of the second half saw the battered Kenedy replaced by the man with the supercharged legs, Pedro. A supercharged first few minutes too, Payet a danger man. The home fans were given something to shout about when Adrian looked to have collected the ball outside of his area. A close call but play waved on and the keeper dismissive of the fuss. And while he was distracted, Adrian nearly fell victim to a great move, Ivanovic with a probing ball across to the far post where Oscar was waiting and within a whisker of us taking the lead.
We certainly had the bit between our teeth, looking to capitalise on our late equaliser, and another Fabregas free kick, this time floated in for JT's headed shot to be nervously punched away by Adrian. Time for our visitors to have a spell under the cosh as we pushed forward, just that final ball eluding us.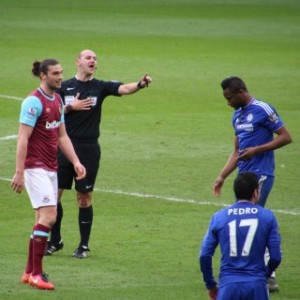 But against the run of play Cresswell found himself clear of JT which resulted in his tightly angled cross (or was it a shot?) rebounding off the cross bar. That was close, but we continued to scrap for the ball, not the prettiest of football, and still waiting for that elusive goal.
But as sure as night follows day the newly introduced Andy Carroll, our ponytailed nemesis, had put the happy hammers ahead. With Oscar dispossessed, the ball was quickly carried up the pitch and with Payet's pinpoint pass to Carroll, splitting our defence wide open, the ball was straight through Courtois and into the back of the net. It was sadly inevitable, and a crushing blow to our efforts.
With half hour left to retrieve the game, Remy was replaced by the ever eager Traore. And no sooner had the youngster been introduced than his shot on goal was blocked in the box by Reid's arm, but again the call was dismissed by referee Robert Madley.
It might have been a scrappy affair but we continued to fight for the ball, as untidy and lacking in real quality as it was, Pedro and Willian were looking dangerous when we moved forward, and Fabregas always a threat with dead balls and probing passes. And an overhead kick too as it turned out.
A tense final ten minutes of the game, as we tried to find that equaliser while at the same time trying to stop Carroll and Co killing the game off with a third goal. All to play for.
Our third and final substitution saw Oscar make way for Ruben Loftus-Cheek and as the game drifted towards the 90 minutes the travelling community in the away end were already celebrating the victory. And they had good reason to be confident, the game was almost dead and buried when Traore had to clear off the line from Carroll's header.
But no sooner had we taken a sigh of relief than our boys were streaking down the other end, a great pass from Willian into the path of RLC, his heels clipped by Antonio on the edge of the box. Penalty, well at least my blue tinted glasses though so! Up stepped Fabregas to take the spot kick and as I cried nooooo as he stuttered on the run up, Adrian had committed himself to one side of the goal for our man to slot into the opposite corner.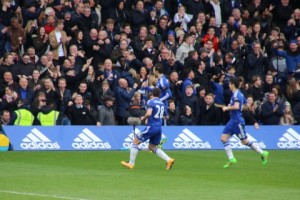 So with a few minutes wasted on some niggly handbags involving everyone on the pitch except the keepers, a potentially dangerous free kick from Payet was safely collected by Courtois. But fair play to our boys for fighting to the very end, as we almost pulled out a winner when RLC turned in the box to see his shot go just wide of the post.
The game finished 2-2, both our Fabregas goals at the close of each half. A fair result in the end, our second half battling cancelling out West Ham's first half quality. But more to the point, the irons' (isn't that Cockney rhyming slang?) bubbles well and truly burst!
But despite the positive battling comebacks, I left the ground feeling a bit despondent about our overall performance which was lacking in quality on the ball, slow passing, knocking the ball from side to side looking for movement up front that wasn't always there. With the confidence to play to our ability we could have done so much better and, dare I say, won the game instead of settling on yet another draw.
It's a strange situation we are in, nothing but pride and places to play for now, and many fans calling on our successful youth players to be given a chance, after all, we have nothing to lose. But there seems to be such a gulf between youth league and premier league football, and us fickle fans would probably be just as vocal in our criticism if more youngsters were played and we lost against the likes of West Ham, and in our upcoming home games against Man City and Spurs. But how will we ever know if they are up to it? I don't know the answer. Guus Hiddink appears to be caught between a rock and a hard place, not in a position to influence short term team development, with a yet to be announced new manager hovering in the wings waiting to assume control. It's a conundrum, but let's just try and enjoy (or endure) the rest of our games with the hope of better things to come next season.
KTBFFH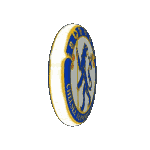 Posted by Chelsea Debs
Debs can be found on Twitter as @cfcunofficial and at cfcunofficial.com
You can read all Chelsea Debs 'Match Reports' here
DISCLAIMER: All articles written for the Chelsea Supporters Group 2005 (CSG) are those of the author and do not represent the views of the CSG. The views and opinions expressed are solely that of the author credited in the article. The CSG do not take any responsibility for the content of its contributors.