Fans Tournament A Great Success

The 8th annual 'Fans Football Tournament ' at Chelsea's superb training complex at Cobham, was held on Sunday (10/07)
A total of 12 teams had entered this year and out of those ten were drawn from the hat and those teams joined us for a fun filled, if sometimes competitive! day of football, unfortunately, due to lack of players we ended up with 7 teams competing on the day in two groups. We also held a raffle which was generously supported and all taking from the day will be going to charity.
Two groups of 4 & 3 played in each group with the runners up and winners of each group playing each other, the winners going into the final game for the 'newly named'  'Broadbent Trophy', we thought it appropriate to rename the Trophy after losing Tony to cancer this past year.
The final pairings saw 'Jam Tree Blues' defeat 'We're Having A Laugh' 7-6 on penalties after the game ended goalless. With both semi finals also being decided on penalties it was like watching the Euro's!
The runners up 'shield' was won by Bucks Blues.
Members of the Broadbent family were on hand to present the trophies.
Many thanks go to a great many people, to all the teams for entering and coming along, to all the sponsors, especially the raffle prize contributors, to Chelsea FC for the support all year leading up to the day and for supplying not only the facilities but many of the awards and prizes. And finally a massive thank you to all the organising team and those who gave up their day to come and help make the event such a success. The 'fans tournament' wouldn't happen without you.
So well done all and we hope you all had a fantastic day, see you all in 2017 when we do it all over again.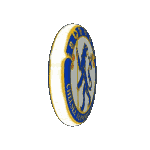 Peter, Cliff and the Organising Team
Pictures from the our two photographers on the day can be found HERE and HERE
There is also a selection on the CSG Facebook page HERE
Report on the day on the official Chelsea FC website can be found HERE