Chelsea v Liverpool – Match Summary
Friday 16 September 2016 – Chelsea 1 Liverpool 2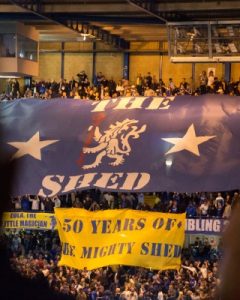 In one of our more eagerly awaited fixtures of the season, the Scousers were in town, but with this our first Friday night game of the new TV rights package, it transpired that many of our visitors might not have been able to get back to their Liverpool homes because of this country's antiquated transport system. Still trying to decide if I felt sorry for them! And even for the Chelsea fans, Friday night football seems to be like Marmite, love it or hate it. Hate that it's another nail in the coffin of traditional 3 o'clock Saturday football, or love it because it's a chance to get well and truly "on it" with a whole weekend of recovery time ahead.
In team news, Courtois retained his place in goal with captain Ivanovic, Cahill, David Luiz and Azpilicueta across the back. Alas, our JT was still recovering from the twisted ankle sustained at the end of the Swansea game so leadership duties were taken up by Branna and his place taken by the curly haired one. With Kante in the Kante position, it was Willian and Hazard on the wings with Oscar and Matic inside. Diego Costa up front. On the bench were Begovic, Alonso, Aina, Fabregas, Pedro, Moses and Batshuayi.
As the lights dimmed we were treated to some "spectacular entertainment" (according to the Chelsea web site at least) by way of some flashing blue lights and a few puffs of smoke, before the teams emerged to the familiar rallying sounds of the Liquidator. But the real treat on display were the banners unfurled from the Shed, celebrating 50 years since it was first named. A fantastic effort by all involved.
An end to end start to the game both teams happy to hold a bit of possession and gradually build up momentum. But as time progressed Liverpool were seeing far too much of the ball, we seemed content to let them get behind us down the wings far too easily, but thankfully very little by way of threat on goal.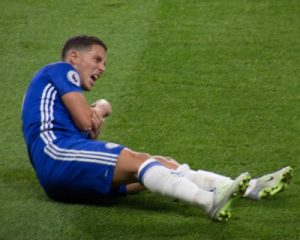 But we ended up being camped in our half for longer periods of the game and with just over quarter of an hour gone a free kick was awarded to Liverpool out on the right. When the ball was eventually lofted in to the box it was a simple job for Lovren to take one touch at the far post back across the goal and into the back of the net. Far too easy and made worse by the fact that red shirts were lining up for that one and our boys just stood there and ball watched. Shocking, as a hushed silence descended on the ground, all but for one corner of the Shed. The only consolation for me was that the arrogant Mr Sturridge wasn't on the end of it; he was too busy getting himself onside.
Needless to say, that set the Scousers off; it was like a double whammy, a goal behind and having to listen to that excruciating ear bleeding noise. But hey, if the boot were on the other foot…..
Going behind didn't even spur us into any meaningful action, we seemed lethargic and ineffectual, no challenges going in, just letting them play right through us. And when we did get the ball there didn't seem to be much on by way of options. At one point I wondered if there were more red men on the pitch that blue!
It was painful to watch, but it got much worse on 35 minutes when we went two behind. A throw in from the right finding the feet of Gary Cahill who obligingly popped the ball back to Henderson who was lurking in acres of space some 35 yards out, and had time to line up his shot straight into the far top corner of the goal. It was a good strike but we were handing this game to them on a plate. Jordan bloody Henderson for goodness sake! So poor!
It wasn't as if we had no chances at all, but there was nothing happening for us in open play, and any set pieces just didn't find the target. HT 0-2.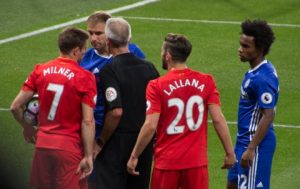 I wouldn't like to have been in our dressing room at half time, I bet all sorts of inanimate objects were being thrown around by the frustrated Antonio Conte. But no changes for the second half and no cuts and hairdryer shaped bruises in evidence.
Unsurprisingly, the atmosphere amongst the home support was subdued, not quite sure what to expect, just hoping it wasn't more of the same as the first half. We started the half a bit more positively, trying to keep the ball, but too much of the last season's side to side passing, and very little of the decisive forward passing we were becoming accustomed to under Conte.
But we started to retain a decent amount of possession, working our way towards goal, and with an hour gone we were finally rewarded for our efforts when some nifty interplay between Matic and Hazard found our lanky Serbian at the by line with seemingly nowhere to go, when he dinked the ball back to Costa just inside the 6 yard box for him to boot the ball home. Game on!
Much better, from team and home crowd alike, everyone buoyed by the goal, and much more positivity going forward looking for the equaliser. Unfortunately we just weren't able to make inroads, in fact neither team were able to find many decent chances on goal. But of course, Liverpool didn't need to, and they had time to pick and choose their moments. One such chance came with 10 minutes left to play, when substitute Origi nodded the ball low towards the goal line from close range, but Courtois was able to stop the almost certain goal with a quick reaction save. Kept us in it.
And finally, with 7 (seven) minutes of normal time left to play, our substitutes started to appear, all three at once, Moses, Fabregas and Pedro replacing Willian, Matic and Oscar respectively.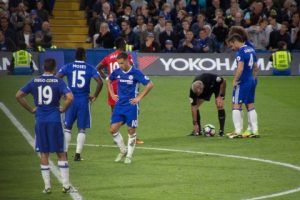 I still felt positive though, even with next to no time to make a difference and find that elusive equaliser. We had done it in previous matches but, granted, with a bit more time to do so. We pushed, but the creativity and guile just wasn't there.
We did get a free kick on the edge of the box when Hazard was fouled in the final minutes, and we kept their defence (and us) guessing as to whether the shot would be a cultured curler from Fabregas or a pile driver from Luiz. It turned out to be the former with a nothing ball that ended up in the wall. What a waste!
We pushed to the end but it was far too little too late. No one covered themselves in glory, our boys weren't at the races for much of the game and Conte left it far too late to make his much needed changes. Not the glorious second debut for David Luiz either, but compared to the expectations of his detractors, he had a fairly comfortable game, as did Courtois, who was let down by his defence.
Not the celebratory weekend we were hoping for, in fact, it put a right old dampener on mine!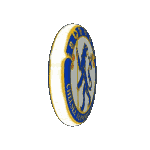 Posted by Chelsea Debs
Debs can be found on Twitter as @cfcunofficial and at cfcunofficial.com
You can read all Chelsea Debs 'Match Reports' here
DISCLAIMER: All articles written for the Chelsea Supporters Group 2005 (CSG) are those of the author and do not represent the views of the CSG. The views and opinions expressed are solely that of the author credited in the article. The CSG do not take any responsibility for the content of its contributors.