Swansea v Chelsea – Match Summary
Sunday 11 September 2016 – Swansea 2 Chelsea 2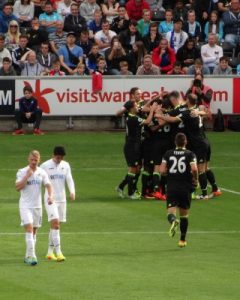 I love a nice train journey, but at just short of 4 hours to get to Swansea from Paddington seems unnecessarily long given that it's quicker to get there by road. But good to meet up with fellow away fans, with a trip to the pub as reward for the thirsty travellers. So, come the end of the day, very grateful for a lift back to civilisation in the Disco Car, sustained by not only the best funking tunes, but also the best bread pudding this side of the Severn Bridge. We know who we are!
To the match, and a familiar lineup with Courtois in goal, and Azpilicueta, JT, Cahill and Ivanovic across the back with Kante, that all important engine running around in front of them. In midfield were Matic and Oscar with Hazard and Willian down the wings, supporting Diego Costa up front. On the bench were Begovic, Fabregas, Pedro, Moses and Batshuayi, along with new boy Marcos Alonso and a welcome return to curly haired former blue David Luiz.
With our boys sporting the black third kit, more reminiscent of my son's old PJs, the game kicked off. A feisty start, the Swansea boys setting out their stall in the opening minutes with noticeably strong tackles going in, noticeably on our lad Diego, who we all know isn't someone to mess with, giving as good back! It was lively stuff, Willian had a shot denied on 5 minutes and his cross 5 minutes later just evaded the sliding legs of Diego Costa.
The away fans voices were in fine fettle, vocal chords well lubricated following a few rounds in the town centre hostelries. Not much noise from the home crowd though, that infernal w*nker with the drum trying his best but even the most fervent Swansea fan must be sick of him by now? Maybe not, but he was giving me a headache!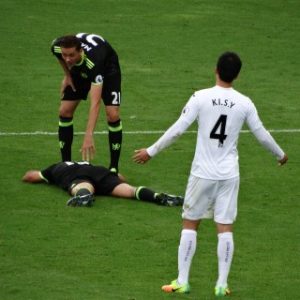 As scrappy as the game was lively, both teams were knocking on the door but ours was answered first when a high ball dropped into the mix from Ivanovic was keenly contested before Oscar expertly collected the ball and square passed it to Costa lurking at the edge of the box. All he needed was the one touch to see his low shot end up in the corner of the goal, evading the reach of the keeper. A beautiful strike and one up, no less than we deserved. And we could have been two up when Hazard pinched the ball and ran with it towards goal before his close range shot was stopped by Fabianski.
We were putting more and more pressure on their goal but the white bus managed to put blocks in on our increasing number of shots. It was all Chelsea and surely only a matter of time. It was like a pinball machine in their box at times, the ball ricocheting all over the place, but sadly not in our favour.
As the half wore on Swansea were starting to gain confidence in the fact that our complete dominance had only yielded the one goal. But just before the break we really should have scored when a Willian corner was flicked on by JT to boo boy Costa who somehow conspired to miss the target from inches away. We surely won't get a better chance than that! HT 0-1.
Second half and it wasn't long before pantomime villain Costa was clattered again, clearly being targeted as the only way the Swansea defenders could try and stop him. At least it gave the home crowd something to whinge about. This time a knock to his head took a bit longer to deal with as you can't take chances with these things. And when he did eventually return to the pitch he was straight into the action, taking on defenders for a laugh as he was once again upended by the desperately humiliated defender. Unfortunately we couldn't make anything of the resulting free kick. We were in command but that vital killer ball into the back of the net just wouldn't materialise.
As the game wore on it became increasingly worrying that referee Andre Marriner was losing his grip of the game, Swansea's repeated fouls stacking up and going unpunished as their defence were unable to handle the pressure we were putting them under.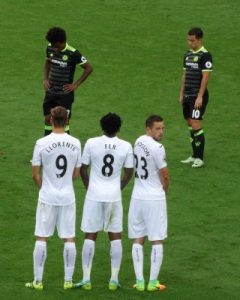 But wouldn't you just know it, as we approached the hour Swansea had a breakaway move from another of our failed attempts at a free kick on goal, and when Sigurdsson was winning the race towards our goal it was a 50-50 fight between Courtois and the Icelander as to who would reach the ball first. Sadly our keeper lost that battle as neither of them reached the ball and the man in white conveniently tripped over our boy's outstretched legs. The home crowd, looking for anything to get excited about, were baying to have Courtois sent off, but new rules mean that a penalty and a yellow card were punishment enough. Sigurdsson duly put the penalty away to even up the scores. Disappointing, but that's what happens when you don't take your chances and kill the game off.
We seemed rattled and Swansea took the opportunity to take advantage of their luck especially with their fans starting to make some sort of noise akin to a home crowd. And within a couple of minutes we were behind, it has to be said some poor decision making and ball control from Gary Cahill but, come on, if you have to foul someone, not just once but twice, to get to the ball then the officials need their eyes testing. So, with an illegally acquired ball, Leroy Fer went on and simply slipped the ball past Courtois and a swiftly back peddling Cahill as they all ended up in the back of the net. It wasn't pretty, and it shouldn't have been allowed, Marriner got that totally wrong and we paid the price. Livid!
But good to see that our boys didn't feel sorry for themselves and let their heads go down. They battled on and could have equalised with chances from Hazard and then a glorious shot from Oscar that was heading for the top corner, but well stopped by Fabianski.
It was all one way traffic as we pushed for the equaliser and I wondered when our substitutes would make an appearance, to freshen things up a bit, and on 75 minutes Matic was replaced by Fabregas and Willian replaced by Moses, to boos from the home crowd for our rejuvenated Nigerian, and every time he touched the ball. What is it with this lot and booing?!
We battled on, all very frenetic, pretty much camped inside their half, Oscar with a couple of decent chances that went begging. But with 10 minutes left to play our hard work paid off when Ivanovic wriggled his way towards the 6 yard box to take a shot which was blocked, only for the ball to pop up towards Costa whose athletic overhead kick blasted the ball into the back of the net from point blank range. Foul! cried the home crowd, Diego! Diego! cried the delirious away support, always in good voice.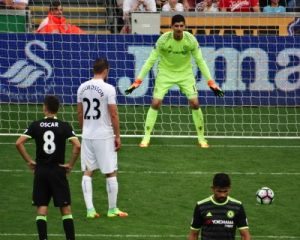 Come on you Blues, 10 minutes to find a winner, and the way we were playing anything was possible. But we also had to do some defending of our own, Cahill putting in some last gasp blocks to deny the home team.
With 5 minutes left on the clock came our final change when Batshuayi came on to replace Oscar and we immediately had to defend another breakaway move when Hazard slipped and had to chase his man down and retrieve the situation, which he did with a quick shove in the back! When in Swansea….. Into stoppage time and a long ball to Hazard on the wing this time had him falling over as he totally missed the ball, and with JT running into the box to add to the numbers you know we mean business.
Frantic stuff at both ends but worrying to see JT go down on his ankle and hobble around until the final whistle. But being the type of captain he is, he still had time to acknowledge the away fans even though he was sensible enough not to try and walk half the pitch towards us. But neither did anyone else!
Not the win we were hoping for or perhaps expecting and deserved, definitely 2 points dropped, but at least we are still unbeaten. The result leaves us second place in the league 2 points behind City and a point ahead of United.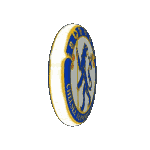 Posted by Chelsea Debs
Debs can be found on Twitter as @cfcunofficial and at cfcunofficial.com
You can read all Chelsea Debs 'Match Reports' here
DISCLAIMER: All articles written for the Chelsea Supporters Group 2005 (CSG) are those of the author and do not represent the views of the CSG. The views and opinions expressed are solely that of the author credited in the article. The CSG do not take any responsibility for the content of its contributors.