…… And Who Is Under The Spot Light.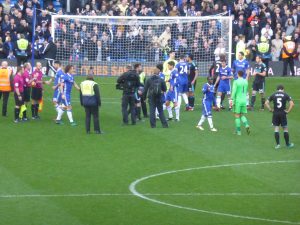 Difficult times these be, no so much as in a rebuild as which we are progressing well so far, the footballing gods I'm sure will find a spanner for us at some point, however more on us later.
Let's start with this very difficult subject which has hit football like a perfect storm of hurricanes from all directions. Sexual Abuse. A very taboo subject, however let's make no bones about it, a topic which has been ignored and brushed under the carpet for far too long, there are many clubs who have fallen foul of not dealing with in the past, however, the FA have been dammed by both ignoring it and side stepping the issue, let alone not taking it seriously in the past. We have seen several reports that in the past it was presented to them, but they closed their eyes and ears to it, it very much the governing body who is supposed to control all aspects with football appear to be ducking their responsibility and been doing it for a very long time.
The credibility of this organisation, like both FIFA who is surrounded like a wagon train in the wild west with corruption and fiddling, UEFA who are being raided by Police, more times than the RAF did to Germany in WW2, the FA who changes its rules to suits it agenda and fails to up hold football integrity.
Clubs are brought to task on many accounts, many by kangaroo court procedures, however the FA are failing football by the way they run and manage the English game and have done for many many years.
We now have the very real prospect of points being deducted, because of our past history of unable to control our players. Yes we have been up in the dock more times than a petty criminal, but facing judges who are more out of touch than the ones in the judicial system. The fine when playing Tottenham last season which saw 9 of their players booked and several who lost not just the plot but any idea what the plot was all about, was larger than Tottenham's because of our history! Our fine was 375k reduced to 290k, that is substantial in any clubs books, whilst Rottenham (correct worded) 225k reduced to 175k. for achieving a record of almost the impossible of every outfield player booked!
So now we face the wrath of the FA, because we faced up to a career ending tackle, worse I have only seen was by Man Utd's Keen on Alf Inge Haland, but that's another suspect issue with the FA. Anyway let's see City had 2 played sent off the rest is not even handbags, maybe because in the report the official saw the Fabregas little girly slap, which is a red card, and Chalobah push on Aguero was another, however we have every right to feel that we face a witch hunt both on and off the field. If you want retrospect punishment then be consistent about it and not be selective.
Have we not seen Wenger get away with manhandling people? He gave Jose a shove in the past and yesterday gave the 4th official a grab. But nothing comes of it, there are quite clearly different rules for different clubs.
I will commend the taking to task of players that are gobby and insulting to any official, there is just no need for it. The officials are just there to manage the game, it's another aspect that maybe some of them are not up to the task, (another FA failed responsibility) however it's a social problem as well. But drama queens of football who just can't accept decisions should be spending less time on the pitch. In that respect I hope to see many more red cards. One thing that does spoil modern football is petulant players on xxx, 000 pounds a week acting up like a little brat, in some cases attitude adjustment is long overdue.
The other dirty aspect of mobbing the officials appears to be on the wane, thankfully too, we have been culprits of it and it is not good to see, sure the offended player has a right to voice his objection, but only the captain should otherwise be involved.
We are on a good run and sure that can end anytime, we have made some interesting changes, and one which is noted with much approval, is Costa now being a better player for keeping closed his bag of dirty tricks, for that Conte should take yet another bow.
Posted by Voltaire
DISCLAIMER: All articles written for the Chelsea Supporters Group 2005 (CSG) are those of the author and do not represent the views of the CSG. The views and opinions expressed are solely that of the author credited in the article. The CSG do not take any responsibility for the content of its contributors.
'Chelsea Supporters Group' can be found on Twitter and Facebook