Spurs 2 Chelsea 0 – Wednesday 4 January 2017
I confess to being a bit nervous in the lead up to the game, not because we weren't capable of beating this lot, just that I wanted us to beat them so much, to extend our lead at the top of the league, for the winning streak record, and of course, more than anything, because it's them. My stomach was in knots as we anticipated the teams' arrival on the pitch.
In goal for us were the ever present Courtois, with his ever present back three of Azpilicueta, Luiz and captain Cahill, supported by the ever present Alonso and Moses. With Kante and Matic in midfield were Pedro and Hazard supporting the big man Costa up front. On the bench were Begovic, Ivanovic, Zouma, Fabregas, Chalobah, Willian and Batshuayi.
The game started brightly enough, the two teams taking a while to settle down, so much at stake for both. But we really should have taken our chance and the lead in the first five minutes when an early ball punted up to Hazard by Matic found our man in space, only for his low shot to pass just wide of the far post. So close!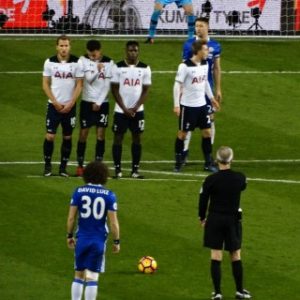 As the game settled down it developed into quite an even battle, both creating half chances and both guilty of giving the ball away. Challenges were flying in from both sides, a good old fashioned tussle between teams with an increasingly fierce rivalry. If the teams had such rivalry, that's nothing compared to the supporters who engaged in the usual 'banter' across the away end divide. Just glad I wasn't right next to the home fans this time!
As the half wore on the home side seemed to be putting the more decisive moves and chances together. We still looked a bit nervous at times, perhaps the burden of the expectation weighing heavy on us. It didn't look great when a breakaway move had Costa giving Pedro a right telling off as the communication between them went missing as they swept into the opposition box for another chance that went begging. Meanwhile at the other end Spurs were getting a bit too close for comfort.
Very little between the two teams and anybody's game, both playing each other at their own games, tightly marked, giving precious little space to move the ball around freely. But the killer blow came just before half time when Eriksen planted a crossed ball on to the head of the Tom Daley wannabe to simply nod past Courtois. HT 1-0.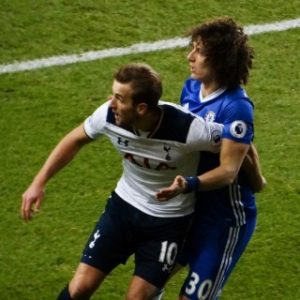 All guns blazing at the start of the second half as we sought to get back on terms as quickly as possible, an early shot from Costa setting the tone. Much better from us, bodies being thrown at every ball being crossed into the box, but Hazard really should have put away that nodded chance from just a couple of yards out. We were urging our boys forward, willing them to take advantage of the chances we were creating.
But for some reason it just wasn't clicking for us out there and it was a case of déjà vu when an almost identical reconstruction of the opening goal was recreated at the other end to put us two behind. The knots in my stomach were disappearing fast as I feared the worst, and even though there was still plenty of time it would take an almighty effort on our part to come back.
We needed to change things around and the first substitution saw Alonso replaced by Willian, to the inevitable boos from the embittered home fans, and the Willian anthem from the away section. He hates Tottenham…..
Time was ticking by and we just didn't seem to be able to find that decisive quality ball that would give us a decent shot at goal, the Spurs defence were able to pin us back to very few chances, forcing us to take speculative long range shots at times. But we soldiered on, although the number of times Luiz punted a long ball forward into space where no one appeared to have any intention of running into was a mystery to many.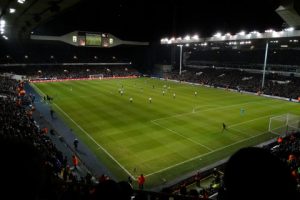 Ever hopeful, but resigned to the inevitable, it just didn't seem to be our night. Another change, Kante replaced by Fabregas, the north London boo brigade having a field day every time he touched the ball. Shut up, it's pathetic! But sadly, everything we did a white body managed to get in the way, blocked shots and wayward passes.
Our last change saw Batshuayi come on for Moses as we continued to push for a goal that would at least give our hosts something to think about over the last few minutes. But it wasn't happening and despite the frustration for us away fans, we continued to support our boys and putting it all into context, the amazing achievement of our team so far this season.
As the final whistle blew and the home fans celebrated their cup final, we could console ourselves with the thought that DVD production would be in full swing providing much needed income for some beleaguered folk of N17.
Meanwhile, we are still top of the league, 5 points clear, and a long way to go before counting any chickens. Up the Chels!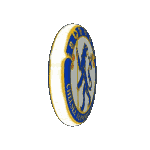 Posted by Chelsea Debs
Debs can be found on Twitter as @cfcunofficial and at cfcunofficial.com
You can read all Chelsea Debs 'Match Reports' here
DISCLAIMER: All articles written for the Chelsea Supporters Group 2005 (CSG) are those of the author and do not represent the views of the CSG. The views and opinions expressed are solely that of the author credited in the article. The CSG do not take any responsibility for the content of its contributors.
'Chelsea Supporters Group' can be found on Twitter and Facebook