Chelsea v Man Utd – Match Summary
Chelsea 1 Man United 0 – Monday 13 March 2017 – FA Cup quarter final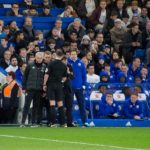 A big, big game for us, on so many levels. A second return to the Bridge of Jose Mourinho, this time on the back of a few loaded comments, Jose being Jose, although the snipes aimed at Chelsea supporters was, to my mind, unnecessary given the unconditional support he has always enjoyed, and cultivated, from the vast majority of our support. But things, as well as Jose, move on, and here we are looking to book our place at Wembley for a crack at the FA Cup in the semi finals. But even before the arrival of Jose at United, games against them have always been something to look forward to.
There was a real buzz about the place, the whole of the south end of Stamford Bridge taken up by the red half of the local football supporting population, and a great atmosphere was in store. On that score, the evening didn't disappoint.
In the starting lineup were Courtois (wonder what Begovic thought of that?), with the usual back three of Azpilicueta, Luiz and Cahill. With Moses and Alonso in their familiar wide positions, Kante and Matic were holding the midfield. Up front were Willian and Hazard who were supporting Costa up top. On the bench were Begovic, JT, Zouma, Fabregas, Chalobah, Pedro and Batshuayi.
Our visitors were fast out of the blocks but we were more than a match for their early eagerness, there was also an atmosphere to match, both sets of fans looking to raise our respective sides. But it was becoming pretty apparent that United's aggressive tactics didn't just extend to their style of play, and the usual target, Eden Hazard, was feeling the weight of those red boots on the back of his legs more than anyone else.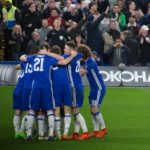 And with quarter of an hour gone you could see why Hazard was getting all the unwelcome attention. With Cahill picking him out just inside the halfway line, he swivelled and totally mugged off Smalling as he ran round him leaving the United captain for dead. And it didn't end there, Hazard just kept on going, winding his way through their defence until his eventual shot was just wide. The resulting corner nearly found the back of the net too, as Cahill managed to get a foot on the end of a hard fought ball, his close range shot turned away by De Gea in goal.
We had the bit between our teeth, wave after wave of unrelenting pressure and shots on and off target, corners, the lot. Shame we didn't make more of that spell of pressure. Overall it was a pretty even game, but I felt that we had the better quality of chances so it was frustrating that we couldn't make it count.
The turning point and, arguably, the main talking point of the game came on 35 minutes when one of United's many protagonists and their captain were spoken to by the ref Michael Oliver following yet another foul on one of our players, Hazard yet again. But like a rebellious child and within seconds of the warning Herrera stuck a leg out across Hazard and was immediately shown his second yellow. Scenes in front of the dugouts as the ref was surrounded by a sea of red as they were all feeling a bit hard done by. Pool old Mkhitaryan had to make way for the hair bear as our own erstwhile hirsute one took the free kick.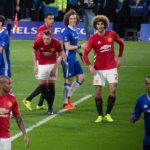 And it didn't end there; while play continued and Moses eventual shot sailed over the crossbar, Conte and Mourinho were exchanging a few well chosen words on the touch line as Oliver was called across to read them the riot act. Can't beat a bit of proper 'passione' on occasions like this! Half time 0-0.
Second half, no changes, as we kicked off against 10 red men. But as we often seem to do, we set off the second period on the front foot, looking to take the initiative. It took just 5 minutes to break the deadlock, Kante left in space just outside the box was all that was needed for him to plant a low shot into the corner of the goal, just out of reach of De Gea. If United thought our pocket dynamo posed no threat, with no need to close him down, then they had short memories. His only other goal this season came at the Bridge against the very same United in the league. Delirious scenes on and off the pitch, three sides of the ground celebrated the goal from our little genius. He's here, he's there…..
United's backs were against the wall but they nearly got a quick one back when Rashford slipped past Luiz only for his shot to be brilliantly stopped by Courtois. The resulting corner handed us the perfect counter attacking opportunity as Kante streaked up the park. We didn't score, but our corner ball should have found the back of the net when Costa had a clear header on goal, only to see the ball fly into the Matthew Harding crowd. That chance really should have been buried!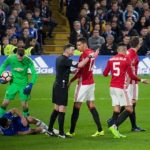 Mourinho's big red bus was well and truly parked as we continued to try and break through, and around the sides. Wave after attacking wave, shot after shot, anyone with the ball at their feet and within range was having a go. All the travelling fans could do was sing to keep themselves entertained, fair play to them. It was all one way traffic, but the concern for me was that despite our superior possession, we weren't killing off the game, a single opportunity handed to United, a dodgy rebound off Fellaini's backside could see them back in the game. United were clearly frustrated, but all of their own making.
Into the last 10 minutes and Willian was replaced by Fabregas as we continued to try and put the game to bed. As the clock ticked by we seemed more content to accept and protect the one goal advantage. Zouma came on to replace the limping Moses as United had to throw caution to the wind to get back on terms before they ran out of time. But that just played into our counter attacking hands, De Gea having to save from Fabregas after we swiftly moved the ball from one end of the pitch to the other.
Our final change came in stoppage time as Costa pigeon stepped his way off the pitch to make way for Batshuayi. We did enough; the final whistle blew, safely sealing our place in the semi finals at Wembley, the draw bringing us a game against Spurs.
A dominant performance, in a game full of incident, but call me a conspiracy theorist but it looked to me as if Mourinho and his latest band of faithful disciples were intent on targeting Eden Hazard into submission. Was it personal? Thankfully it didn't work and United were ultimately punished with defeat.
Que Sera, Sera…..
Posted by Chelsea Debs
Debs can be found on Twitter as @cfcunofficial and at cfcunofficial.com
You can read all Chelsea Debs 'Match Reports' here
DISCLAIMER: All articles written for the Chelsea Supporters Group 2005 (CSG) are those of the author and do not represent the views of the CSG. The views and opinions expressed are solely that of the author credited in the article. The CSG do not take any responsibility for the content of its contributors.
'Chelsea Supporters Group' can be found on Twitter and Facebook