Chelsea Terrace Talk – Irish Examiner Article By Trizia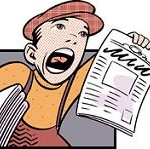 Not the best idea to be writing this piece immediately following the final whistle of such a painful game – a game that has not only dented my confidence but has me in a corner, facing the wall whimpering.
It's probably a good thing you guys haven't recently been privy to my fears, my neuroses and the thoughts that currently haunt my dreams.
While other Chelsea fans have been enjoying the unexpected thrill of leading the premiership for the majority of the season – I have been seeing only Tottenham shaped monsters in the shadows.
Stupidly I recently began to relax only for the Crystal Palace game to plague me with new fits of doubt and even the wins against City and Bournemouth did little to calm my nerves. Also the fact that we had beaten Mourinho's United twice this season tolled a bell of doom for me. That would have hurt Mourinho and a wounded Jose is always an animal to be very wary of. So I was already troubled by this game, especially coming at such a pivotal point in the season. But then when I heard the news that Courtois was injured, I went into a total tail-spin. The news of Alonso's withdrawal put me in full melt down mode.
We don't need to analyse the game – to a man we didn't show up. Some may point to our old foe 'complacency' – I don't think so. This wasn't a game where we strode around the pitch, cock-sure of ourselves and expecting the three points to magically fall into our laps. This was a Mourinho tactical masterclass. That said, we were complicit in our own downfall. We have been winning games, but many by very narrow margins – where as Tottenham have been winning games at a canter and I do wonder about the mentality of our players.
To watch the gap go from ten to seven and then down to four must do something to even the most mentally robust of individuals. There is no pressure on Tottenham what so ever. No one expected them to win the league, and when we opened up the chasm at the top of the table everyone felt it was effectively just a race for the remainder of the champions league places.
Of course, football is all about goals – Kane seems unstoppable where as Costa seems to have totally lost his way since the China story broke just a few months ago. Kane just needs to look at a ball and it seems to end up in the back of the net, where Costa seems to have reverted to his teenage problem child worst. Many Chelsea fans believe that this state of affairs has been initiated by the player himself and want him gone. I think this is too simplistic and a tad unfair. Firstly, playing as a lone striker is never easy – he is often heavily marked and his reputation ensures him a yellow card just for looking at an opposition player funny, which often prevents him playing his usual physical game. Then there is the lack of competition. Consciously or sub-consciously this will have a negative effect on a striker – he literally carries the weight of expectation of the club, his team mates and the fans on his shoulders and Costa does not strike me as the type to carry such a burden lightly – especially when things are not going well. He is also receiving very little to work with from the midfield. As talented as they are, the oft partnership of Kante and Matic have other jobs to do; Alonso and Moses are probably playing to the best of their abilities but they usually provide very little for Costa. Then there is Hazard – an absolute maestro but also often marked closely and as likely to try and score himself as be a provider.
All of that said, I do wonder whether dropping Costa is a place we now find ourselves to try and make that final push for the finishing line, because at the moment, it does feel like we are playing with ten men.
What of Conte – he looks nigh on suicidal after a loss, but I did think he looked particularly down after this recent result. He talked about a lack of desire and motivation and blamed himself. The sub-text was very clear that he was disappointed that his team failed to show these qualities. Anyone that saw Conte play could see very clearly that no manager would have had to try and explain to him that he needed to demonstrate desire and motivation on the pitch – and I think he believes this should be a given and if it isn't then winning that Premiership could really fall at the final hurdle.
Yes – I really am that depressed – all sharp objects in my home have been hidden. The thought of losing the golden prize when being so far ahead for so long is bad enough, but losing it to them makes me feel physically sick.
And I swear to God if one more person says "but Tottenham can't win all their remaining games" you'll have to talk me down from a very high bell-tower. Because they obviously haven't noticed that that's EXACTLY what they ARE doing. And if that does happen, could this group of players recover from that – could the manager.
I imagine most Chelsea fans will have stopped reading this by now – and I don't blame you – I think this is the most down beat article I have ever penned which is bonkers given we are top of the league but I can't help it.
I can only hope that I have under-estimated Conte and that he has a cunning plan tucked in that designer sleeve.
I hope that five games from now, fellow Chelsea fans will be ripping me for having lost my bottle at the first sign of adversity. I hope to be dancing down the Fulham road with an inflatable Premier League trophy on my head berating myself for not having trusted & believed in Conte enough.
It's going to be a loooooooong six weeks.
Posted by Trizia
(You can see all the Terrace Talk articles here)
DISCLAIMER: All articles written for the Chelsea Supporters Group 2005 (CSG) are those of the author and do not represent the views of the CSG. The views and opinions expressed are solely that of the author credited in the article. The CSG do not take any responsibility for the content of its contributors.
'Chelsea Supporters Group' can be found on Twitter and Facebook