Man United v Chelsea – Match Summary
Man United 2 Chelsea 0 – Sunday 16 April 2017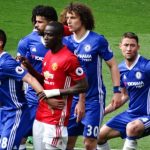 It was an early start on Easter Sunday, trundling along to Manchester via the quaint old club train. Comfortable enough, and with snacks on board, we soon arrived in very good time before making our way to Old Trafford via a few city centre watering holes.
In concerning team news, Courtois had succumbed to a basketball related ankle injury (?!) allowing Begovic to take advantage of a rare start between the sticks. We also lost Alonso to a mystery illness, allowing Zouma to come in as part of our back three with Luiz and captain Cahill. Azpilicueta took Alonso's place on the left wing partnered by Moses on the right, with Kante and Matic in the middle. As usual it was Costa up front supported by Pedro and Hazard. On the bench were Eduardo, JT, Ake, Fabregas, Loftus-Cheek, Willian and Batshuayi.
The away fans were in exceptional voice in our corner of the ground and for the first few minutes we had plenty to shout about despite the disruption of the unexpected team changes. But the writing was on the wall when, not for the first time, our boys were dispossessed allowing Rashford to run on goal and take the lead after just 7 minutes. The fact that Hander Herrera had handled the ball to allow him to obtain possession and put in the telling assist for Rashford was clearly missed by referee Madley. I think they call them home decisions. Or the ref is blind.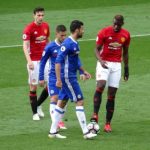 We looked rattled, already disrupted by the personnel changes, probably all that meticulous game planning had gone out of the window. But we stuck with it; we had to, despite the early goal. It was a right old tussle of a game, Costa clearly being targeted even before he gave Bailly a shove into the goal post. It was so stop and start, the ref was wearing out his whistle.
I'm afraid our Diego was letting it all get to him, at times reverting to the Costa of old, easily rattled and looking for the foul rather than staying on his feet and retaining possession. At the same time the United players were clearly out to spoil the flow of the game, both Costa and Hazard being paid particular attention. Typical Mourinho tactics. But with just the one goal in it the game was still anybody's as we battled our way to half time with the score remaining at 1-0.
Second half, no changes and ever hopeful of a quick goal to level things up. Antonio looked concerned as he came out and so he should have been because within 3 minutes of the restart United had doubled their lead, the cheating Handball Herrera with a lucky deflection that caught Begovic out. We should never have allowed him to get hold of the ball; we had plenty of opportunities to clear it but seemed intent on playing the ball out. But oh dear, Gary Cahill, did he forget he wasn't playing for England when he helped Lingard to his feet in the midst of the goalmouth melee?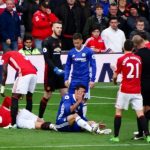 We needed to shake things up; our usual tactics were being nullified by Mourinho's men as they took advantage of our bad day at the office with two of our key team members on sick leave. The first of our changes saw Moses replaced by Fabregas, on to assist the forwards while Azpilicueta was sent across to left back. Still plenty of time to get one back and make United think.
In truth, United were in control as we struggled to come to terms with the pace of the game and we were unable to create any meaningful chances for ourselves. We seemed to be scrambling for the scraps while United were playing us at our own counter attacking game.
With 25 minutes left to haul the game back we made our second substitution, Willian on for Matic. The away fans were urging our boys on, reminding them at great length that we're top of the league.
We started to get a bit more of the ball and actually managed to string a few decent passes together, but passages of play were being halted by the cynical foul play of Messrs Herrera and Rojo. And as we went into the closing quarter of the game we were putting pressure on their goal, a succession of corners too, but nothing of sufficient quality to bother De Gea in their goal.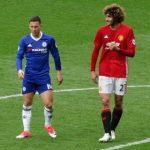 Into the final 10 minutes and our final change saw Zouma replaced by Loftus-Cheek but as much as we tried we just weren't able to pull the trigger and, in fact, the stats would later show that we didn't register a single shot on target. Really poor from us.
So it wasn't to be today, our finely tuned plan was scuppered by our lack of drive as well as Mourinho's desire to win this game at all costs following his utter humiliation at our hands earlier in the season at Stamford Bridge. You can bet your life United won't play like that again this season!
Many worries about that game, easy to question with hindsight. But, as sung by the Chelsea faithful for over ten minutes during the game, we are still top of the league, but our lead has been cut to 4 points with Spurs breathing closer down our necks. It is all still in our hands though, we just need to attend to our own business.
KTBFFH.
Posted by Chelsea Debs
Debs can be found on Twitter as @cfcunofficial and at cfcunofficial.com
You can read all Chelsea Debs 'Match Reports' here
DISCLAIMER: All articles written for the Chelsea Supporters Group 2005 (CSG) are those of the author and do not represent the views of the CSG. The views and opinions expressed are solely that of the author credited in the article. The CSG do not take any responsibility for the content of its contributors.
'Chelsea Supporters Group' can be found on Twitter and Facebook