Chelsea v Crystal Palace – Match Summary
Chelsea 1 Crystal Palace 2 – Saturday 1 April 2007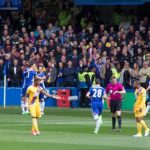 Finally, the last international break of the season is over, as we head back to the Bridge for a resumption of our Premier League campaign.
In goal, the ever present Courtois, with his tried and trusted back three of captain Cahill, Luiz and Azpilicueta. But with Moses injured it was Pedro filling his boots on the right flank while Alonso was on the left. With Matic and Kante in their central midfield position were Hazard and Fabregas looking for the goals with Costa up front. On the bench were Begovic, Zouma, JT, Chalobah, Loftus-Cheek, Willian and Batshuayi. Both teams were wearing black arm bands in memory of the victims of the Westminster terrorist attack and former Chelsea and Palace keeper John Philips, who sadly passed away.
It was such a perfect start when after 5 minutes a well worked move that saw the terrier like tenacity of Eden Hazard weave his way into the box before Fabregas slotted away his slick near post pass. That kept those weirdly uniformed and self styled Palace 'ultras' quiet for a bit, who looked like they were on a school outing having been allocated a few rows in the upper stand all to themselves so their teachers could keep an eye on them. But, alas, it wouldn't be for long. We were playing with some confidence following our early advantage, but before 10 minutes were up, following a tussle on the edge of our box, Zaha had managed to thread the low ball through our defence, past the outstretched arm of Courtois and into the corner of the net.
And before we knew it they went and took the lead. We were caught napping at the back when Zaha and then Benteke pretty much walked the ball into the back of the net. The home crowd were stunned as the naughty schoolboys let off their bangers and their flares, like those kids who send the biggest boy in to the shop to buy a box of fireworks so they can set them off in the street and run away!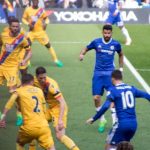 That wasn't quite what we were expecting, but with so much of the game left to play I felt confident we would turn things round, we were only one goal behind after all.
The game soon settled down and we started playing some decent passing to move the ball up the pitch swiftly enough, just our final ball letting us down at times, always seeming to find a yellow shirt on the end of it. Within a couple of minutes a shout went up for hand ball in their box, but referee Craig Pawson was having none of it and although it was hard to tell at the time from the far end of the pitch, replays showed that Townsend moved his arm towards the ball. Robbed!
It was a continuing theme of the game; we were playing the ball well, neat interchanges of passing as we progressed our way towards goal. We seemed to be doing all the intricate stuff to carve out some chances but we were just having trouble taking them. One of our better efforts came just after 20 minutes when Hazard and Fabregas worked the ball brilliantly into the box only to see Costa's close range shot stopped by Hennessy in their goal. Grrrrrr!
It was Eden Hazard causing all the mischief and mayhem, first going in on the left side and then on the right, but that killer blow was eluding us, and all the while we had to stay wary of their counter attack, our undoing for their second goal. We were doing all the right things, but we weren't splitting them open to create the clear shots on goal, although half decent efforts did come from Matic, Hazard and Azpilicueta.
Unfortunately, the deserved equaliser before half time didn't materialise as we went in to the break with the scores remaining at 1-2.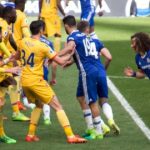 Second half and I was hoping that our usual quick-out-of-blocks second half start would finally bring about that elusive equaliser. But instead our cunning visitors managed to stifle our efforts, the big yellow bus seemed to grow in size, and the Palace players were content to slow the game to a snail's pace whenever they had possession or a free kick in our half. It just didn't seem to be happening for us, it was going to be one of those days, wasn't it?
But we couldn't be faulted for our lack of effort; a sublime ball into the box by Pedro just eluded what should have been a nailed on goal for Costa, only for this short range volley to be diverted by Dann. Instead, we spent a good five minutes waiting for the injured Dann to be treated and removed from the pitch, to the gracious applause of Chelsea and Palace fans alike. While all that was going on, Matic was replaced by Willian, as our need for more creativity and goal chances was becoming a priority.
I loved that the restart was actually contested for a change, none of that namby-pamby launch back to the keeper stuff! We needed to up our game though, literally, but frustratingly there always seemed to be a yellow shirt blocking our crosses into the box, nothing was getting through. And we weren't having a great deal of luck at the other end either, our defenders being pulled back for the most innocuous of challenges leading to some dangerous free kicks, which weren't too far away from extending the visitor's lead. But it didn't help that some of those big strapping lads in yellow were dropping like stones at the merest hint of a Chelsea player within barge pole touching distance.
With 15 minutes left on the clock came our second substitution, Alonso replaced in favour of Batshuayi. Time seemed to be flying by as we were forced to crank up the pressure, now looking like we were trying to retrieve a point let alone going for the win. This wasn't in the script at all, our midfield seemed to be business as usual but our guys at the back seemed stretched at times, while Costa wasn't quite firing on all cylinders. At times it seemed as if a force field was preventing the ball from crossing the line.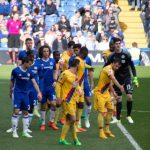 We were urging our boys on and it was hard to believe we couldn't get that elusive goal, the more the time went on the more pressure we piled on their goal.
Into stoppage time, 7 minutes of it, cue the feigned cramp from Sakho that magically healed itself once play had restarted. Not once, but twice. Get off the pitch! And while that was going on RLC came on for Fabregas, and by the amount of delays he should have had a good 5 minutes on the pitch. Last ditch now and even Courtois was recruited as a big centre forward for our final free kick lofted in by Willian, but to no avail.
Sadly, it wasn't to be, Fat Sam had done a number on us, fair play to him, and we provided the naughty schoolboys a day trip to remember, bless 'em!
A disappointing result, yes, but putting it all into perspective we are still 7 points clear at the top of the league with nine games to play. You could say the next game against Man City is crucial, but they all are. Bring it on and KTBFFH!
Posted by Chelsea Debs
Debs can be found on Twitter as @cfcunofficial and at cfcunofficial.com
You can read all Chelsea Debs 'Match Reports' here
DISCLAIMER: All articles written for the Chelsea Supporters Group 2005 (CSG) are those of the author and do not represent the views of the CSG. The views and opinions expressed are solely that of the author credited in the article. The CSG do not take any responsibility for the content of its contributors.
'Chelsea Supporters Group' can be found on Twitter and Facebook