Chelsea v Middlesbrough – Match Summary
Chelsea 3 Middlesbrough 0 – Monday 8 May 2017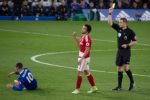 My head told me this game should be a breeze, but my heart warned me that nothing should be taken for granted, Middlesbrough were on the verge of relegation, needing the win to survive another day, and desperation has its own motivations.
In team news, we had the ever present Courtois in goal, ably supported by our three man defence of Azpilicueta, Luiz and captain Cahill. In those wing back positions were our dependable Moses and Alonso, flanking Matic and Fabregas, our usual midfield maestro Kante suffering from a thigh problem. In attack we had Pedro and Hazard with Costa up front. On the bench were Begovic, JT, Zouma, Ake, Chalobah, Loftus-Cheek and Willian.
The game started at a fair old pace and Alonso could have put us ahead had his fabulous shot on goal not rebounded off the crossbar within the first couple of minutes, taken on the volley from a superb cross field pass by Fabregas. A sign of things to come perhaps?
We were passing the ball around with confidence, and our long passing was on point as well, with Fabregas spraying the balls around with his usual pinpoint accuracy. It was clear from early on that we meant business, against a team that needed to win to survive the Premier League. Of course, that played into our hands because in trying to go forward they allowed us the space to play our own game.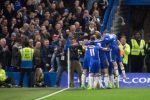 It was a siege, we were at our ruthless best, wave after wave of forward play and when Boro did momentarily gain possession, we were in there fighting to get the ball back. We were relentless, a free kick from Luiz and a low shot from Fabregas going begging. We were exploiting those wings as well, both Moses and especially Alonso terrorising the opposition on their respective flanks, with their ability to take down the long pass and run at defenders into the box, causing all sorts of mayhem.
But when one of those long balls came over the top it bypassed Alonso finding Hazard instead, who was able to run into the box, his square ball just eluding Costa as he slid into the back of the net. So close.
With only 20 minutes gone we were flying, and there was nothing Boro could do about it. On the rare occasion they found themselves inside our third of the pitch we were able to safely nullify any encroachment on our goal and take back possession. And just a couple of minutes later the inevitable goal arrived in the shape of a magically weighted dink forward into the box from Fabregas, allowing Costa to sneak in behind the defenders and simply slot the ball through Guzan's legs and into the back of the net. It was way too easy but it was also coming. Are you watching Tottenham? sang the home crowd, who were in good voice all game, cheering our boys on ever nearer to that title winning line.
And it wasn't long before we had doubled our lead, Alonso finally getting reward for his endeavours when a pass from Azpilicueta found our man in on goal face to face with Guzan at his near post, but there was only ever going to be one winner, and Alonso went for the low one, the ball slipped through the keepers legs again and into the goal. And now you're gonna believe us…..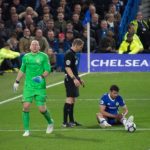 As we approached half time we took a breather, happy to consolidate our lead as we entered the break two goals to the good. It should have been more.
Second half and with no changes we were off on the front foot again, an early shot from the fleet footed Pedro bouncing off the crossbar. We were all over them, but equally they were poor. Alonso was so close again, his shot from close range narrowly missed the target, and narrowly missing Costa's attempt to redirect the skimming ball goalwards, our man the only thing ending up in the back of the net, staring frustratingly up at the Matthew Harding faithful, his shorts ending up in his crack. Diego, Diego…..lol.
How we didn't score more goals I don't know – our visitors put up next to no resistance as we besieged their goal. I was surprised they didn't at least look like they were fighting for their premier league lives; they continued to allow us the space to turn on the style, superb passing, back flicks, shots on goal – it could have been a cricket score!
It was a stroll, we never looked in any danger of conceding, let alone losing, and even when we didn't have possession, you just knew it was only a matter of time before we'd pinch the ball back. And all the opposition could do was watch in awe, with the odd foul thrown in when it all got too frustrating for them. We were mesmerisingly ruthless.
But the final nail in the coffin for Boro came just after the hour when yet another spell of possession football in and around their box led to a corner, the result of which found Matic taking on the centre forward role, lurking in front of goal and happy to receive Costa's assist which he duly planted into the back of the net, once again through the keepers legs. Poor Guzan, he was having a mare with his wind tunnel legs.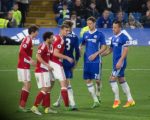 You had to feel for the Boro fans though, as if it wasn't bad enough having to travel down on a Monday night at the whim of Sky Sports, but at least they turned up, unlike their team. But they did finally get something to cheer about, albeit ironically, when they got their one and only shot on target, although easy enough for Courtois to gather.
With 20 minutes left to play our first substitution saw Willian on for Hazard, presumably being rested for our next vital game. Ten minutes later our second, Chalobah replacing Pedro. But the biggest cheer went up for our third and final change that saw David Luiz replaced by captain, leader and legend JT, who continued to receive the applause every time he touched the ball.
It was an inevitable conclusion; the only surprise being that is wasn't a more resounding victory. It was a brilliant team effort but with special praise reserved for Alonso and the passing genius of Cesc Fabregas.
Another precious 3 points in the bag, next stop our first of three attempts to claim the ultimate prize. Can't wait!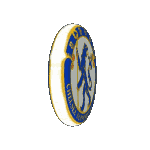 Posted by Chelsea Debs
Debs can be found on Twitter as @cfcunofficial and at cfcunofficial.com
You can read all Chelsea Debs 'Match Reports' here
DISCLAIMER: All articles written for the Chelsea Supporters Group 2005 (CSG) are those of the author and do not represent the views of the CSG. The views and opinions expressed are solely that of the author credited in the article. The CSG do not take any responsibility for the content of its contributors.
'Chelsea Supporters Group' can be found on Twitter and Facebook