Chelsea v Watford – Match Summary
Chelsea 4 Watford 3 – Monday 15 May 2017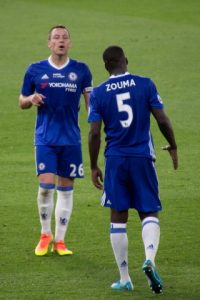 Still on a high from our title winning exploits just three days earlier, the celebrations continued at Stamford Bridge as we played host to Watford in our penultimate league game of the season.
In an unsurprisingly changed team lineup, we had Begovic in goal with Zouma, captain, leader, legend JT and Ake making up the back three. In midfield were Kante and Chalobah, flanked by the ever present Azpilicueta and a welcome return for Kenedy. Up front, Willian and Hazard were supporting title goal hero Batshuayi up top. On the bench were Eduardo, Cahill, Aina, Alonso, Fabregas, Pedro and Costa.
A guard of honour from the Watford team greeted our boys, fittingly led out by JT. We kicked off to the resounded chorus of Campeones, and Antonio, Antonio as the boys set about their business on the pitch. To be fair, it did seem like a bit of an end of season kick about, except the Watford players seemed to want to kick about our players rather than the ball, Watford boss Mazzarri was clearly letting his previous with Conte do the talking on the pitch.
We were moving the ball around with confidence, the assured look of a team on top of their game, and we were dominating the play. And it was a fitting breakthrough just after 20 minutes when JT's legs got the ball over the line, a scramble following a corner ball dropped into the box. But straight up the other end and an unfortunate header from JT back towards Begovic in goal found Capoue lurking as he nodded the ball into an empty net. Lack of communication there, but you had to feel for JT, not the sort of double double double he would want to be remembered for. Moving swiftly on….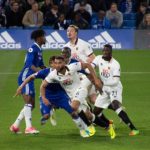 We continued to play with style, Hazard taking receipt of some superb long passes that created chances on goal. We kept knocking on the door until it was finally answered by Azpilicueta, another corner, this time finding our ever reliable defender on the edge of the box as he planted the ball into the far corner of the goal. Our dominance was rewarded as our lead was restored, HT 2-1.
Second half, no changes, and we were looking to increase our lead from the off and just a couple of minutes in Batshuayi had done just that, Ake picking up Kenedy's probing ball into the box, before square passing it to the Batman as he bore down on goal. But once again we conceded straight away, Janmaat managing to wriggle his way up the park and through our defenders, firing a shot past Begovic. This game was turning into a bit of a goal fest and with plenty of time still left to play.
It was all starting to get a bit messy, a few strong challenges flying in as tensions started to rise and as Watford sniffed an equaliser. The home crowd did their bit to support the boys, in full voice around the ground; we were in celebratory mood regardless of the score, the main job already done the previous Friday.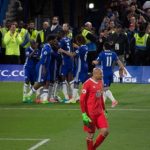 But that equaliser when it came wasn't in the script, newly introduced substitute Okaka, built like a brick sh!thouse, standing his ground as the ball flew into the box and surrounded by blue shirts he managed to dig the ball out and through Begovic.
Cue our first changes Aina on for Kenedy, with just over 15 minutes to find a winner, mindful not to concede either. Our second change a few minutes later saw Chalobah replaced by Fabregas.
Watford were sensing blood, buoyed by their good fortune, and continued to push forward with speculative shots on goal. But we were just biding our time, patient build up and possession around their box. The Watford boys seemed to be getting a bit narked by it all as Batshuayi was clattered by Prodl, and our man was substituted by Pedro limping towards the bench.
With all our creative forwards now on the pitch we starting to run rings round them and as we approached full time it was assist king Fabregas who added to his goal tally when he collected the ball on the edge of the box and deftly placed it into the corner of the goal. Magical. And just the lift the crowd needed to get the party started.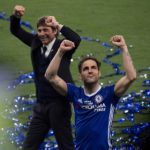 Into 5 minutes of stoppage time and all hell broke loose when Prodl caught Pedro sending him flying, too fast for the likes of that ponytailed lump, and he was given his marching orders by referee Lee Mason for a second bookable offence. And it didn't stop there as a vengeful Behrami laid into little Pedro, who appeared to be smirking behind his toothy smile. Handy bit of time wasting though!
The final whistle blew, prompting fireworks and shiny streamers to be launched from the top of the stands and a lap of honour from our boys, a chance for them to celebrate in front of the home support. A brilliant end to the night as Antonio and his conquering heroes could enjoy the adulation of our fans all around the ground ahead of the official trophy presentation at our upcoming final league game. It will also be JT's final game as a Chelsea player at Stamford Bridge, it's going to be emotional…..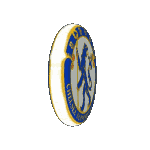 Posted by Chelsea Debs
Debs can be found on Twitter as @cfcunofficial and at cfcunofficial.com
You can read all Chelsea Debs 'Match Reports' here
DISCLAIMER: All articles written for the Chelsea Supporters Group 2005 (CSG) are those of the author and do not represent the views of the CSG. The views and opinions expressed are solely that of the author credited in the article. The CSG do not take any responsibility for the content of its contributors.
'Chelsea Supporters Group' can be found on Twitter and Facebook