Rome – Revisited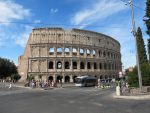 We last visited Rome some 10 years ago and were surprised by how some things had changed and decided to put some of these observations into this blog with the hope that it might assist those heading out for the Roma Champions League group game this week.
TRANSPORT
If you arrive at Rome's Fiumicino Airport, these are some the options to get to town:
You can head into the city via the rail system, this is the overground (not to be confused with the Metro) and cost 8 Euros per person, tickets can be bought before you go but it's just as easy to buy at the station, this also gives you flexibility as to travelling time, most of Rome's transport system work on 'time periods' – for the overground railway you select a 4 hour window in which you can travel so be careful if you book a return ticket – your ticket has to be validated at one of the many machines placed on the platforms (bar code up in first, wait for green light) journey time was around 35 mins.
Taxi's are also available at around 40 Euros + to town, depends on how many in your group as to whether this is more viable cost wise. Advise is to use the 'white taxi' ranks only.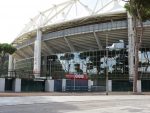 Once in town you can use either the Buses, Trams or the Metro to get around (although most of the main sites are within walking distance of each other – Vatican to Roman Forum will take around 45 minutes walking) the cost of transport is 1.5 Euros and the ticket lasts for 100 mins from time of first validation. Tickets can be bought from tobacco and newspaper stalls as well as in the Metro stations.
There are two main Metro lines in Rome, 'A – red' and 'B – blue' and is a lot easier to navigate than our London Underground, Termini is the main hub where the two lines meet. Some of the stations are named to help with site visits, ie: Colloseo (Colloseum) – Spagna (Spanish Steps) etc – for Vatican get off at Ottaviano and it's a short walk.
To get to the Stadio Olympico
Tram: Alternatively from central Rome to Stadio Olimpico is to take Tram # 2 from Piazzale Flaminio. The tram stops are just outside Piazza del Popolo (through the grand archway and across the road) and around the corner from Flaminio Metro station on the 'A- red' line
Alternatively, you can walk to the stadium from the Vatican, this will take around 45 mins if you're feeling up for a brisk walk, or two stops down on the Metro.
SECURITY
We found there was increased security at all the main tourist attractions, don't think the army and police are there just because Chelsea supporters are in town, although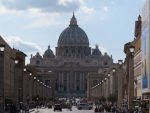 I have no doubt this presence will be increased in the many drinking areas where supporters will be gathered.
At some sites they now have 'airport type' of security with bag checks and metal detector, this can create queues.
At the Colleseum there are numerous people touting for your tour guide business, which for an extra cost saves having to queue for both tickets and entry
TOURIST ATTRACTIONS
During the daytime the central tourist areas are only open to taxi's, buses and trams, If you walk on the road you may be asked to move to the pavement.
As mentioned above, most of the main tourist attractions are within walking distance of each other and are clearly marked with brown signage at road junctions. Be prepared to queue if you plan to visit The Colloseum, Roman Forum, Vatican etc, our advise would be to ARRIVE EARLY and PRE BOOK before you go to avoid the crowds.
If you plan to visit any churches, it is advisable to dress appropriately, eg: women need to make sure their knees and shoulders are covered.
THINGS TO BE AWARE OF!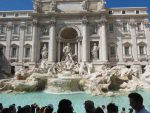 There are many 'pedlars' – 'beggars' and 'pickpockets' in Rome, no more than any other European city but the case is always the same – BE AWARE! – As long as you're sensible and aware of your surroundings you will be fine, usual rules really. Don't leave bags, camera's etc lying around and keep your wallet in a front pocket, carry any bags in front of you.
Some scams we came across:
A pedlar will try and give you a low five then hold your hand he puts a friendship string around your wrist and ties in a knot so you can't get it off, he then demands money.
'Gladiators' at Colloseum and Forum will offer you to have a picture with them then demand you pay them for the privilege.
When buying tickets for attractions, pick pockets will look to see where you put your wallet / purse, this also applies at cash machines.
Beggars work in pairs, especially around Termini station, they will demand money and seem quite threatening, our advise would be to just walk away or be prepared to have a stern word, (that worked for me)
These are just to keep you aware of what to look for – be vigilant. As always there are normally lots of police around these areas.
DRINKING AND EATING
There are many bars and restaurants round the city, our advise is to stay away from the touristy areas and find one of the many excellent side street eating places and enjoy the fantastic food that can be found in Rome.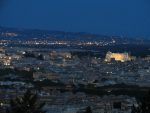 You will pay around 4 – 5 Euros a pint and a decent meal will set you back around 25 Euros, snacks are obviously cheaper.
And you cannot go home without trying some of the excellent gelato that Italy is renowned for.
If you want something a bit special, book a table at 'Lo Zodiaco' restaurant, situated on one of the hills overlooking the city the views are out of this world, especially if you book for around sunset and watch all the city lights coming on as you relax on the terrace. The food is superb if a little pricey, but hey, you don't get to see Rome like this anywhere else. Make sure you pre book before you travel as it gets very busy.
TO FINISH
We hope this blog has been of some use and we are envious of all those travelling, unfortunately we won't have time to return this week, more's the pity.
Enjoy what this fantastic city has to offer and come back with the points.
Lots of pictures from our trip can be found on Facebook here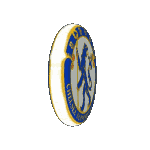 Peter and Liz
DISCLAIMER: All articles written for the Chelsea Supporters Group 2005 (CSG) are those of the author and do not represent the views of the CSG. The views and opinions expressed are solely that of the author credited in the article. The CSG do not take any responsibility for the content of its contributors.
'Chelsea Supporters Group' can be found on Twitter and Facebook