10 Bovrils Please (Season 1979/80)
With the closed season now upon us, the CSG has decided to re-post some excellent articles (and pictures) that our friend 'Corby' put together many seasons back. We hope you enjoy them once again"
Here is 'Part Four'
Season 1979/80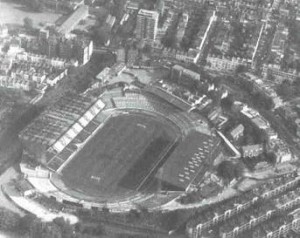 When I came out of Filbert St Leicester in April 1978, little did I know that I wouldn't see a Chelsea win until over a year later, in August 1979. We had started 79-80 season with a zzzzz 0-0 draw at home to Sunderland, and on the train home for the first (and not the only!) time I felt like packing this Chelsea 'lark' in. Whereas my last experience of Division 2 football was exciting – the glorious 76-77 season- this was total crap. The players didn't seem bothered, at one point I noticed Ian Britton having a long chat with a Sunderland player whilst the game was on! It was only the first game of the season, so I decided to carry on. What else could I do on a Saturday anyway?!!!
There had been rumours in the papers all summer that Butch Wilkins was leaving, he was becoming an England regular and to play in the 2nd Division would not help his International career. He'd played in a friendly for Chelsea v a China XI on the Monday before the Sunderland game, so I had no reason to think he'd go. That was until the next day when the papers announced he'd signed for Man Utd, a small northern club who were trying to buy the title…
A 3-1 home win v Wrexham got me back on a winning run, though that soon went down the pan when I saw Birmingham come and nick all the points. That game has stuck in my mind for years, total rubbish. I think I spent most of the first half watching some kids using an empty crush barrier as a set of goals! That game was also Ossie's final appearance in a competitive Chelsea game, though no one knew that at the time – so they say.
Along with Ossie, the Birmingham game was also Danny Blanchflowers last game as manager. He quit mid-week saying it had been on his mind for a while. No doubt if we'd got off to a great start he'd have stayed. Instead the going was getting tough, so he jumped ship. In stepped Geoff Hurst. Now I'd never been a great fan of GH, alright, he scored those goals to win us the World Cup, but there was something about him. Maybe it's that his hair is never out of place. Think about it, that side parting hasn't changed in years!
As I've mentioned before, living in Corby meant that it was hard for me to see any Chelsea goals that were on TV, along with the BBC we could only pick up ATV and Anglia. What made it worse in 79/80 season was that there was a technician's strike at ITV which meant most programmes were cancelled for over 2 months. It must have started in the late summer, for when the fixtures came out I can remember thinking that Cambridge away in September would have been the main game on Match of the Week, Anglia regions answer to Match of the Day. Another chance to see Chelsea on the TV had gone. We went to Cambridge anyway, and saw Gary Johnson score the only goal.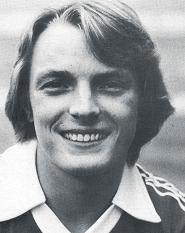 At the end of October Fulham came to the posh side of SW6 and stopped a run of 6 wins on the trot with a 2-0 win. It was Raz's 18th that day, and a whole mob of us travelled down on the train. By then you were getting to know other Chelsea lads who were on the St Pancras bound train, you'd start to see the same faces week in, week out. You didn't know most of their names, but you'd stand in the buffet drinking and chatting with them.
There were a few people who I got to know quite good. There were 2 Miners from Mansfield, Notts. Gary and Mick/Mike? They would tell me that all week they'd be a mile or whatever underground at a coal face, taking about Chelsea and singing songs. On a Saturday they refused well paid overtime just to travel to SW6. Another couple of lads were Jim and Dibby, from Leicester. Dibby was a bit of a case, he'd always be on the train spinning a yarn of what he'd nicked to sell so he could afford the train fare – when he had decided to buy a ticket! I haven't seen the 4 of them for ages, though I did bump into Jim in a Pub in Derby after the 4-0 win at Pride Park in 1997.
Of all the people on the 'St Pancras' line, there was none more a character than Keith Pretty from Leicester. 20p short of a pound, 3 apples short of a full bag, this guy was a nutter. Sometimes we'd get to Kettering station, and he'd be there waiting for us. He wouldn't say "hello" -he'd just say "what's in the bag? Got a spare can of lager Corby?" He could've always done with a good bath or a de-lice, but he was Chelsea through and through. If I remember right, Keith had been left a few quid in his Dad's will, who had died in a Cinema queue whilst on a dirty weekend with his secretary. Money seemed no object to him, he never talked about work, so we believed his story. He was easily led at times, but always game for a laugh. When he came back from the European Championships in Italy 1980, he mentioned to us that he got arrested out there. Thinking he'd been lifted for fighting, we burst out laughing when he told us it was for walking along a motorway!
I often wonder where he is now. Last I heard he was living on the Isle of Wight, I haven't seen him at Chelsea since the mid 80's when he had a tattoo in the middle of his forehead. In my opinion its people like him who should be on the pitch at half time along with the ex-players. I can just see Neil Barnett saying "East Stand, he watched Chelsea 300 odd times from 1976 to 1986, he's slept in a phone boxes when he's missed the train home, put your hands together for KEITH PRETTY!!!"
Keith was just one of a few characters that you'd see when you got to Chelsea. There was lad who always dressed like a Hippy. The two women who hung their Badge infested scarves over the front of the East Middle. The Blind guy who always had a radio with him. The lad who wore shorts, come rain or shine. I ALWAYS seemed to see him at Fulham Broadway after the game! All were becoming regular faces on my visits to SW6.
Sadly my only memory of the famous 7-3 win at Orient in November is walking back to the Tube. For some reason I can't recall anything about the game, just that it was dark and misty! I know I went with Raz, maybe my memory lapse is due to Alcohol consumed that day! Another lesson yet to be learned…
On Boxing Day I took a mate who supported Leicester to SW6. He turned up with a mate of his, Ange, who was also Leicester. I took them in the Kings Head, had a few pints, and said to them if Leicester score, don't cheer/clap/smile. I decided to take them in Benches. When we scored Ange started loudly slagging Chelsea off left, right and centre. Needless to say he got a right slap from some lad's sat behind us. Ange was last seen heading towards the exit, he wasn't on the train home, and I've never seen him since!!
What happened early in the New Year, 1980, I feel summed up what I would say is 'typical' Chelsea. Draw 3-3 with Luton at Kenilworth Rd on NYD, and then hammer Newcastle 4-0 at Chelsea. Both Luton and Newcastle were up at the top of the Second Division with us, so they were 2 great results.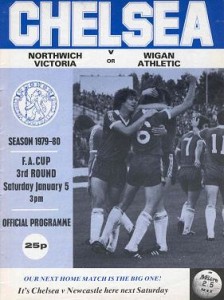 The following Monday afternoon me and Steve set off to SW6 for the FA Cup game v Wigan. When we got to Chelsea, it was cold –very cold. A quick Kings Head pint or two then a jog to the ground (to try and keep warm!) For some reason it seemed only one turnstile was open at the Shed end. Some lad in front of said it was because the other turnstiles were frozen! A queue quickly built up, and we were still in it as the game started.
Standing on a cold concrete terrace on a bitterly cold night watching football is an experience every football fan should have. It was too cold for snow. The coldest night I've ever watched football. To try and keep warm, we went to the Tea Bar and got a cup of Bovril each. We drank it and then decided to get another one, not to drink- just to hold and keep our hands warm!!! We must have done at least 10 cups that night!
This was only Wigan's 2nd season of League football, but to me they were still a non-league team. Everton awaited the winners, which was of course Chelsea. Well that's how it was meant to be until Gore scored for the visitors. How the hell could we hammer Newcastle 4-0 on Saturday in a top of the table clash , then lose 1-0 to Wigan? Puzzled and peeved off, we made the frozen journey home. Even on the train home the heating wasn't working. The sub zero temperatures led to many games being called off, and it was nearly 3 weeks before I could see my Chelsea again, this time at home to Shrewsbury. I wish I hadn't, we lost 4-2!
On the way back from a 3-2 win at Watford I realised I still hadn't been to what I call a 'proper' away game. I'd still only been to away games in the Midland and London areas, which were not far from Corby. I now had the urge to spread my wings and visit places I'd only ever seen on the weather map. I noticed we had Bristol Rovers away in February that was going to be my first 'real' away game.
Turning up at Kettering Station that morning, I asked for a day return to Bristol. The old man asked me which way I wanted to go. Puzzled, I asked him what he was on about. It turned out there were 2 routes, one via London and one via Leicester/Birmingham. The London route was more expensive, so I chose the Leics/Brum route.
As I stood on the platform waiting for the train, I looked at a timetable he'd gave me and started to work out when I'd get home. If the game finished at 4.40 (only 10 mins half time in those days!) allowing for an hour to get back to Bristol Station….wait for a train to Brum…wait for a train to Leicester…wait for a train to Kettering…wait for a bus to Corby…walk home… It then dawned on me that there was no way I'd make the last train from Leicester to Kettering. I ran back over to the ticket office, and explained to the old man, who quite happily changed my ticket – at no extra cost! Cant see those fascists at Midland Mainline doing that today. Bring back British Rail, but not that shiny toilet paper…
With most of my previous away games I'd hardly see a Chelsea fan until I got to the place where we were playing. The train to Bristol from Paddington was amazing, it was full of Chelsea. When we got to Bristol, we were met by the local Plod. There had already been trouble from the lads who were on the train before my one, and I think their plan was to herd us straight to Eastville. The majority of Chelsea on the train had other idea's, they simply charged through the thin line of Plod into the city centre. I sheepishly followed.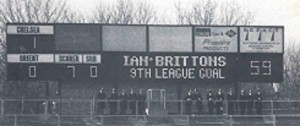 We ended up in a couple of Pubs, had a beer or two then I decided to make my way to the ground. When I got in I remember thinking Eastville was similar to Chelsea in a way. It had a greyhound track, had a roofed terrace behind one goal whilst our end was an open curve of crumbling terracing. There was even flower beds behind each goal! We lost 3-0 amid some very violent scenes on the terracing. I'll always remember the game as it was the first time I'd ever seen a Police horse actually ON a football terrace after some Chelsea had started fighting with the Plod who had taken them out of the home end. A great day out even though we lost. The next day the papers were full of headlines saying "Chelsea hooligans, bring back the birch"
Sadly Eastville is now an IKEA superstore. After enjoying the long trip to Bristol, I wanted more of the same. Not the 3-0 scoreline, but 'real' away games.
**From the next home prog- "36 hospitalised including 15 Policemen, 2 stabbings, 32 arrests and considerable damage to property around Eastville"
Burnley at home on March 15th was the day before my birthday, so I decided to start an annual tradition and treat myself to the best seat I could buy. £5.30 was coughed up and I took my place in the Middle tier. It was a great view, and reasonably central – considering the exact centre was the directors box. From my seat I could see Herr Brian Mears and co sitting barely 20 seats away. Happy birthday, we won 2-1.
March was a good month for us, apart from a mid week trip to Birmingham for a 5-1 pasting and a chase around St Andrews, we were still in the promotion race. In mid April I had my second 'real' away trip to Preston. This trip turned out to be a lot longer than I originally thought. On enquiring about train times from Kettering to Preston it soon became obvious that I would be stuck in Derby or Sheffield on the way back. That didn't appeal to me, so I decided to go via London. Deepdale is probably one of the furthest grounds from the local station, it seemed to take ages. Or was it the local Plod were trying to wear us out so there wouldn't be any of the trouble that seemed to happen at every away game. It was a long day, but worth it to see a 1-1 draw, I even managed last orders in the Pub!
A couple of weeks later another 'real' away game to Swansea, where the train from Paddington was standing room only, it was full of promotion seeking Chelsea. In Swansea I met up with the 2 Miners, they had gone down on the Friday afternoon, met a mob of Chelsea on the train and had slept overnight on nearby Mumbles beach! Roughing it in South Wales in April? No thanks. Another 1-1 draw, going into the last game we were 4th, 2 points behind leaders Leicester.
The last game that season was Oldham at home, an easy 3-0 win put us into 3rd, a promotion place. To finish in that promotion place I needed West Ham to win at Sunderland, a week or so later. That game had been delayed because West Ham's successful FA cup run. The Sunderland game was very important to me, but on the night of the game I couldn't find anywhere on the Radio to listen to it. I'd have to wait until 21.55 when Radio 2 gave out that nights football results. Ceefax should've been invented when TV's were!!!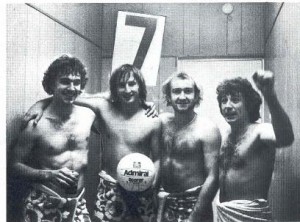 Sitting in my bedroom I tuned into 1500mw to hear the words "Sunderland have been promoted to Division 1 after beating West Ham 2-0" That win put Sunderland 2nd, Birmingham 3rd and my Radio in the bin. Finishing 4th wasn't too bad, all we needed to do the next season was to finish one place better, and with Derby, Bolton and Bristol City coming down from Division One, I couldn't see a problem, we'd soon be back on the Anny Rd, the Scoreboard End, the Shelf and other first division terraces…
From the 25p programme…
Parts of the Shed and North Stand were fenced off as the GLC deemed parts of the crumbling terrace were dangerous. Capacity was cut to 36,000…
The raffle on the Club 'special' to Plymouth raised £17.50…
The names and addresses of 13 people arrested at Bristol Rovs were printed in the Cardiff prog…
Hugh Hastings (Club photographer) was thrown out of Turf Moor, Burnley, when he stopped the ball going out of play with his foot…
RIP
Mrs Freda Langley (Tommy's Mum)
Rex Hancock (fell from a train to Swansea)
From the Club shop…
Rossette…30p
Dart flights…60p
Ladies briefs…£1.75
Chelsea shirt, size 38-40… £7.25
East upper
Front centre…£4.25
Front wings…£3.45
Rear centre…£2.90
Rear wings…£2.40
East Middle
Centre…£5.30
Inner wings…£4.25
Outer wings…£3.45
East Lower
Centre…£2.90
Wings…£2.40
West
Centre…£3.45
Wings…£2.90
Shed £1.60
Bench transfer 50p
Membership £3.00, renewals £2.00
Born during 79/80
Jon Harley 26/9/79
Steven Hampshire 17/10/79
Robert Wolleaston 21/12/79
Posted by Corby
(Part Five to follow)
---
(Cover photo posted with many thanks to John Ingledue / Lower Block)
[These excellent photograph prints, including many not shown here, will be available to purchase very soon]
---

---
'Chelsea Supporters Group' can also be found on Twitter and Facebook