Seasons Not To Be Cheerful, Part 3 (Season 1981/82)
"With the closed season now upon us, the CSG has decided to re-post some excellent articles (and pictures) that our friend 'Corby' put together many seasons back. We hope you enjoy them once again"
This is 'Part Eight'
Season 1981/82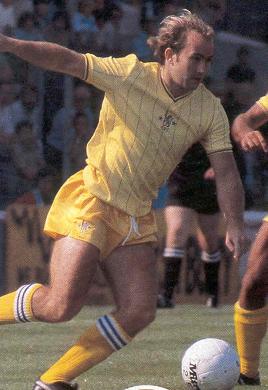 One Saturday afternoon in the summer of 1981, I sat with a few mates by the fountain in Queens Square, the centre of Corby shopping. Throughout the previous week there had been riots all over Thatchers England, Brixton had exploded in April, and now it was time for the rest of the country to follow suit. I watched as few of the local idiots tried pathetically to start a riot, John Menzies windows were bricked and scuffles broke out with the Police. It was all over in 5 mins. The following Monday the local rag ran a headline that said 'CORBY RIOT!! Half way down the report something caught my eye. A local shopkeeper had told a reporter "They were acting like Chelsea fans" ….
What a load of bull that was. Most Chelsea fans had spent the summer hiding from their mates after finishing a pathetic 12th in Division 2 the previous season. We'd ended 80/81 without scoring in the last 9 games, so when I headed down to SW6 for the first game of the season against Bolton, I had no reason to think that wouldn't become 10. Colin Lee soon put paid to that, scoring after about half an hour. A fine 2-0 win, one game into the season and Chelsea were on course for promotion!
The Bolton game was also the first game I proudly wore my newly acquired item of must have terrace clothing, the Pilot jacket. They'd been worn for the previous season or two, and now I had my own. Unlike most of the others that were light green, mine was Navy blue. They were made of padded Nylon with an elasticated cotton collar, and had an Orange inner lining. The only thing wrong with them was that if you put your little circular Chelsea badge on the Nylon part, it left a couple of holes when you took it off! I sometimes had to remove mine on the way to or from a game, as sometimes the train would be full of lads from a number of teams on the St Pancras line –Forest/Derby/Sheff Wed etc etc. One day when Mum had washed it, she asked what the holes were. When I told her she simply said put the badge on the collar!!!
There were still a few Harrington jackets being worn, but although they were 'terrace trendy' they were not really 'terrace friendly' when up North on an open terrace in the rain. I think the best clothing for up North was the sadly missed Donkey jackets that were worn around 79/80. They were not as commonly worn as Pilots, but you'd still see a few of them around. If you were posh(!), you had one with a plastic shoulder. Now they were great for keeping the rain out! The plastic shoulder sometime had a company name on the back, but two of my mates went one better. Jim had CHEL, and Clive had SEA!!
The papers back then never used to print the league tables until 3 games had been played, so on the way back from a 2-1 win in Cardiff the following week, I sat on the train trying work out if we'd be top, for we'd had 2 wins out of 2 so far! My sad dream was shattered when changing trains at Birmingham New St I bought the Sports Argus – an evening paper with all the Saturday's results in. We were 4th, maybe 5th. Some of the other teams in the 2nd Division had played midweek, Chelsea for some reason hadn't.
Over the years Saturday night papers have all but disappeared, I think very few remain. In Corby we had the 'Pink un' which was printed in Northampton. It was the only way on a Saturday night to get ALL the results. When changing trains on the way back from some far flung Northern hell hole I'd often run to the station entrance to buy one, in the hope that Spurs, West Ham, Leicester etc etc would've got beat. One year when I came out of Burnden Park, Bolton, there was a man selling an evening paper at just after 5pm!! It had ALL the full time results, but the match reports only covered the first half!
Promotion hopes were dented the following week when Watford came and took the points. They were the first team to take 3 points off us in a League game. The FA had increased win points from 2 to 3, "to reward a win, but also encourage a team to score more goals and play more attractive football" It certainly didn't encourage Chelsea, the Watford defeat was followed by defeat at Shrewsbury.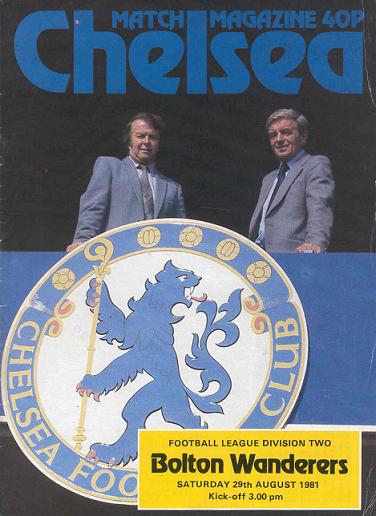 Getting off the train in Shrewsbury was like entering a different world. After going to a very busy London every other week, Shrewsbury was like visiting a little country village with 'quaint' little shops lining the short walk to the ground. The locals in the Pub seemed to grunt at each other instead of talk. A very strange place.
The one thing I always think of when the word 'Shrewsbury' is mentioned are the toilets at not so Gay Meadow. A lot of toilets at football grounds were more neglected than the crumbling terracing we stood on. At most of them you just pi***d against bricked walls covered in flaky paint. Urinals were probably not introduced to most football grounds until the early 1990's! Shrewsbury probably still have what I remember it for. Instead of pi**ing against brick, you aimed the 4 or 5 pre match pints at a sheet of plywood! This wood had obviously been pi***d on by 1,000's of away fans, it was blistered, mouldy and it stunk! By far the worse toilets I've ever had the misfortune to use. Then again, that U21 ground in Yugoslavia….
As the weeks went by we were losing pace with the promotion race, our 3rd season away from the top flight looked like heading nowhere. Most of the grounds we went to had already been visited to the previous two seasons, so the 'excitement' of getting a 'new' ground in was rare. The defeat at Cambridge was my 3rd visit, Orient my 2nd and I'd been loads of times to Leicester with my mates. I was looking forward to the end of October for the visit to Rotherham, Chelsea's there first since 1962…
In the week before the game my brothers car- a MK2 Cortina – had packed in. We called it the 'Batmobile' because it was black ALL over. What wasn't black, he painted it black. The dash board, the mirrors, the wheels, the lot. Even the rust! I must ask him why! Instead of the train, he came up with the idea of hiring a car, so on the morning of the game 5 of us jumped in a brand new Escort. It was like sitting in a Limo compared with the Batmobile. He pointed it North, and off we went
We'd only gone half a mile or so, when he stopped, turned round, and grinned at us. He then pressed a button and 'Israel' by Siouxsie and the Banshee's came blaring out. We might have been in a different car, but Steve had bought his fave tape with him! The amount of games we went to with him and ALL he ever played was Siouxsie. Mile after mile after mile of Israel, Hong Kong Garden and Christine (the banana split lady). His infatuation of Siouxsie had started when we'd gone to see them at Leicester De Monfort a few year early.
After a pint or two we popped along to the ground to get a programme. At that point we noticed a bit of a crowd forming by the ticket office. The game wasn't 'all ticket' so what was going on? I asked one of the locals, and he said every home game Emlyn Hughes (Rotherham's manager) would lob a few comps out of a first floor window. Sure enough a window opened, Emlyn appeared, and a dozen of so seat tickets fluttered down. With the prowess of Alan Mayes in the 6 yard box, I got my hands on a couple. Great! What a feeling that was – getting to see Chelsea for free- sadly its never happened since. The other 3 went in the away terracing, whilst me and Clive took our seats in the Main Stand.
At 10 to 3 the home fans scattered after realising Chelsea had invaded their end. There wasn't much local resistance that day, Chelsea had to run to catch the locals. It was a common thing then for Chelsea to go into home fans terracing to say 'hello'… Keith Pretty used to call it 'SAB' –scatter and batter. Less than 15 minutes into the game Rotherham had gave Chelsea a bit of the old 'SAB', they were 3-0 up. Terrible defending and unbelievable goalkeeping from Borota ended up in a 6-0 hiding.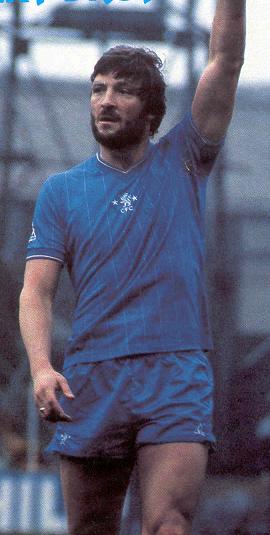 After the game Plod tried to get everyone back to the train station even though the car was in a different direction. Me and Clive managed to get away from the Police escort along with another 7 or 8 Chelsea lads. Wondering around Rotherham in the dark we soon got lost and found ourselves cornered in a dead end by a large group of locals. There were barely ten of us, and I thought we were in for a right hiding. One of the other Chelsea lads kept saying over and over "hold your own – don't run…hold your own – don't run, don't run..' as the Rotherham came nearer. Crikey mate, there was nowhere to bloody run! All of a sudden the Rotherham scattered like they had on the terracing, as a mob of Chelsea piled into them from behind. The 'hold your own' lad turned out to be one of Hickey's mob, as some of the Chelsea recognised him as they ran towards us, thinking we were Rotherham. Saved from a certain hiding. To this day I still don't know his name, though I saw him many times over the coming seasons being escorted along the side of the pitch after 'taking' the home end. The last time I saw him was outside the Jolly Maltsers with Mr Hickmott a couple of years ago.
We eventually found the car, and came all the way down the M1 with full beam, as Steve couldn't find the dip switch. 20th century boy… We had the p**s taken out of us BIG TIME when we got back to our Pub, and on the Monday morning at work the p**s taking continued, even people who had no interest in football jumped on the band wagon. Karnts, the lot of them.
I recently saw the goals again on the Web, check out the 5th goal…
http://www.youtube.com/watch?v=ShVaj3TXm3o
11 days later I made the long haul up to Wigan for a mid week League Cup game. As I sat on the train I knew this was another game I wouldn't get home from that night. If I was lucky I might get as far as Leicester before being stranded for the night on a station platform. Before I knew it we'd been beat 4-2, and I was down at Wigan station. The Plod at Wigan were not very friendly to say the least. They herded – a good choice of word- everyone onto the platform and had the attitude that everyone was going to London, as that's where Chelsea was. I said to one of them I needed to go to Birmingham then Leicester, not London. I was told "GET ON THE TRAIN OR GET IN THE BACK OF THAT VAN, YOU SOUTHERN W****R" At that point I wanted to thank him for serving the community so well, and the next time the Police ask for the publics help in solving a crime, ring me up, I'll bend over double to help. Karnt….
The train arrived in Euston at around 1am. I walked along to the St Pancras/Kings Cross area and spent the night watching the junkies fight each other and prostitutes chase clients. Sadly I only had enough cash for the train home at around 06.00…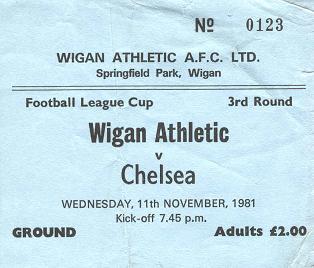 When the train pulled into Derby in late November, you could sense there was trouble ahead. 100's of got off and went into the city for a drink or two. I think I only managed one pint before word got round that Derby were attacking stray Chelsea lads down near the station. The pub emptied and everyone headed down there. There was no one around, so I headed up to the ground.
During most of the first half there were constant running fights on the Derby terracing. Plod finally got there act together and managed to round up the Chelsea who were causing the problem. Strange/silly how it might sound today, but whenever any Chelsea mob were taken out of a home end and bought along the side of the pitch into the away end, most of us cheered them. It was like they were returning victorious soldiers. You'd see the same old Generals…… The game – which finished 1-1 – was hardly watched as Police and stewards were randomly attacked as the trouble continued.
Boxing Day morning at QPR saw my consecutive run of 63 games come to an end. There were no trains, so I borrowed my mates Honda motorbike. It was freezing cold when I set off at around 6am, and by 8am I'd only got as far as Bedford, 30 odd miles away. I then made the much regretted decision to turn round and head for home. I felt it was too dangerous to continue, but there was too much black ice about. I'd nearly come a cropper too often, at one point near a roundabout I nearly went under a taxi. To this day I regret that decision.
In January the old gits at the FA saw us found guilty of breach of FA Rule 33(a)(1) at the Derby game. Basically what that meant was a Club was responsible for the conduct of its own supporters. zzzzzzzz All games were to all-ticket with none to Chelsea. The Club printed 'warnings' saying "PLEASE STAY AWAY, FROM OUR AWAY GAMES" We went to Bolton, the first 'banned game and got in no problem. The ban turned out to be a total joke, every game we were banned from had hundreds if not thousands of Chelsea there. A good earner for someone was the T-shirts sold in SW6…"You can't ban a Chelsea fan
The FA Cup trail started with Hull and ended with Spurs. In between it seemed we were playing 3 games a week, every week. The 3rd round v Hull was on a cold Monday night, we drew 0-0, the replay was on the following Thursday – the trains were on strike and the Batmobile wasn't capable of such a journey, so I listened to Radio 2 sportdesk at 21.55 to find that we won 2-0. Two days later, down to SW6 for a 4th round game with Wrexham. Their goalie looked pretty good, chap by the name of Niedzwiecki, who kept a clean sheet in a 0-0 draw. On the Wednesday night we drove up to Wrexham for the replay only for that to go into extra time and finish 1-1. In the car on the way home I could've cried when we heard that Wrexham had won the toss, and the replay was to be back at Wrexham on the Monday! Money was short, but we still made it to the replay to see an Alan Mayes inspired 2-1 win. In 17 days we'd played 7 games. The sequence was Sat – Mon – Thu – Sat – Tue – Sat – Mon. My pocket took a pasting, but thanks to the Batmobile, a few train fares were spared.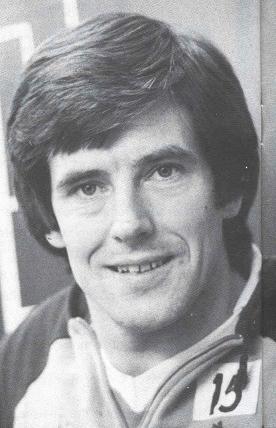 Paisleys European Champions were dispatched back to Liverpool after a 2-0 defeat in the 5th round while quite a few of their thieving supporters were dispatched to local Hospitals by the North Stand. In the safety of the Shed it was great watching the North Stand gather up by the floodlight pylon, you could tell who they were by the way they stood so close together, whilst around them it wasn't quite so packed. I don't know what the signal was, but they all just seemed to move in unison and charge across the terracing hitting all in their way, be it Plod or their target, the Bin robbing scousers. The Sunday/Monday morning papers bought the same old headlines zzzzzz Chelsea thugs/Shut the club down/deduct points/throw them in the Army… zzzzzzzzzz
Monday dinner time and crackly old Radio 2 informed me that we would be playing Spurs in the next round. We played 3 league games between FAC5 and FAC6 – at home to Cardiff and away at Norwich and Wrexham. The Wrexham trip was done alone on the train, everyone else was fed up of going to Wrexham by then. It wasn't just us from Corby who had had enough of going there. A sad 3,395 watched a 1-0 defeat. That crowd is the lowest crowd I've ever been in for a Chelsea competitive game. I think that record will hold for a week or two!
On the terracing we carried on the singing about the Spurs game…"one week to Tottenham, there's only one week to Tottenham, one week to Tottenham, there's only one week to Tottenham" Even at work I'd been singing "6/5/4… days to Tottenham, there's only….." I really looked forward to the Liverpool FAC games in 78 and 82, but this one –to me and many others- was like a Cup Final. The Kings Head was bouncing before the game, and as we left to walk up to the ground, a few scuffles broke out by Fulham Broadway as some 'loud' Spurs announced their arrival. Up by the Shed entrance I saw probably the strangest thing I've ever saw at a football match. A couple of guys were walking around with a string of Pork sausages around their necks…
The programme cover that day is well known. Instead of a 'commemorative colour front page' it was plain black with the words "don't be naughty boys again, and can the North Stand please leave our friends from N17 alone because they'll cry. If you do cause trouble, we'll tell your Mum" Well, words to that effect. I still don't believe anyone who had the intent of causing trouble would've changed their mind after reading that anyway!! I can fondly remember standing on a crush barrier, my mate holding one hand to help me balance, while the other hand was pointing to the pitch. Fillery's 1-0 half time lead was wiped out, and we went onto lose 3-2. After the game it seemed every Chelsea fan in the 42,000+ crowd was waiting outside to wish Tottenham 'good luck' in the Semi finals…
On the following Tuesday night I went down to SW6 with some of Leicester mates, they were cock-a-hoop, they'd got through to the FAC Semis and had been drawn against Spurs. We beat them 4-1, but I'll always remember the crowd that night, 10,586. That was 32,000 less than the Spurs game. Pathetic, but in a way understandable.
The games were coming thick and fast again, on the Friday night I was stranded for the night at Sheffield station after witnessing a 2-1 defeat by Barnsley. The game was total crap, I pondered on leaving at half time but boredom had set in so deep that I couldn't even be bothered to do that!!! After the game there were no trains from Barnsley back to Sheffield so I had to get a night bus. At the station I managed to blag my way into the Drivers rest room after one of them had saw me reading the Barnsley programme and asked me what the score was. It was warm and I soon nodded off as they spun yarns about the all new Diesel loco that was coming 'on line' shortly…zzzzzzzzzz
The following mid week we lost 2-1 to Palace at home. I'd turned 21 the day before, so I carried on the tradition of getting the best seat available for the home game nearest my birthday. East middle. Great seat, but I was surrounded by mainly empty seats. The other people in the East Middle that night didn't seem to be bothered watching the game, they seemed to chat amongst themselves about their new cars/hairdo's etc etc. These people probably went home afterwards, had a quick jump and 9 months later produced the sort of fans that annoy us today.
So I was 21. Key to the door? Happiness? Rubbish. My closest mates were in the FAC Semis and my season was heading for the "things to forget about" box. Revenge for our hiding at Rotherham would have to wait, they came down and embarrassed us again with a 4-1 win. The journey home from Newcastle was done by a windowless train, we'd been bricked by young Ant and Dec and their mates whilst in sidings near Newcastle Manors. Because we were 'just' football fans, the train wasn't replaced. I got off at Peterboro, frozen down one side where the 70/80 mph wind had howled though the carriages.
In April things got worse, Ken Bates (who?) arrived for starters! On the 3rd, my mates -after talking about it week's zzzzzzzz – went off to Villa Park for the Semi-final. Tottenham beat Leicester 2-0, though they said it was a fantastic day out, one they still talk of today, 25 years on. At the time it was something I could only dream of, we'd never get anywhere with the likes of Alan Mayes who had scored both our goals in the draw with Oldham that day.
The end to 80-81 season is famous for the non scoring sequence. The end of 81-82 was slightly better, but still cause for concern. We drew 5 lost 2, including horrible defeats at home by Luton & Derby. Sitting on the train for hours to exciting places like Grimsby, Sheff Wed & Blackburn were 'rewarded' with displays you'd normally see at Testimonials or pre season friendlies. The only 'excitement' would be watching the home fans scatter. The mid week Orient game in early May saw me and 6,008 others witness the lowest post war home League attendance. In a mere 5 years Stamford Bridge had gone from a place of total excitement to near depression.
The one thing I did have to look forward to at the end of the 81/82 season was a trip to Finland to watch England in a pre Spain 82 friendly. After years of hearing yarns from my Liverpool/Man Utd mates about their European trips I realised Chelsea would probably never get into Europe, following England would give me the only opportunity to sample football abroad….
From the 40p programme…
Viscount Chelsea –Chairman – said in his notes "we must all be patient and realise that it does take time to build a successful side"…(yep, 23 years!)
The 'unsightly' grass track around the pitch was dug up and replaced with cinder for a more 'pleasant appearance'…
Due to unruly behaviour of a small(!) section of the crowd, it was decided to make the West enclosure (benches) for Official Supporters Club members only…
In his first programme notes Master Bates told us "Chelsea belongs to you the fans – without you there would be no Chelsea and its about time your opinions were considered when formulating future policy"…(What happened Ken?)
For the second season running, Stamford Bridge held a cricket match, Clive Lloyd's Lancashire beat Leicestershire for the Lambert and Butler floodlit cup.
Admission
East Upper
Front centre £5.25
Front wings £4.25
Rear centre £3.50
Rear wings £3.00
East middle
Centre £6.50
Inner wings £5.25
Outer wings £4.25
East lower
Centre £3.50
Wings £3.00
West Stand
Centre £4.50
Wings £3.50
Terrace
£2.00, £1.25 juvs/OAP
From the Club shop
Chelsea Duffle bags £1.00
Pub style Chelsea mirror £8.99
Programme binders £1.50
Chelsea tax disc holder 60p
Born during 81-82
Shaun Wright-Philips
Joe Cole
Khalid Boulahrouz
Petr Cech
Posted by Corby
---
(Cover photo posted with many thanks to John Ingledue / Lower Block)
[These excellent photograph prints, including many not shown here, will be available to purchase very soon]
---


---
'Chelsea Supporters Group' can also be found on Twitter and Facebook