Speaking With The Enemy – Fulham
Speaking With The Enemy – Fulham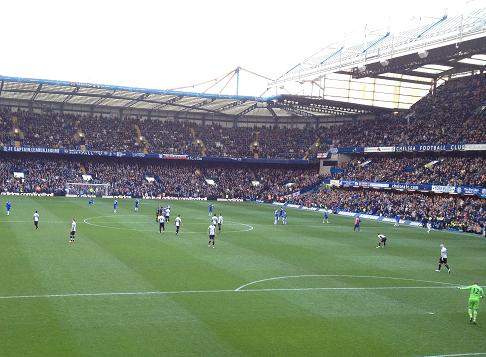 I'm Drew Heatley and I write digital media and tech news for online newsletter StrategyEye, as well as freelance bits and bobs relating to football and music.
I've been a Fulham fan since my eighth birthday in 1995. Bought a Fulham shirt, hat and bag by my Dad, I had no idea who they were but after beating Barnet 4-1 on a cold afternoon at the Cottage I never looked back.
I'm on Twitter all day every day – @drewheatley. Most will be pleased to know the football/tech split is roughly 70-30 in favour of the former!

1.       How do you think the season is going so far?
I am on the whole very pleased with it so far. After losing Dempsey and Dembele in the summer I was apprehensive to say the least – but the quality of our squad has shone through and we've had a decent start by all accounts. Buying Dimitar Berbatov certainly hasn't hurt either! However, a lot of draws are creeping in and we have a tough pre-Christmas run, so it could all change.
2.       How has the loss of Dempsey affected the club?
As I say, when he left I was apprehensive, but we've coped. Our midfield looks a bit makeshift from time to time, with journeymen like Karagounis brought in to fill some holes in the summer, but Ashkan Dejagah has come in from Wolfsburg and looked explosive at times, while Ruiz is starting to come into his own after a slow start. We have a fair few attacking-minded players now, while players like Diarra and Baird provide a bit more substance in the middle. I can't say Dempsey has been missed – yet.
The problem with Dempsey is that I can't see a future for him at Spurs – it's almost as if they took him simply because he was up for grabs. You'll be hard-press to think of a player that has really flourished since they left the Cottage, bar Van Der Sar…
3.       Which Fulham player should Chelsea be wary about on Wednesday?
Well young Kerim Frei had a good outing when he was last at Stamford Bridge! But realistically it's got to be Berbatov. If we score then he is likely to be involved in some way, if not the scorer. It's been said many times that he is enjoying a new lease of life at Fulham, and back under Martin Jol. He needs to be the big fish and he certainly is here; we play around him and he makes such a difference – a please to watch.
4.       If you could choose any Chelsea player to play for Fulham, who would you choose and why?
For me, Hazard or Oscar; both are fantastic, young and creative players and have a big future. Hazard may have grabbed the headlines before, during and after his arrival, but Oscar could turn out to be a hell of a signing for you so if pushed I would have to pick him. Though having said that, Juan Mata is also class…

5.       What do the fans generally think of Mohamed Al Fayed?
We love him – simple as that. He's made it all happen, hasn't he? Yes, he's eccentric, but he loves the club – that's plain to see. When you see the trouble with owners at other clubs – Chelsea included – it makes you even more thankful to have him. I experienced Division Three for a year or two – for those that were there for the darker days (and at the lower end of the table!) I think they are happy to swap a Michael Jackson statue for 11 seasons of Premier League football!
6.       Do you think the rivalry between Chelsea and Fulham has increased or diminished in the last few years? Where does QPR come in the rivalry stakes?
This is an interesting one. Since QPR have returned they've re-assumed the role as the number one rival, but Chelsea is still the scalp. It's always been a bit of a case of "we hate Chelsea, but they're not too aware we exist, they're more interested in United and Liverpool", but I think both sets of fans enjoy the SW6 derby – so I wouldn't say it's diminished as such. We are always confident we will beat QPR but as I say, Chelsea is the scalp of the season and if it wasn't for Mark Hughes and Bobby Zamora, we'd be very torn between a win at Loftus Road or a victory at the Bridge!
7.       What would make a good season for Fulham?

Realistically, a top half finish must be the aim. But I have a feeling we could nick a European spot – this season has the feeling of a special one and it would be great to return to the Europa League. It'd be great for Martin Jol to get us there – he managed us in the group stage last year but we qualified under Hughes. Jol has said in the past he's not sure if he's loved at Fulham yet, but in my experience he certainly is – so it would be great to secure European qualification under him.

8.       When Drogba stepped up to take that penalty in Munich in May – did you want him to score or miss?
Difficult question!! You get caught up in the moment don't you and so – if I'm honest I did want him to put it away. It's the storyline and you get caught up in it. Mind you, in the coming days the magnitude of what happened set in!
9.       Who's been your favourite ever Fulham player and why?
I love Simon Morgan. He typified the old Fulham – not blessed with Premier League skill, but he was hardworking and a gent off the pitch. I actually got to watch his testimonial from Al Fayed's box – he got man of the match despite only being on the pitch a matter of minutes!
10.   What has been your biggest high as a Fulham fan?
The biggest high was probably the full-time whistle after the semi-final win against Hamburg at the Cottage. The disbelief that we were actually going to play in a European final was just mind-blowing. The final was a fantastic day out – 24 hour coach journey notwithstanding – but the heartache of Forlan's winner outweighs it for me.

11.   Why do Fulham have problems attracting more fans – are there simply too many London clubs?

I think we're doing alright! We have something like a 99.5% capacity rate at the Cottage and when the new Riverside stand is built I'm confident we will fill that too. It's always going to be tough with top 4 clubs like Arsenal and Chelsea nearby – it's all about the glory when your a 7 year old lad isn't it? But things like sustained Premier League football and the odd European final (please!) could go some way to boosting the fan base further in the coming years.
12.   Finally, what do you think the score will be on Wednesday?
With this Fulham team, you're going to get goals. I'm going into the game confident we will get a result – much like the Arsenal game a couple of weeks back, so I'm going to say 2-2.
Posted by Trizia
(You can see all the 'Speaking with the Enemy'articles here)