Chelsea Terrace Talk – Irish Examiner Article By Trizia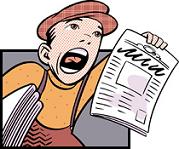 Mourinho was right when he called AVB a child – was it really necessary to reveal to the media that there is some sort of issue between them? Apparently he doesn't lose sleep over it but thought he would bring it to the attention of the footballing world anyway. It seems to me that the ginger one objects to being in the Special One's shadow but its exactly petty incidences like these & his managerial gaffs at Chelsea that have put him there. I have no doubt that he is a talented guy – but he is at the very beginning of his career & he should keep his gob shut & concentrate on emulating Mourinho – not having sly digs.
As for the press – I notice that despite the fact that neither party have revealed the reason for this rift, they have taken it upon themselves to guess at the source of this animosity & all have Mourinho down as the antagonist in the situation. Given how many players AVB upset in his short tenure at the Bridge & the petulant & over serious demeanour he often demonstrates I'm sure he too played his part in whatever it is that has him behaving like the Premiership's own stroppy teenager. But enough of that
I'd have taken a draw before the Tottenham game, but I think that that is seriously under-estimating this Chelsea side. The second half gave us a glimpse of what this team is capable of & it looks pretty exciting. Torres is like a man possessed & he looks like he believes that this isn't just another false dawn. I believe that had he not (unjustly) been sent off – we'd have nicked that game. BUT I still think that the one thing that could un-do us this season is our lack of options up front – which would be very frustrating as this short-coming has been apparent to everyone since Drogba left. Seems to me that we're trying to make do until we can have another stab at landing Rooney – big gamble……
Mata looks to be earning his place back – as mental as that sounds. But it was noticeable that he was more up & down the pitch – more involved in the link play – more direct too. We may not see as flamboyant a Mata as previously but Mourinho's seemingly hard line will make him an even more effective player for Chelsea & I'm all for that. As I said last week, we have to trust Mourinho – it's not in his interest to side-line one of our best players – he is trying to adapt him to fit in with his vision for the team – Mourinho is all about the team – not individuals. Mata certainly drove the team forward against Tottenham but we can't assume that he'll be automatically the first choice for every game. First picks for Mourinho are usually defensive orientated players anyway & with JT in the form he's in who could not pick him. Plays against Tottenham like there's a personal vendetta – the Chelsea end went mental when he scored – who better to wind up the Tottenham fans – the sneer in their direction as he ran to us was just icing on the cake. Captain, Leader, Legend.
Next stop for me & the team is Bucharest which is already a must win game in many respects. Hopefully the Basle game was a wake-up call for everyone involved – I think we all thought turning up guaranteed us the three points – it is not acceptable to be beaten by complacency. I imagine we'll see a pretty strong side out, but for me – the league is the priority.
We are in a decent enough position – although, with utter predictability, we have seen the words "Chelsea" & "crisis" bandied about with utter abandon – if we're in crisis – where exactly are United? Quick – get that list of excuses out……
Some are bemoaning our performance up at Old Trafford now – saying that if we'd have gone for it we'd have beaten them. I'm not so sure – the fixture just came that little too early in the season. The number one aim was not to lose – we were still settling in to the new Jose era – United under Moyes was still an unknown quantity & the United players were probably more than likely still within that Champions/Sir Alex bubble. We did right to play it cautious. With every game we become more self assured – more confident in the tactics. I like this slow build up – woe betide us celebrating winning the league in September how Arsenal, Liverpool & Tottenham fans seem to be doing….
So let's keep up the momentum, keep up the support & most important – keep the faith
Posted by Trizia
(You can see all the Terrace Talk articles here)
Related Images: