Chelsea Terrace Talk – Irish Examiner Article By Trizia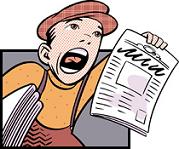 Whoever coined that phrase "glorious unpredictability" needs a swift kick in the under-crackers; it's not glorious – it's bloody maddening. At the moment you just don't know what you're going to get served up and there seems to be no rhyme or reason to it. It all started so well – more than the early goal – we were moving the ball around well, we looked in control – at ease even. But then we weren't pressing home our advantage, we weren't doing enough to kill the game off (story of our season) – we weren't fighting.
We cannot rely on our midfield to score our goals & that is exactly what we are doing at the moment. If you want to win the league then you need at least one prolific striker – we haven't got any. Torres is working hard but is not scoring & what alternatives do we have? Ba & (an old & way past his best) E'to – that's not a viable strike-force – that's a West Ham strike-force.
Jose was asked outright on Saturday how he can get his strikers to start scoring – he replied that he didn't know. That's worrying in anyone's book; but then how would you go about getting a Brighton beach-front donkey to win the Grand National? Jose's special – he's not a miracle worker.
Speaking of Jose, he looks disillusioned – at a loss even – even in his darkest days at Madrid he looked defiant – it doesn't bode well. Perhaps he had underestimated the size of task in front of him & it has finally hit home. Perhaps he thought he could squeeze out another couple of years at the top level from some of the old stalwarts while he rebuilt the team – and now he realises that that may not be the case.
The one glimmer of light from Saturday's performance was Schurrle – he alone seemed to be full of urgency, spirit & vigour & had the cross-bar not denied him his hat rick, the game could have ended so very different. As it was a calf injury forced his substitution for the ineffectual E'too – I'm hoping that the injury is a minor one as at the moment we very much need someone of his mind-set. The German's attitude was excellent as he seemed to be involved in everything – many of our team could learn a thing or two from him about making space, not waiting for the ball & doing simple things well. He isn't your fancy-dan type of player but his opening goal saw him perform some twisty-turny moves that Zola would have been proud of.
But one man can't carry an entire team although he tried his best on Saturday. Of course we don't help ourselves with some of the basic errors we keep seeing. Another Cech cock-up did not surprise me – regular readers of this column know I have had my concerns for a while now. I was castigated by a couple of individuals on a certain social media site following a comment about our keeper – something about having a short memory & reminding me how many times he'd saved us. It's a pointless argument of course – I have a very good memory – I remember when Cech was imperious – none of us can live on past glories forever. I'm not saying he should go but he needs some serious competition at the very least – something he hasn't really had since Cudicini left.
All that said, he used to be able to totally rely on his defence – I can't imagine he can say that now.
I think that we will have no choice but to dip into the transfer market in January but rarely are the top players available during this window. We don't want another "make-do" striker – we need one of the worlds best – probably two if we want to finish in the top four. Given the recent tax rulings in Monaco, we have been linked with Falcao again which would be amazing, but I imagine every billionaire football club owner will have him in their sights too. Given that Lukaku effectively tried to hold the club to ransom it will be interesting if we see him play for Chelsea again. I hope issues can be resolved by all parties for the sake of the club as there is no doubt that Chelsea would be a better squad with him in it, but that doesn't mean he alone is the answer.
At the end of the day, we all knew that this was going to be a season of flux and as much as it's difficult watching games like Saturday's thrown away, hopefully it will be giving Mourinho more of an insight for what's needed going forward. Luckily we are not alone in finding ourselves in this predicament – and there is still over half a season to go. Still it is worrying that in many of the losses we have suffered this season, we were the better team for the majority of the game – which speaks of mental resolve & strength of character or rather lack of it – which is never an easy thing to fix. We just need to concentrate of maintaining the upper hand when we have it, cut out the small mistakes & put a bit of urgency back in our game….oh & hope that Suarez, Ramsey & Aguero break a few mirrors or walk under some ladders.
Posted by Trizia