Chelsea Goalkeepers, 1970-1989 [by Gary Watton]
CHELSEA GOALKEEPERS, 1970-1989 [by Gary Watton]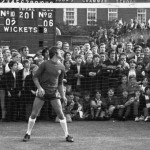 I have already compiled my review of Chelsea's goalies from 1989 to 2014 [available on this site at https://chelseasupportersgroup.net/2014/01/chelsea-goalkeepers-by-gary-watton],so here is the second and concluding part of my look back [in anger?] at our goalkeeping custodians of yesteryear. Admittedly, my memories of such heroes and zeroes is not the best, so I would appreciate anyone weighing in with comments of their own.
First of all [and taking pride of place] is the one and only Peter Bonetti. I always thought that Bonetti was harshly treated and scapegoated for England's defeat in the 1970 World Cup quarter-finals to those nice West Germans. It's not like he spilled the ball or committed any obvious clanger. I invite anyone to explain to me why Peter deserves scorn for our self-inflicted defeat. Previously, his England career was one of several clean sheets. Admittedly, he never played for his country again, but then the landscape was now populatedby the likes of Clemence and Shilton. Bonetti was known as 'the cat', on account of his agility. Alternatively, George Best once waggishly quipped that he was called 'the cat' because every time that Jimmy Greaves got into our penalty area, Peter had kittens! I think that is fair to say that Bonetti can be counted amongst Chelsea's legends, not least because his career spanned the whole of the sixties and seventies. [Also, a certain Alex Stepney had a brief stay at Chelsea in the late 'sixties but could not dislodge Bonetti from the goalkeeping berth and instead went on to find extended employment at Manchester United.]
Next is John Phillips. Phillips always conceded a lot of goals. Is this because he was awful or his defence and midfield were woeful? I suspect that it was a bit of both. Phillips did assist Chelsea in reaching the 1971 European Cup Winners Cup final, but he conceded 7 at mediocre Wolverhampton as Chelsea sloped off into a long decline. Funnily enough, he shared goalkeeping duties for Wales with one Gary Sprake, a notoriously erratic Leeds goalie, as the late Peter Houseman could have testified! Obviously in the early seventies, while the Welsh rugby team had an embarrassment of riches, there was no such luxury in the goalkeeping department.
Simon Sherwood played briefly at the Bridge in the mid-table Second Division team of the mid-seventies. Sherwood went on to find more fame as the regular goalie of a resurgent Watford that scaled the heights briefly in the early 'eighties, culminating in their 1984 FA Cup final appearance.
Bob Iles had a brief cameo as Chelsea goalkeeper in the late 'seventies. I think that he had one or two clean sheets in December 1978 before reality set in and he conceded seven goals at Ayresome Park, to Jackie Charlton's Middlesbrough. Big Bob was one of about fifty players that Danny Blanchflower used in our horrendous campaign of 1978-9. The fact that Iles was an understudy in a squad short on quality tells its own story.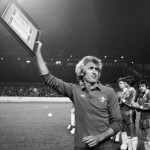 Then in the spring of 1979, out of the blue, Mr Blanchflower signed a Yugoslav goalkeeper, at a time when foreign imports were almost unheard-of. The gent in question was the late Petar Borota. Along with two other Peters, Bonetti and Cech, Borota was something of a darling of the terraces. He started his all-too-brief Chelsea career with an in-at-the-deep-end baptism of fire at home to the European champions, Liverpool. Bottom-placed Chelsea promptly held high-flying Liverpool to a goal-less draw, and Borota's love affair with the Blues supporters was well and truly hatched. Borota was voted as our player of the season in one of the subsequent couple of years, but not surprisingly he grew tired of our second division meanderings.
Steve Francis took on goalkeeping duties in the early 1980s. I have no recollection of his talents [or lack of them], but just remember him as someone who looked about eleven years of age. I welcome any comments about his prowess or otherwise.
Eddie Niedzwieckie was a highly-rated goalkeeper for Chelsea during our mid-eighties revival. Tragically, the Welsh maestro's career was ended early by injury. He also had the misfortune of competing against Neville Southall for Welsh caps, even thoug he was way better than Phillips had been a decade earlier. Eddie did stick around [as did Bonetti] and assisted his successors as goalkeeping coach.
Tony Godden had a brief stint as our goalkeeper. If I am not mistaken, he did concede a lot of goals, and found regular work elsewhere [West Brom, I think].
Finally, Roger Freestone is another mystery to me. His tenure between the posts coincided with Chelsea's late eighties decline, and presumably it was no coincidence. I remember him as looking a bit overweight, though maybe not quite as portly as our very first goalie, the legendary Fatty Foulke! I welcome any comments on Freestone from any of you lucky or unlucky enough to have seen him on many occasions.
That, ladies and gentlemen, concludes my little trip down memory lane, with our goalkeepers. I reckon that a certain Thibaut Courtois will be another Chelsea great when the current incumbent Petr Cech relocates.
Time will tell. It always does!
You can stalk the writer at http://sporthistorian.blog.com/Chelsea
Related Images: