Chelsea Terrace Talk – Irish Examiner Article By Trizia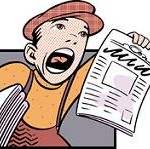 This season has been one of many contradictions as far as Chelsea are concerned. We've seen some breath-taking, inventive, free-flowing football packed with goals & we've seen some inexplicable, turgid displays where we wouldn't have scored in a month of Sundays.
We've seen Mourinho start the season as the Happy One – obviously back in the heart of those who love & cherish him – but the season has ended with him at war once again with the authorities & the media – snarling & snapping at press conferences & racking up disrepute fines with almost every word uttered. But the Stamford faithful have supported him no matter what this season – we trust him & know that he is already plotting the downfall of our counterparts after having got so close this season.
The strike force or lack of it has been our undoing of course but we seem to shoot ourselves in the foot with frightening regularity in this department. We either buy inappropriate strikers, we "break" strikers, or we count our chickens (strikers) before they actually put pen to paper – and then have to make do with whatever is available. In his post match interview after the Cardiff game, Mourinho said that Torres will still be with us next season. Really? I'm hoping for everybody's sake this is Jose being cautious in case whatever deal is being brokered behind the scenes breaks down. I have supported Torres throughout his often painful career at Chelsea & enough is enough – this will not work – has never worked & it's time for a parting of ways – no hard feelings.
In fact how can you justify keeping Torres whose contribution to the club has been relatively minimal, yet allow a player of Ashley Cole's calibre to go?
There will be a lot of pressure on us next season – partly due to how close we got this season but mostly down to Mourinho himself and his assertions that it was always going to be his second season back when he expected to win something. I have no doubt that City will be once again the team to beat – they have some amazing players – many of whom in the prime of their careers. Arsenal still are a couple of players away from a real challenge and Liverpool, well Liverpool – who knows? If they hang on to Suarez then maybe they can be contenders but I have a nagging feeling that this was their one chance & having blown it, they will go back to being one of those three or four clubs knocking on the door of the top four but never quite being able to oust one of the usual suspects. That said their forthcoming Champions League campaign will force Rodgers into adopting a more pragmatic style – so you never know.
But rather than dwell on where we failed this season I would also like to acknowledge the good. John Terry having been written off last season has come back to virtual universal acclaim – there have even been calls for his inclusion in the England squad (would be a very bad move) – and he must of certainly earned himself another season – even if it is on half the wages. Cahill too has come on enormously since his move from Bolton. He joined us a capable player, but has developed into one of the first names on both the Chelsea & England team sheet. An athletic individual whose reading of the game has developed enormously while playing along side the Chelsea captain. Level headed, articulate & and a genuinely nice bloke – he will be an asset to the team on & off the pitch. Very much like Azpilacuerta – a revaluation – initially seemed un-fancied by Mourinho – but he put his head down, worked hard and done what has been asked of him and has done so well that I think he is very much in the running for player of the year.
Hazard could be the player to replace Lampard in the long term – not in the way he plays obviously but in terms of that a additional source of goals from the midfield which has always been so important to us. Then there's Matic – has the makings of a midfield monster – hard, physical, takes no prisoners (Arsenal been missing exactly someone like him for 10 years now). So although there are areas that need addressing we have a lot to be happy about too.
But I can't finish without trying to put across how bereft I feel on hearing the news that Ashley Cole seems certain to be leaving us having played his final game at Cardiff while wearing the Captain's armband. Prior to his switch to Chelsea, Ashley Cole was as Arsenal as it got & most fans were distraught to be losing Gallas – at the time a defensive power-house alongside JT, for what was considered a player who the Gunners seem to have had the best of. How wrong could we have been. Ashley Cole was a revelation – hard-working, dazzlingly talented, professional and adaptable – he made his role look effortless. He has contained some of the world's most lethal strikers, has saved the team with more goal line clearances than I can remember and has served both club and country with utmost professionalism.
More than that – what I have most admired was that he was his own man. Many claim not to care what the press think and to walk their own path – but Cole epitomised that ethic. I had the pleasure of meeting him a number of times and he was always friendly, humble and utterly charming – completely different to how the press portrayed him. He has been an integral part of our most successful team ever, and arguably the best left back ever to pull on the Chelsea and England shirt. The grace with which he has accepted the end of his international career perfectly displays the character of the man. I would like to say thank you on behalf of all those privileged to have seen him play in our colours – and can only wish him the absolute best at whichever club are lucky enough to land his signature next.
So another season over and is often the case, I am pleased its over – it has been more expensive than ever and by the time May comes I always find myself so tired & longing for my summer holiday – but there have been some great days that will long live in the memory. The six-nil over Arsenal, beating them at their place too with 9,000 Chelsea fans to silence the home support, the return from the dead against PSG, the Mourinho master class at the Ethiad and the shattering of the dream up at Anfield where we unsportingly beat Liverpool. We've had some corking European trips too – Bucharest, Istanbul, Paris, Madrid – just to name a few, all were an adventure & the support has been amazing. I truly believe that the return of Mourinho has galvanised our support after Benitez fractured it and it has been the best I can remember it for years – probably since his first tenure – and I believe the best is yet to come. So it just leaves me to congratulate City – & commiserate with those scouse T-shirt & scarf sellers who have warehouses full of Premier League winners merchandise – not even a quarter tonne of sky blue dye & a nimble seamstress who enjoys anagrams will be able to help with that one!
Hope you all have a great summer & lets all look forward to the new season – I have a feeling it's going to be a cracker.
Posted by Trizia
(You can see all the Terrace Talk articles here)
DISCLAIMER: All articles written for the Chelsea Supporters Group 2005 (CSG)  are those of the author and do not represent the views of the CSG. The views and opinions expressed are solely that of the author credited in the article. The CSG do not take any responsibility for the content of its contributors.
Related Images: