Chelsea Terrace Talk – Irish Examiner Article By Trizia
This was Jose's 100th game as Chelsea manager at the Bridge. I fully expected the theme of this article to be one of his imperious home record. I also expected to be writing about our season finally getting under way. Instead, I'm sitting in the pub, with a double Bacardi, trying to get my anger under some kind of control to try and make a fist of writing a semi-coherent article.
I actually don't know where to begin.
Regular readers of this column will know that my love of Jose verges on the unhinged. That hasn't changed but he made a lot of mistakes today. What we need to try and figure out is whether he made them deliberately or not.
This persistence with Ivanovic is getting beyond the ridiculous. Ivan needs a rest, or something – what he doesn't need and what we don't currently need, is him playing week in, week out. Everyone can see how weak we are up that side with him. What makes his persistence with the Serb even more bizarre is that we now have a recognised left back, and as we all know, we've had a recognised right back for three years.
What makes Jose's persistence with Ivanovic EVEN MORE baffling is that he gives him very little support which exposes him even further.
Then there were the substitutions – putting the kid Kennedy on when our backs are against the wall is one thing – but to put him on in the wrong position is actually quite cruel and unnecessary. He did well, but he and Loftus-Cheek were quite obviously being used by the manager to demonstrate to all, but particularly Abramovich, how weak our squad is. He is playing a very dangerous game here.
Jose stated post match that we do not need to make any signings. I'm not really sure how he kept a straight face when saying that. But more urgent I think is the lack of form from some of our stalwarts. Ivanovic we have talked about – but Fabregas, Matic, Hazard are all shadows of the players they were last year. I know it's early in the season but they should be hitting their stride by now. There is a malaise that seems to be hanging around the team and it reminds me a lot of what happened at City last season – some of their previously most influential individuals looked little above pub team players for much of the season. In the end they were carried by the strength of their squad. I am worried that we are going through a similar thing – but our squad just does not have the quality to carry us – and finishing top four is imperative.
What was most frustrating was that there was not one Palace player that would get in the Chelsea team, yet every one of their players were better than ours on the day – and that's not acceptable. We now have to win the next four or five games to really keep in contention and try and restore a winning mentality – and given what we've got coming up that will be quite some doing.
One thing is certain – the result will have added another 10 million to the already exorbitant price tag for Stones.
This Stones saga is getting beyond ridiculous with Martinez painting himself as this tragic little guy who represents all that is good and great in the sporting arena; and we are the filthy rich bullies who are ruining the beautiful game and casting an evil spell on the poor defender – the "victim".
It's ridiculous – if they don't want to sell him – don't sell him – there you go – job done. How exactly are we doing anything different to any other club – including Everton? Remind me how Stones ended up at Everton. They bought him from a less wealthy football club you say? How despicable!!!
Either way, next time Everton come knocking looking for a class loanee or two, I hope we go tell them exactly where to go.
But back to the Palace game. Ironically one of my mates missed the game to attend "Fright Fest" an annual film festival of horror movies – I told him that there wasn't anything he could have seen that was more frightening that what we witnessed on that pitch.
I can only hope that whatever point Jose thought he was making has now been made, and that with the closing of the transfer window, we can get back to some semblance of normality and he reverts to playing the best team available in a formation which is set up to deal with whoever we are facing. Either that, or we go proper transition and start phasing out our ageing players, and integrating our latest acquisitions and the best of our youth players along with the younger members of the first team squad.
Most of us can take transitions – what is harder to accept is lack-lustre play from a cornucopia of multi-million pound players and suicide tactics from a manager trying to win an unwinable game with the owner.
Posted by Trizia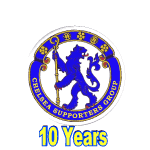 (You can see all the Terrace Talk articles here)
DISCLAIMER: All articles written for the Chelsea Supporters Group 2005 (CSG)  are those of the author and do not represent the views of the CSG. The views and opinions expressed are solely that of the author credited in the article. The CSG do not take any responsibility for the content of its contributors.
Related Images: